10 chairs only for DP William Ruto's Kakamega church visit?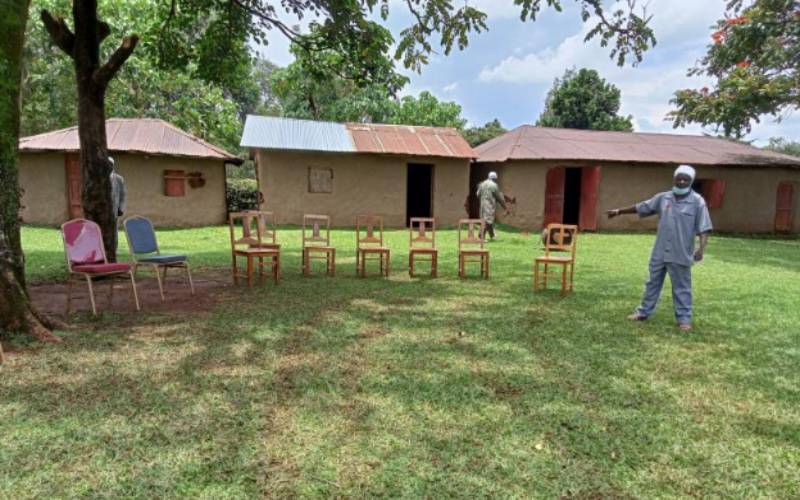 Members of the African Church of the Holy Spirit in Malava, Kakamega County were surprised on Saturday after allegedly receiving orders to arrange a maximum of ten chairs in preparation for DP William Ruto's visit to the church.
According to the church's secretary Maxwell Shitsimi, an unidentified county administrator ordered him on Friday, September 17 to reduce the number of chairs they had arranged for the deputy president and his delegation.
"He (county official) asked me to place a maximum of ten chairs only at the venue," Shitsimi told The Standard.
"He also ordered that we stop erecting tents ahead of the DP's visit."
Shitsimi said they had planned to put up the tents and a makeshift pulpit to accommodate the DP and his team.
"Things, seemingly, won't go as planned," he said.
The church's high priest, Shem Shamala, met a couple of uniformed police officers on Friday to seek clarification on the said-orders.
"The meeting is an invite-only affair, and we're aware of the Covid-19 protocols, which we've vowed to abide by," said Shamala, wondering why "new orders were being issued to change the face of the event".
The African Church of the Holy Spirit in Malava has a membership of approximately 2,000 people.
Shamala said, unlike other churches that have banned politicians from addressing congregants on the pulpit, Ruto "was free to speak on anything he so wished".
Reached for comment in regard to the number of seats order, Malava OCPD Paul Mwenda said no one had directed the church to arrange a maximum of ten seats.
"Neither have we stopped them from erecting tents at the venue," he said.
"The church has a rather unusual worship practice, where the congregants sit on the ground as priests address them from the pulpit. Seats are usually reserved for the preachers and special guests. In that regard, we have allowed them to arrange 40 chairs on the pulpit, which will be enough for the DP, his entourage and the preachers," said Mwenda, adding that security will be adequately provided.
The church said Ruto would attend "special prayers" on Saturday, September 18.
His tour of Kakamega County comes barely a week after ODM Party leader Raila Odinga pitched camp at the Western Kenya county to sell his Azimio la Umoja ideology.