Scars, a reminder of the State's terror in Mt Elgon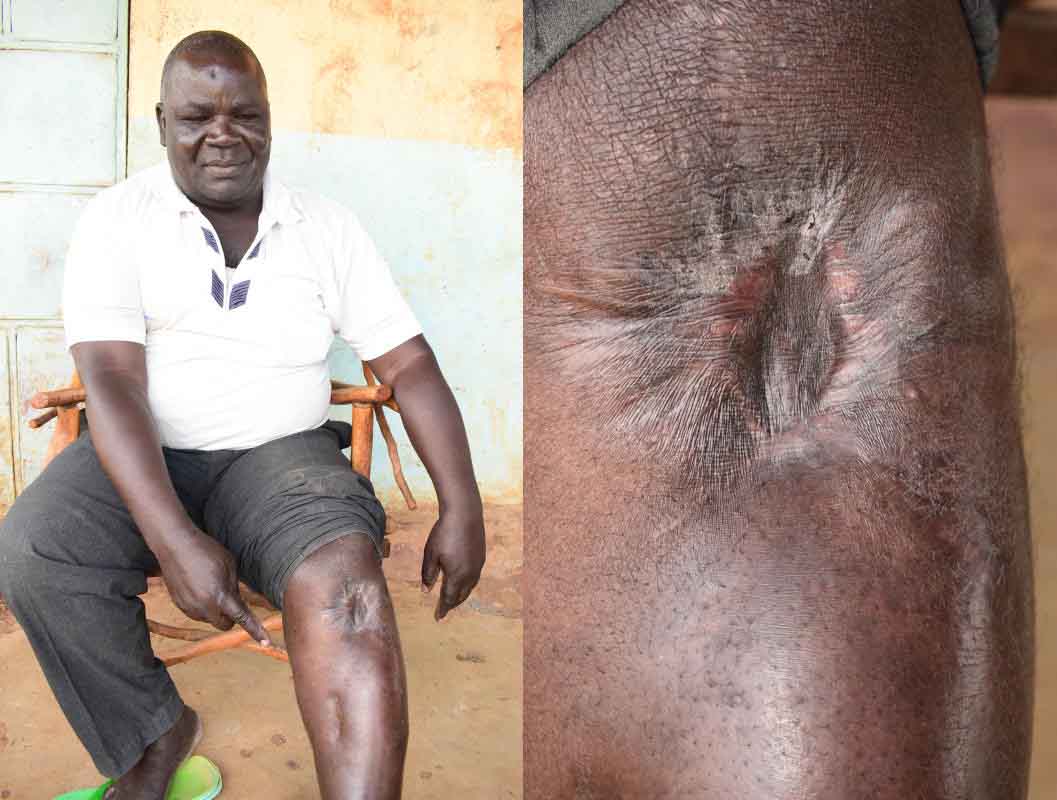 Moses Miruni gets upset when one mentions FERA, an acronym for February 18 Revolutionary Army. FERA is a guerrilla movement the State believed existed at the foot of Mt Elgon on the Kenya-Uganda border in the 1990s, whose leader was Brigadier John Odongo.
Miruni says the movement caused hundreds of then Mount Elgon youth "lifelong troubles" for falsely being labelled members of the ragtag formation.
"I have never set eyes on the guy, but I suffered and still continue to suffer following the claims that I was his follower," says the father of three.
Miruni said he was wrongfully arrested in January 1995, detained and tortured until 1998.
"I met so many detainees in jail and police cells rumoured to be Odongo's followers. I then heard he was jailed for life yet others said he was hanged. And in 2004, I came across a newspaper article that revealed he died outside the country. I really wanted to meet him just to be sure he existed."
Opposition leaders Kenneth Matiba, Masinde Muliro, George Captain and Martin Shikuku, When protesting the 1990s mass arrest of youth in Mount Elgon, also questioned the existence of Odongo. Odongo, a man viewed as a liberation leader keen on toppling the 1990s political settings for its intolerance for multi-party politics is said to have existed, but there remains little to support the existence of his guerilla network.
Inter Press Service (IPS), a global news agency with reporters in Sudan, Ghana and Uganda, where Odongo frequented, in a March 1995 publication wrote; "No one knows for sure how big FERA is or if it really exists."
During the same period, Uganda President Yoweri Museveni told journalists in Kampala that Odongo existed and that their association dated back to 1972. He, however, denied supporting FERA. This caused a diplomatic spat between Kenya and Uganda, with Kenya blaming Uganda for "refusing" to extradite Odongo to face charges without the involvement of the UN High Commissioner for Refugees (UNHCR).
It left the State operatives with one option of burning effigies of the man they loved to hate.
"I am convinced FERA detainees only sin was fervently supporting multi-party politics. The easiest way to kill multi-party politics was through mass arrests of the youth," says Miruni, adding that they filled all the cells in Western Kenya from Bungoma to Kakamega.
Last month, Miruni and 18 others were awarded Sh500,000 each by the High Court in Bungoma for the wrongful arrest and torture. They are among some 40 who sued the State in 2016 for rights violations.
"I have a bullet stuck in my right leg after being shot seven times in 1994. I was accused of harbouring Odongo in my house in Nalondo. I was detained for nine months in different prisons, lost property and my children lost the right to education," says Peter Wamukota, former Forum for Restoration of Democracy (FORD) chairman in Bungoma.
Wamukota, 65, and 20 others who jointly sued the State were awarded some Sh1.5m in October last year each. He, however, says, since he was released, he spent Sh2m in removing six bullets from the leg and needs another Sh700,000 to have the remaining bullet removed.
He's happy the courts awarded them, but plans to appeal for a "realistic" compensation of between Sh10m and Sh20m.