How Bukusu man won the heart of an American girl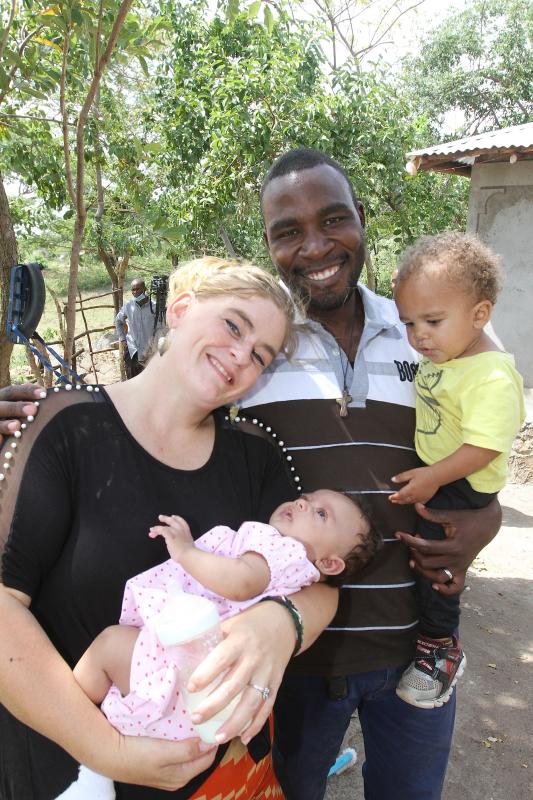 They say love has no boundaries and for Albert Wanyonyi, he saw, loved and conquered.
Just like the Bukusu man who fell in love and married an Indian girl in Bungoma County in 2014, Wanyonyi, who earns a living riding a boda boda, has won the heart of an American evangelist.
It is an incident that has excited the residents of Nyangali village in Bumula that the love Carey Joy, 35, has for their son has blossomed to the point of them starting a family in the remote village.
First, it was Timothy Khamala, a Bukusu 'hustler' who hit the headlines following his relationship with Sarika Patel, an Asian girl from a wealthy family.
Six years later, the 28-year-old Wanyonyi who prefers to be called Albert Joy appears to have taken things a notch higher.
Albert saw and fell in love with Joy when they met in a church started in 2017 in his village with the help of her parents.
"But it was hard to express my feelings for her due to language barrier. I could not speak Kiswahili or English and she did not understand our Bukusu dialect."
Despite falling in love after seeing her for the first time, he couldn't muster the courage to speak to her until three months later. Joy arrived in the country in June 2018 and was received in Nairobi by one of the ministry's bishops who happens to be Albert's elder brother.
Albert and Joy have been living together as man and wife since they tied the knot at a little chapel in Bumula on October 27, 2018.
The Standard caught up with the couple together with their two children on Sunday at God's Heart Ministries Church, barely one kilometre from their Nyangali village home.
They were joined by Joy's parents, Bishop William Boyce and Prophet Ruth Boyce during the church service that lasted about four hours.
But how did the couple meet in the first place? The journey began the day Joy woke up one morning in 2018 to inform her parents that God had instructed her to travel to Africa as a missionary.
"I put a notice to my employer and my landlord and sold my car and other belongings and used the money to buy an air ticket," says Joy, an economics graduate who was a property manager.
And immediately she landed in Nairobi, "God commanded me to travel to Bungoma to evangelise".
"It was not a question of love at first sight. However, God spoke to me while praying and told me Albert would be my future husband. I did not know that would happen. He could not speak English and I could not attempt speaking Kiswahili or Bukusu languages," explains Joy.
According to her, God would enable Albert to speak English while they were praying in church. "I was shocked to hear him speak English after the prayers; he even brought me flowers and that is when I knew God had kept his word," she says.
Albert corroborates his wife's story, saying at first he had told Joy that he loves her in Kiswahili but she could not understand. "When I told her 'I love you', she appeared shocked and excited at the same time. She embraced me and confided that it was something she had been waiting for," says Albert.
Cementing their relationship was not a walk in the park at first because Joy's parents were skeptical about it.
"I told them it was God's plan and later surprised them when I said we were getting married. They wondered how we would live together yet we could not communicate, but were shocked to learn Albert was able to speak English," recalls Joy.
The couple also had Albert's parents and the Bukusu culture to address before they could get married. There were people who claimed Joy was pregnant and just wanted Albert to take responsibility.
"They were wrong. I had to wait for at least four months after our wedding before I conceived to prove them wrong," says Joy.
"My family was not sure whether to allow me marry a 'mzungu' or not; some thought she would take me away from them forever while others believed it was a golden chance because they thought she comes from a wealthy family," says Albert.
But there were cases where some villagers thought Joy was too beautiful and bright to be married by a villager and even made several attempts to come between the couple. Thankfully their mission did not succeed, according to Albert.
Although the community would have expected Albert to marry a Bukusu woman, he appeared determined to follow in the footsteps of some prominent Bukusu sons, including the late Michael Kijana Wamalwa, Dr Mukhisa Kituyi and Dr Noah Wekesa, who also married white women.
The couple's honeymoon in Mbita, he says, was unforgettable. However, the reality of being a husband hit him when they returned to the village.
Joy says Albert is hardworking, caring, kind and loving. "We lived in a one-bedroom mud-walled house, there was no electricity and good amenities like I was used to in California, but I am used to a simple life.
"I wasn't raised getting water in jerricans and my husband always assists me," said Joys.
"I take care of our two children, Zechariah Blaze Wanyonyi and Samarah Ruth Wanyonyi, while Albert goes about his duties," she says.
The couple has managed to secure a second motorcycle on loan that will bring in extra cash, according to Joy.
She adds: "We also plan to rear chicken as a business to complement our income."
Joy spends her time learning how to prepare local dishes: "He likes ugali with chicken and detests rice. I also enjoy preparing and eating managu and kunde prepared with mushelekha (local salt)."
Even though their marriage has not been a bed of roses, they have learnt how to deal with the challenges with the help of family. "At one point when I was pregnant with our first born, I was forced to fly to America because I was critically ill and had spent a couple of months in a local hospital where I was advised to go back home and return after gaining strength," she recalls.
The two months she was away were the most difficult. "The distance between us made my husband a little insecure."
Joys says they have no plans of relocating from the village because she has gotten used to the life there.
"I have learnt several Bukusu words and I can comfortably interact with people, especially women, although many are shy to visit my home because they cannot speak English," says Joy.