Potters counting losses as the coronavirus continues to bite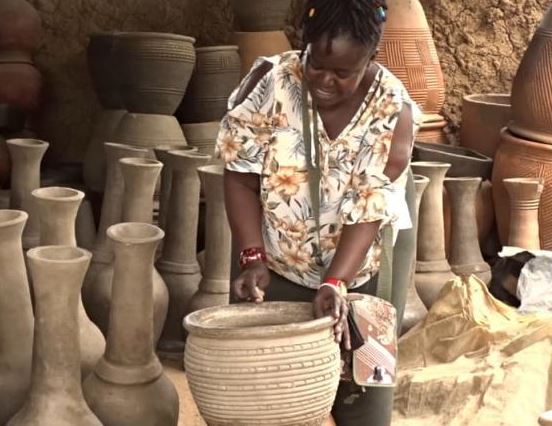 There is nothing as satisfying as earning a living from selling something you have created with your hands. But satisfaction has been hard to come by for ceramic artists in Kakamega County since the coronavirus pandemic struck.
Pottery business for dozens of traders has taken a beating as the effects of the pandemic continue to bite.
The traders, who mainly mold and sell their merchandise along Kakamega–Kisumu Highway, say effects of the virus has led to a dip in business. They now want the national government to come up with policies and measures to cushion their businesses from collapse.
Irene Shisundi, who is stranded with dozens of ceramic items at her home, says many ceramic artists in the region have quit the venture citing harsh economic times.
Shisundi, a ceramic artist at Ilesi Pottery in Shinyalu Constituency, says in the seven months the country has been plagued by the disease, she has cancelled important trips that would fetch her income.
Unlike previous years where the pottery business in Ilesi gets to its peak in the last quarter of the year, with many tourists visiting, this year has turned to be their greatest nightmare.
Before the advent of coronavirus pandemic, Shisundi says her business would fetch her anything between Sh10,000 and Sh15,000 on a good day. But not anymore. Currently, Shisundi and her colleagues can hardly make Sh1,000 in a day. The much she has earned is Sh500.
"This business was started by our late father while we were young. From it we have been taken to school, but in the last few months the losses we are posting are too huge to comprehend. The coronavirus pandemic has negatively affected us. Some people closed shop a long time ago when buyers stopped trooping in to buy their artwork," said Shisundi.
The potter said that unlike in the past when her team would travel to various places in order to market merchandise in exhibitions attended by many people, marketing during this season has been difficult.
"Marketing has been a serious challenge and this is why we have been pleading with the county and national governments to help us address the issue. While it is good to embrace online marketing, when it comes to arts most people prefer to use sense of touch and feel an item before buying."
She added that her events which involve workshops, teaching or shows have faced serious challenges especially with the limitation of face-to-face interactions.
Shisundi, who has employed 10 workers, said the number of visitors from as far as Europe, Tanzania and Burundi has shrunk as travel patterns change due to the pandemic.
Her sentiments were shared by Ezekiel Amsala, who said the only way the national government can help the dwindling fortunes of artists is through marketing their products.
"The State has the capacity of ensuring that our merchandise is sold in the international market. Such policies can help cushion us from harsh economic effects. Stock continues to pile everyday and for some of us who have employed fitters, moulders and painters, it becomes difficult to pay them," said Amsala.
The 64-year-old who has been in the business for the last 10 years after quitting his security job in Nairobi said when the country confirmed its first positive case of Covid-19 in March, most potters did not anticipate the adverse effect the disease would have on them.
"Most of us had no idea Covid-19 effects would prevent people from coming to this place. It is especially tough for those who entirely depend on this business; these days even getting Sh200 is difficult."
He argued that the local market for their products is not lucrative and that most potters depend on the international market.
"People within this place cannot buy our products because most of them are struggling to fend for their families," said the potter.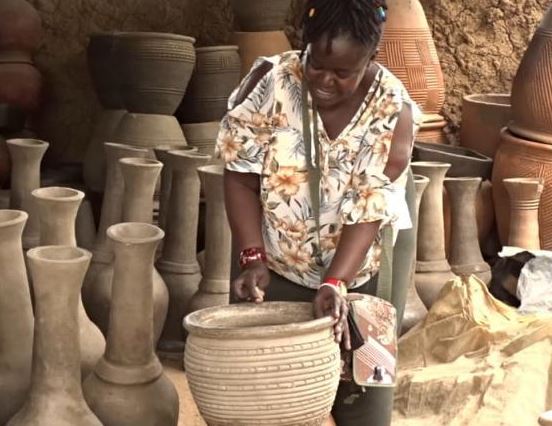 Kakamega Trade, Tourism and Industrialisation Executive Alfred Matianyi said the pandemic has had adverse effects on all traders.
"It (Covid-19) is something we did not prepare for. The measures we have taken to ensure potters' businesses do not collapse is through allowing them trade in different areas. There are many local markets where their items can be sold. Businesses might not be good but they have to hold on hoping for better days," said Matianyi.
He added, "The tourism sector has been badly hit worldwide; we have allowed them to do their businesses elsewhere without restrictions, but we invite those with proposals that can help market their merchandise."