Shame of main hospital with no malaria test kits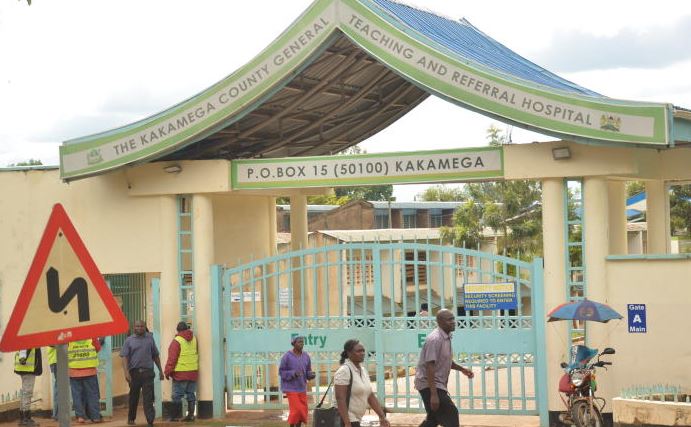 Kakamega County Teaching and Referral Hospital (above) is on the spot once again over provision of poor services to patients and its staff.
With key essentials running out, doctors at the facility are afraid that if nothing is done in the next few days, the hospital might be forced to ground operations.
Investigations by the Sunday Standard established that the facility is unable to carry out simple tests like blood sugar, pregnancy, malaria and even X-Rays. Patients seeking these services are being referred to private facilities within Kakamega town.
"We cannot perform simple tests like that of malaria since we don't have reagents. The supply for drugs and non-pharms is limited forcing us to refer patients to get the services outside the facility. We don't have X-Ray services since the films have not been procured for the last four months," said a clinician who works at the outpatient department.
He said CT scan, MRI and Ultrasound services are also unavailable as the machines have been grounded. The clinician said they are forced to buy their own surgical masks and gloves when reporting to work.
The Intensive Care Unit (ICU) has been grounded as it lacks non-pharmaceuticals due to a huge debt the hospital owes suppliers. This has also affected the delivery of services in the maternity ward, renal unit/dialysis, laboratory, theatre and carrying out complex surgical operations.
"The renal unit has been operating for the last three months at half capacity. The non-pharms we were using were borrowed from Vihiga County that of late has improved its healthcare services," said Antony Akoto, the chairman of Kenya Medical Practitioners, Pharmacists and Dentists Union, western chapter.
According to Akoto, the hospital has run out of essentials like surgical needles, disposable gowns, anesthesia drugs, surgical masks and reagents used when performing complex operations.
A doctor privy to the happenings at the hospital said patients' kin have to pay thousands of shillings for a pint of blood.
"We don't have blood at the blood bank since the department is underfunded. In some cases, for a patient to access the little blood available, their kin are forced to part with between Sh3,000 to Sh5,000 for a pint of blood, which should cost around Sh700," said the medic.
The hospital has lost four consultants due to what the union describes as harassment and job stagnation.
Akoto said some medics were offered scholarships in India but their requests for study leave were declined.
County Health Executive Collins Matemba admitted that financial constraints have affected operations at the hospital.
"It is true the renal unit at the hospital has been facing acute shortage of supplies. However, supplies were received on Wednesday, and these will keep the unit running for about two months," said Matemba.
"Laboratory reagents were indeed lacking. This caused temporary suspension of some services in both the laboratory and X-Ray sections. Orders for the supplies have been placed and full services will resume next week," said Matemba.
He attributed the departure of five consultants to search for greener pastures.