Shinyalu locals suffer at the hand of rogue forest officers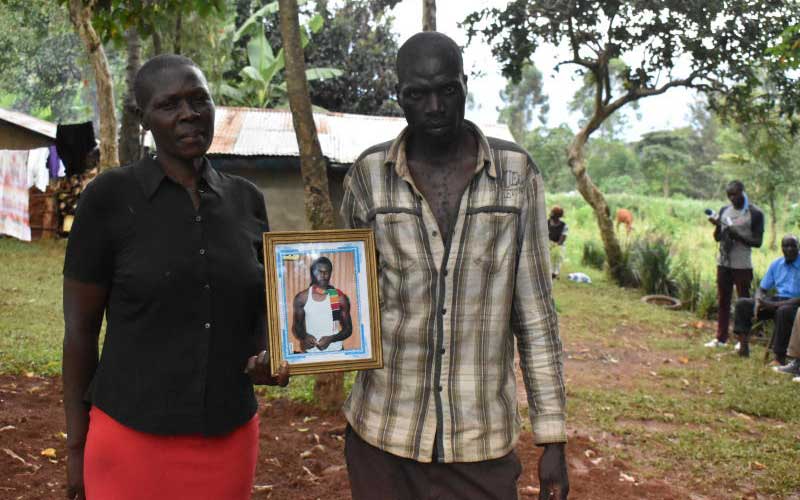 At least one person has been killed and a dozen others left nursing savage injuries after being assaulted by Kenya Wildlife Services (KWS) officers in the past month.
KWS and residents of Shinyalu sub-county who live around the expansive Kakamega Tropical rain forest have been tussling for the last six months. The forest officers accuse the locals of destroying the forest through illegal grazing and charcoal burning.
Investigations by The Standard established that KWS officers use 'spies' to earmark houses to be raided, often in the dead of the night or early mornings.
Those whose houses are raided are often brutalised and asked to part with hefty fines despite not dealing in the charcoal business.
Kevin Litsalia from Shamiloli, Muranda location in Shinyalu constituency was reportedly shot dead by KWS officers on the morning of April 27. He left behind two children aged two and five years old.
"We were woken up by gunshots on the fateful day and we wondered what was happening from a neighbouring homestead. We thought police were chasing after criminals in the area," Henry Matekwa, the father of the deceased, recounted on Monday.
He added: "My son (Kevin Litsalia) rushed to the scene and fifteen minutes later we received information that he had died after a stray bullet wounds that was fired by one of the KWS officers hit him. The officers had come to arrest the locals over claims they had collected firewood in the forest."
"The family is receiving threats of dire consequences if they will continue pursuing this matter further. They are financially incapacitated and even getting a lawyer to help them get justice is another challenge," said Adrian Mejja, a neighbour.
According to Mejja, the officers have been raiding their homes without a search warrant or even warrant of arrest. He holds that their actions are unlawful and that they are punishable since no one is above the law.
Kakamega County Police Commander Hassan Barua acknowledged that he is aware of some of the cases, adding that many go unreported.
"I am aware of the shooting incident where Kevin Litsalia was killed by a stray bullet. We have taken their firearms for ballistic examination to ascertain who shot the young man before prosecution can be done," said Mr Barua.
Shinyalu MP Justus Kizito Mugalia has prepared a petition which he wants to present to the National Assembly over the matter, and asked Environment cabinet secretary Keriako Tobiko to intervene and avert the looming crisis.
When the team from The Standard visited the KWS offices at Buyangu, Kakamega County, they received a hostile welcome and were turned away by a deputy warden, who only identified himself as Daniel.
However, KWS communications officer Jinaru Mburu, when contacted, promised to give the agency's response later after consultations.
Magufuli to reopen Tanzania's schools
Tanzania's President John Pombe Magufuli has announced plans to re-open learning institutions if the 'decline in new coronavirus infections continues'