Busia truck crew pose coronavirus weak-link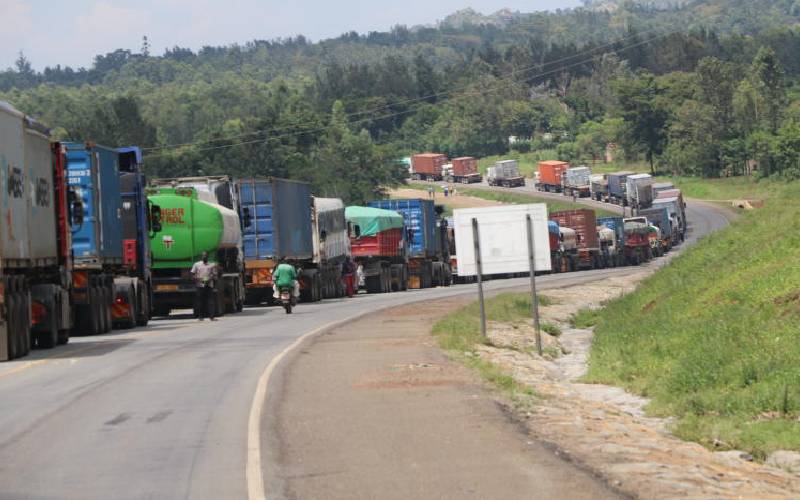 Ward reps have called on both the county and national government to find a lasting solution to trailer snarl-up in Busia town.
The reps said truck drivers and their turn-boys were potential risk to the spread of the coronavirus.
Busia is yet to record any case of Covid-19 as 22 tests that were carried out on suspected individuals came negatives while two results are still being monitored.
The County Emergency Committee has so far received 1,235 alerts from members of public about persons they suspected had the virus.
Speaking yesterday at a leadership forum presided over by County Commissioner Joseph Kanyiri and governor Sospeter Ojaamong at Agricultural Training Centre (ATC), MCAs said there was need to identify alternative parking space for trailers before clearance.
"Some of the truck drivers and their turn boys are coming from counties that have already recorded many cases of Corona and when they reach in Busia, they mingle freely with our people," said Julius Ochou of Marachi East Ward.
Last week two drivers from neighbouring states were taken to Alupe isolation centre where according to Dr David Mukabi, "They tested positive of the dreaded coronavirus."
Ojaamong regretted that the Kenyan government is lenient to Ugandan citizens crossing over. The county boss wondered why despite the closure of Kenya and Uganda border, citizens from the latter have continued to cross the border and hawk their goods in Busia, Kenya.
"On the flip side Kenyans are mishandled whenever they are seen in Uganda," said Ojaamong. He also feared that the border congestion of trucks and their crew was biggest threat to the fight against spread of the infectious virus. Kanyiri said any Ugandan found in Kenya will be arrested and put in quarantine. "Unless one has health documents allowing him or her to be in the country," he said