State insists Lamu ambush an isolated incident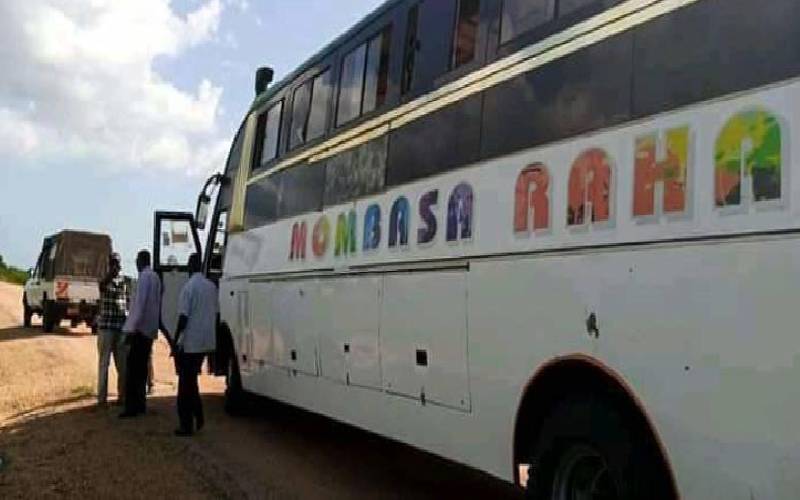 The number of people killed on Thursday during the Lamu bus attacks stands at three. Two more people were injured and are recuperating in hospital. The government has also informed the victims' next of kin.
This was revealed by Government Spokesman Cyrus Oguna during a press briefing, where he sought to reassure the public that the country is safe.
"The security situation in the country is stable and the government wishes to assure the public that security has been beefed up in areas that may have experienced incidences on insecurity. Such areas include Lamu, where there was an attack on public transport vehicles three days ago," he said.
Beefed up
He also said that there were five attackers. Four of them were all rounded up and killed, while one of them was arrested and is helping with investigations.
"The good news is that there is very close collaborative engagement and efforts with local communities and that Fis how we managed to round the attackers up," he said. Kenya's security forces have been carrying out Operation Linda Boni, which was meant to flush out Al Shabaab operatives from Boni Forest. Despite the bus attack, Mr Oguna said the operation had been successful.
"This is an isolated incident that happens once in a while, but the operation has been really successful. Some of the schools that had been closed when the area was insecure will be opening next week," he said.
He added that the roads are safe and other socio-economic activities in this region were going on as usual.
"Security has been restored and is stable, but because some of these elements may sneak in, we do not want them to affect transport and other socio-economic activities. So currently, we are escorting road users in the area," he said.
The attackers were all from Somalia, but the authorities are yet to determine the nationality of the insurgent in their custody.
"I will provide more information as details of the investigation are made public. Some of the militants cross on foot and it becomes difficult to pinpoint where they pass through because the area is expansive," Oguna said.
Some of the long-term solutions the government is using to quash attacks in the region is to improve socio-economic development.
"Some of the boys are from that region. The question is: why are they crossing over? It is because there is no sufficient livelihood for them," he posed.
He said the government has initiated various projects and the coastal region now has 450 government projects to provide employment opportunities.