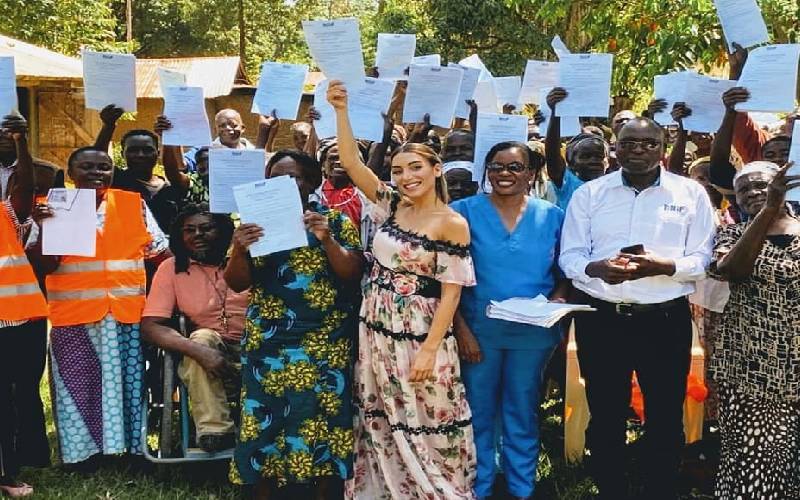 A private hospital has enrolled more than 300 family members in a fully sponsored free National Hospital Insurance Fund (NHIF) in Ebulanda Sub-Location of Butere Sub County in Kakamega County. Hamptons Hospital sponsors led by Elisa De Panicis, an Italian Superstar and ex-girlfriend of Portuguese soccer star Christiano Ronaldo, gave the low-income families the holiday gift during an event attended by hundreds of residents at Ebubari Apostolic Church and Bulanda Primary School in Marama Central Ward of Kakamega County. Speaking at the event, Elisa said the group plans to sponsor up to 5,000 low-income families by end of 2020. "We want to sponsor 5,000 low-income households by the end of 2020. this will later grow to more other people with time," said Elisa.
SEE ALSO: Only public hospitals to get NHIF millions
The poor and needy households' NHIF premiums were fully paid for by the sponsors therefore the families will not be required to make monthly premiums. Hamptons hospital official Pauline Kunguru said those with the cards will be treated for free at the institution. "We will be treating them for free once they have the cards," said Ms Kunguru. The residents can now use their new NHIF cards to access free treatment at Hamptons Hospital. "When locals visit the currently open Hamptons Hospital, they will NOT be required to pay any extra charges by the hospital hence guaranteeing free universal healthcare access."
SEE ALSO: NHIF to cover bills incurred by Covid-19 patients
Also set to benefit from the free NHIF fully sponsorship enrollment is Lunza Sub Location of Marama West Ward in Butere Sub County of Kakamega County when the Hamptons team visits next week. Hundreds of needy households are expected to be enrolled at Hamptons Hospital grounds in another h event where residents will also be fed during an annual Christmas party. The entire 5,000 bed Hamptons hospital will be finished by the end of 2020 treating 12,000 patients per day and employing more than 9,000 workers. Kakamega County residents with NHIF cards will be treated free of charge without paying extra fees at the Hospital.