Inquest into death of wife and daughter spills to fifth year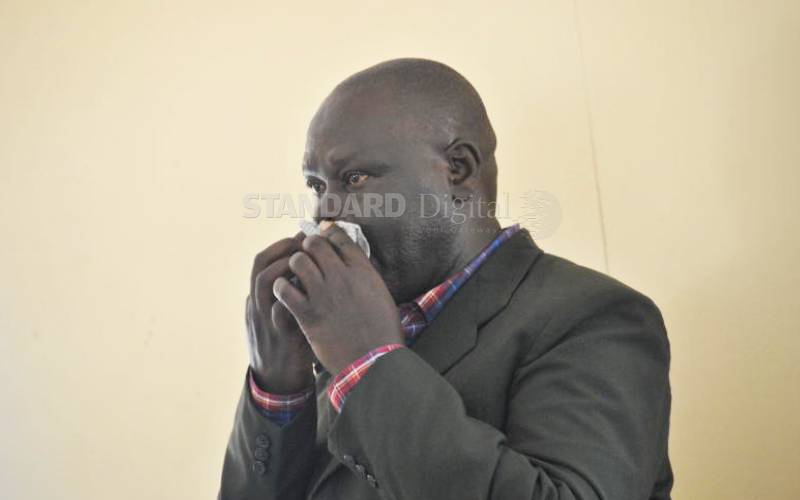 An inquest into the death of Inspector Francis Jumba's wife and their daughter in 2015 has been adjourned for the umpteenth time.
Jumba lost his wife Petronilla and daughter Nicole Osinde, 9, in a house fire suspected to have been the work of arsonists.
The five-year-old inquest, which has seen three of his colleagues treated as suspects, has been adjourned numerously due to unpreparedness by the prosecution and the defence.
The Director of Public Prosecutions had applied to have the matter adjourned to another date because the prosecutor, Ms Hilda Omondi, was promoted to handle High Court cases.
Sergeant Daniel Kangu, Inspector Thomas Mukholi and Chief Inspector Hillary Omit were cited as suspects after their names were adversely mentioned during the probe. They were released on Sh100,000 bond each.
Rural home
On January 26, 2015, Jumba left their house at Ikonyero Estate to his rural home in Nandi to deliver animal feeds.
Jumba narrated that he drove safely to Nandi, had an engagement with the farmhand and retired to bed at around 10pm.
At around 1.45am, he was called by a neighbour who told him there was a huge fire at his house, and that his family was trapped inside.
He said while rushing back to Kakamega, he was informed that Petronilla and Nicole had already died.
Jumba claimed he was being targeted due to his hard stance in the fight against contrabands and drugs among inmates.
The widower said his house was the second one after another colleague's was razed under similar circumstances.
The inquest has now been adjourned to February 17, next year.