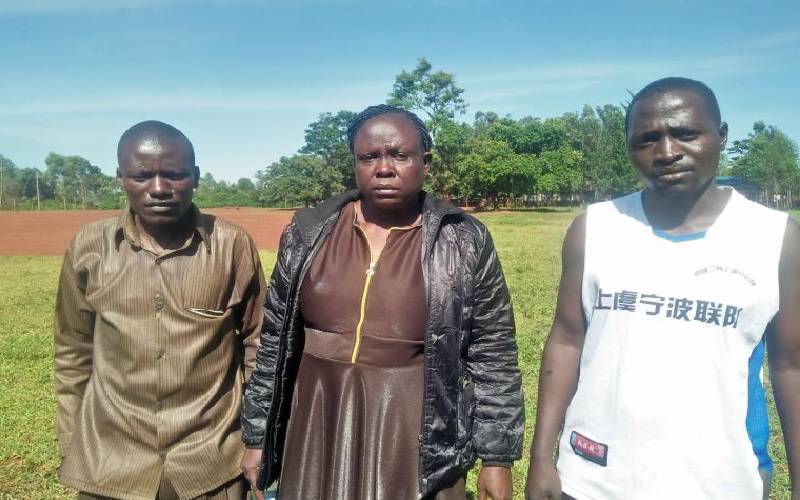 Unaware of what awaited them, seven bouncers left Nyando in Kisumu County for Butula in Busia to provide security as bouncers during the burial of a businessman murdered a fortnight ago never to return. Donned in black suits and black goggles, the seven tall and dark men arrived safely in Bumala town on Friday morning to undertake their job of guarding the hearse. They were present at the Sega mortuary, in Siaya county during the collection of the slain businessman Johannes Okoth Aduol's body.
Suspicion
SEE ALSO: Finally, breakthrough in Sh40 billion dam project
Seen as strangers among locals, the presence of the bouncers created fear among mourners who sought to know who they were and why they were providing security to the body. Speaking to Standard Digital, the deceased Aunt Roseline Awino said there were tension and suspicion among mourners, prompting them (the family) to inquire from the bouncers on whose behalf were they securing the coffin. When approached to identify themselves, the bouncers said they had been hired by the deceased's second wife Mercy Awuor to provide security at the funeral. "When we asked them to identify themselves, one of them told us they had been invited by Awuor to provide security at the funeral," said Awino. Trouble started at Bumala where the deceased operated an electronics shop before his demise, during a stopover for body viewing when locals threatened to attack the 'strangers' who were seen to be too close to the coffin. But when contacted to confirm if she knew the security guys, Awuor denied knowing or even facilitating them to come to Bumala. On reaching Masebula, hell broke loose as residents descended on the bouncers on suspicion they could be behind the killing of the trader.
Lynched
They were chased, stoned and lynched in separate places but within the village by locals and Boda boda riders. "Locals and rowdy Boda boda operators lynched the six in less than 10 minutes, the riders escaped from the scene immediately," said a villager who did not wish to be named. "The guys appeared innocent, but locals suspected they took part in the murder of the slain businessman. The second wife felt unsafe and that is why she hired them to provide security at the funeral," he said. The seventh one managed to escape. It was not clear where he was by yesterday. Police arrived and later took the bodies to the County referral mortuary. Awino blamed Aduol's second wife for disowning the seven yet it has been confirmed she indeed hired them and even sent them fare to travel to Butula. "We managed to confirm through Awuor's phone M-Pesa transaction that indeed she sent Sh2,400 as busfare to the bouncers. Why she disowned her visitors is what we don't know," said Awino. Awino's assertion was backed by the deceased brothers Boniface Aduol and Joseph Opondo. "We pleaded with Awuor to tell us if she had invited them but she insisted it was not her. At that time the crowd was surging towards bouncers," said Boniface. Mercy has been arrested for interrogation. Busia County Commissioner Jacob Narengo and police boss John Nyoike convened a security meeting at Bumala Police Station on Friday evening following the killing. After the meeting, Mr Narengo has slammed the residents for taking law in their hands. "They should have arrested and taken them to Bumala Police Station maybe they were relatives of a member from the bereaved family," said Narengo. "Investigation has started, we want to know who killed the six. People should know that the best place to report suspects is a police station not to take law in their hands," he said. The 35-year-old businessman went missing at Ligingo, on the border of Busia and Siaya counties two weeks ago before his body was discovered in a shallow hole with some gunshot wounds 10 hours later. Relatives said Aduol was on October 31 picked from his Masebula house by two armed men before his body was found dumped. Burial arrangements are ongoing in the presence of police officers following the incident. Police are yet to make any arrests in connection with the lynching.