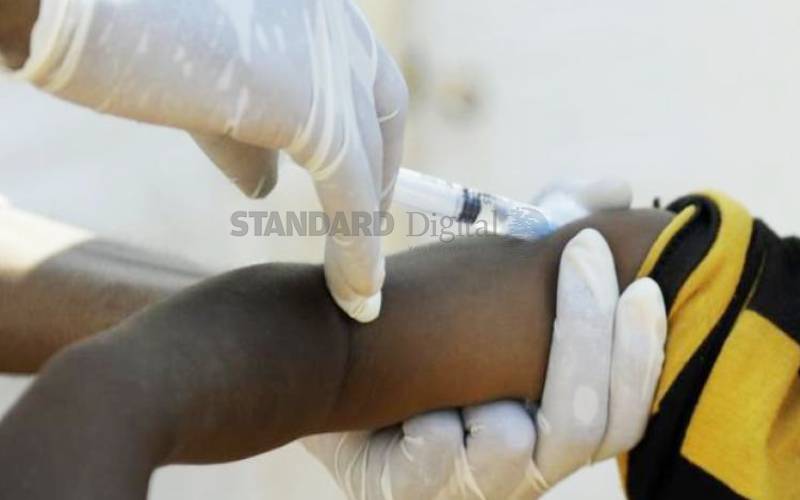 Victims of botched malaria vaccination that was carried out at Akichelesit Dispensary in Teso North constituency are yet to be compensated.
The County Government of Busia is yet to effect the payment, nearly two years after a court awarded the victims compensation for the damage they suffered following the jab in 2015.
The county promised to release the money in September after parents and victims of the jab demonstrated outside the county headquarters in June.
At the time, former retired judge Justice Anyara Emukule, who is the new county attorney, had to address the distraught parents and their children outside the gate.
Read More
Mr Emukule reassured them that the county had accepted the ruling of the court and would pay them in the current fiscal year.
In December 2017, the then Busia Resident Magistrate Josephine Maragia ruled that the 28 children were victims of professional negligence.
The children developed weak limbs, hands and spinal cords. They were later airlifted for specialised treatment at Nairobi Hospital.
Abel Okiror's daughter was awarded Sh2.5 million for permanent physical disability she suffered. Her legs and hand are paralysed.
"We are hopeful that this time round, the county will release compensation for our children," said Mr Okiror.
Boaz Atyang's daughter was among the 11 children awarded Sh2.5 million each plus special damages of Sh6,000.
The court found that Atyang's daughter suffered permanent disability.
"My daughter has difficulty walking. She walks quiet slowly due to weakness in the legs," said Atyang.
County Executive Committee Member for Finance Phaustine Barasa yesterday said the victims' compensation will be factored in the 2019/20 supplementary budget.
Last year, Barasa in a letter dated September 25, 2018, addressed to the victims' lawyer Bernard Ombui, confirmed that the money had been factored in the 2018/19 supplementary budget. However, the money was not released.