Western governors appeal to locals on census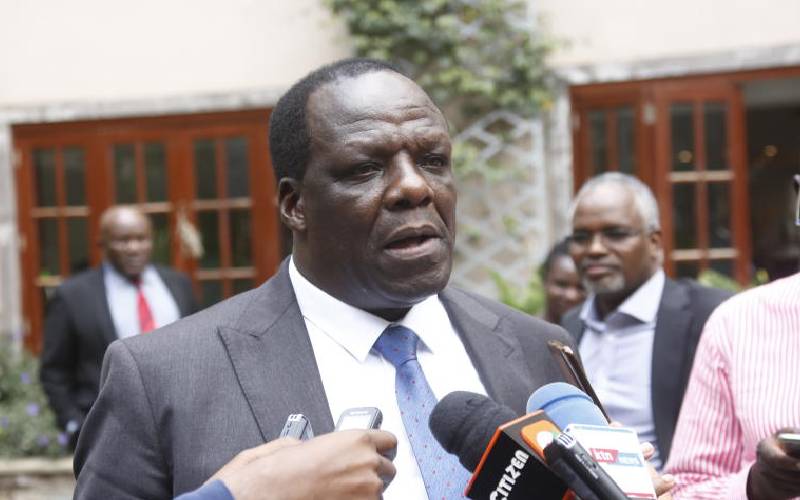 Two governors from Western region have urged locals to take the forthcoming census seriously.
Bungoma Governor Wycliffe Wangamati and his Kakamega counterpart Wycliffe Oparanya said those living outside the region must return home before the August 24 to be counted.
They said exercise will also prove the region's numerical strength ahead of 2022 General Election.
Mr Wangamati said all bars should remain closed on the material day to ensure people return to their homes early in readiness for the exercise.
"Let us spare time for the exercise because it will determine the allocation we receive for development," said Wangamati.
Speaking at Masinde Muliro University on Monday, Wangamati regretted that the region has been left out of Government.
Oparanya, who is also the Council of Governors chairman, urged chiefs, their assistants and village elders to ensure everybody is counted on the night of August 24.
The county chief said even babies born during the census exercise should be captured.
"People must also inform their sons and daughters living in other towns to come home and be counted," he said.
He urged locals to report immediately to authorities should enumerators skip their homes during the head count exercise.
And nominated MP Godfrey Osotsi said Western region has many people but majority are not usually captured during important national events like census and voter registration, leading to low allocation of resources.
Osotsi spoke at Ematioli Church of God in Luanda Constituency, yesterday where he led in a funds drive to help the church in rehabilitation of its structures.
The MP said he will mobilise chiefs and their assistants to ensure all the people are counted in their respective localities.
The census is expected to commence on the night of August 24/25 and go on until the end of the month.