Victim of police brutality 'may never sire children'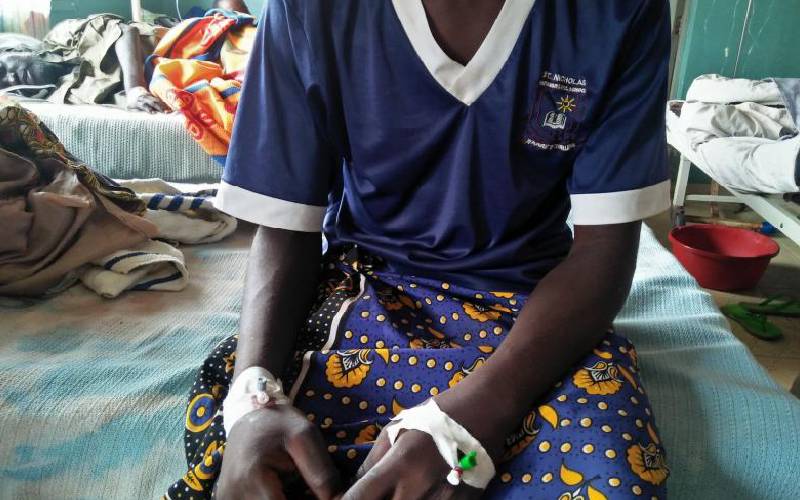 Doctors at the Busia County Referral Hospital have removed the testicles of a 19-year-old student. They were crashed during a suspected case of police brutality.
The boy from Funyula constituency was allegedly assaulted by an officer on the evening of May 22.
The student was picked up by police at 7pm as he headed to the shop.
He met four officers searching for illicit brewers in the village.
He says the officer attacked him with no reason.
"I fell down screaming for help but the offcier continued beating me up," he said.
The Form Three student said he can identify the officer who assaulted him.
"It was a bit dark but I know him. I heard his colleagues call him Onyango as they pleaded with him to stop beating me up, but he continued," the boy said.
After gaining consciousness, he headed home.
"I was unable to explain to my mother what pain I was in."
He was taken to Sio Port Hospital at night but doctors referred him to Busia County Referral Hospital.
Deputy Medical Superintendent Dr Namudala Emukule said the boy's testicles had been crashed.
"He had severe pain on the scrotum, doctors assessed him and a scan showed both testicles had been shattered," Emukule said.
Doctors said he may never sire children in future. He is, however, in stable condition.
"We cannot authenticate what happened but in terms of mechanism of injury it could be a kick or he was hit by a blunt object," Emukule said.
The boy's parents urged the Independent Policing Oversight Authority to investigate the incident.
"My son's life has changed for the worse because an officer assaulted him," his mother said.
Samia Subcounty Police Commander Winny Siele said she has received a compliant and investigations are underway.
"If investigation determine there was indeed a case of police brutality, the law will take its course," she said.