MCAs slam Ojaamong's regime over poor development record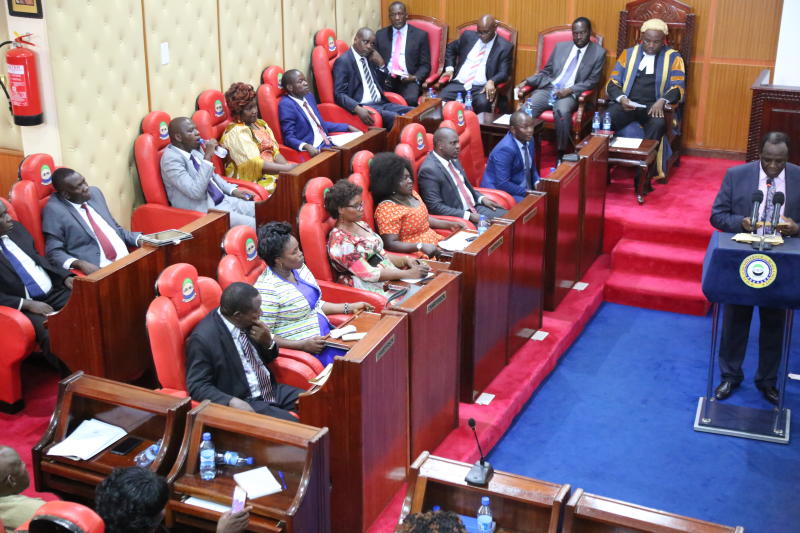 Members of the County Assembly (MCAs) have accused Busia Governor Sospeter Ojaamong's administration of failing to initiate development.
The MCAs claimed projects that were factored in the 2017/18 and 2018/19 budgets were not implemented despite millions of shillings being allocated to them.
According to MCAs, no proper explanation has been given as to why several tenders under the current financial year were cancelled.
Project cancellation
On Thursday, the MCAs adopted a Motion by Leader of Minority Felix Omanyi forming a Special Select Committee to investigate why there was no development in the county.
The seven-member team, which will grill county executives and chief officers, was given 10 days to compile the report and table it on May 30.
The MCAs said Ojaamong' will have to implement the resolutions of the Special Select Committee. The people they represent, they said, were demanding for development, which is not forthcoming.
"We were elected to take development to the people and it is discouraging that since we came into the assembly, no single project has been initiated in our respective wards," said Omanyi.
"What we want is development and whoever has slept on the job will go home," he warned.
Omanyi told Ojaamong' to expect to leave no legacy as long as he has a "lazy team"
Malaba North MCA Patrick Omanyala attributed the cancellation of project tenders to graft. "Those who were to be awarded the tender missed out. They want the perfect opportunity to reward them," said Omanyala.
His Nambale Township counterpart Mwajuma Toloi said there was no need for them to pass the budget which executives do not implement.
Outcry
"We have been cheated for long by the Executive. The Budget we passed for 2018/19 was Sh8 billion, but we have not seen projects being initiated in our wards," said Ms Toloi.
Contacted, Finance and Economic Planning Executive Phaustine Barasa said she was in a meeting and would call back. She had not done so by time of going to press.
The outcry by the MCAs comes a few days after Governor Ojaamong' attributed delayed implementation of projects to e-procurement hitches.
"Everything nowadays is done online and whenever there is network failure, everything comes to a stand-still. The county has money and projects have been identified and in due course, residents will start seeing some work," he said.