24 hours in the Ugandan cells and the unending trauma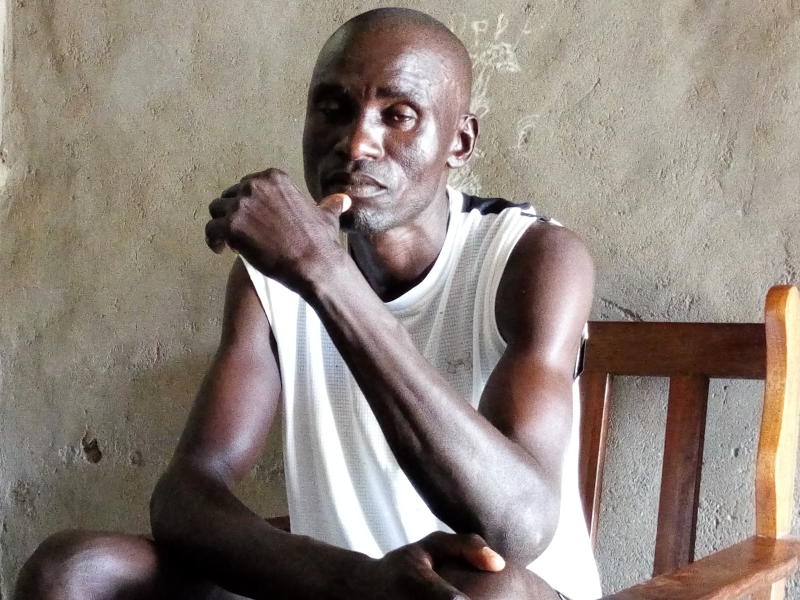 Martin Ng'onde is in deep thought, likely pondering over how lucky he is to be alive after an encounter with Ugandan security officers in Lake Victoria on Monday.
The Administration Police officer was in the company of two colleagues when they responded to a distress call from a group of fishermen.
The fishermen's boats had been attacked by people who later turned out to be Ugandan security officers.
Mr Ng'onde, who is a coxswain, said when they got to the boats, they were met by heavily armed men who disarmed them and took away their belongings.
And after a confrontation that lasted close to an hour near Hima Island, the Kenyans surrendered.
"The Ugandans took away our weapons and confiscated our mobile phones and other belongings.
Kenyan fishermen
"They also arrested four Kenyan fishermen, bundled us all in one boat and forced us to go with them," said Ng'onde from his house in Nambo Beach.
His account was corroborated by Bonventure Odongo, also a coxswain and an AP officer, who lives just 10 metres away from Ng'onde.
After their arrest, the Ugandans took them to a cell at Namiyango Police Station.
"It was 24 hours of a terrible ordeal," said Mr Odongo.
Ng'onde, 43, said he was left with hand and head injuries after he was beaten up.
The officers were released on Tuesday after talks between Kenyan and Ugandan security officers.
Siaya County Commissioner Jacob Narengo, who spoke after receiving the APs back from Uganda, described them as "tired and traumatised".
"We have received our officers back. They are safe but tired and traumatised. They need good rest," said Mr Narengo.
The officers said they were moved to a hotel just before their release and brought to Busia town after intervention by a top Ugandan security officer.
However, the fate of the fishermen arrested alongside the APs remains unknown as they are yet to be released. They were accused of crossing into Ugandan waters in the lake and using inappropriate fishing gear.
"We saw three boats in the distance whose occupants were waving their hands, asking for help. We rushed towards them but in a split second, armed men, some in jungle fatigues, opened fire," recalls Ng'onde.
Surrender weapons
The Kenyan officers were ordered to surrender their weapons.
"One of our officers refused to surrender his gun. A civilian identified as Paul jumped from a Ugandan boat into our boat and took the gun by force," Ng'onde said.
"We took about 45 minutes to Hama Island. We were forced to lie down and the officers began torturing us," said Ng'onde, who has been a coxswain on boats used by Kenyan security officers on patrol for the last 22 years.
Odongo, 24, said it was the darkest time of his life.
"So many thoughts were running through my head, especially because of I had no way of communicating with my family," he said.
"It was such a relief when we arrived back in Kenya. We arrived in Busia at 6pm on Tuesday. I wish to thank the senior officer who intervened and ordered the Ugandans to give back our phones and other belongings."
Narengo said a meeting was scheduled for Tuesday next week to discuss harassment of Kenyan fishermen by Ugandans.
"The special meeting will majorly address rampant mistreatment of our local fishermen.
Busia Uganda Resident District Commissioner Hussein Matanda however said there had been an exchange of fire between the Kenyan and Ugandan officers.
He said the Ugandans overpowered the Kenyans before arresting them, and dismissed claims the Kenyan officers were tortured.
"Kenyan fishermen had crossed into Ugandan waters and when they were arrested, the Kenya policemen crossed over and tried to forcefully rescue them, prompting a scuffle," said Mr Matanda.