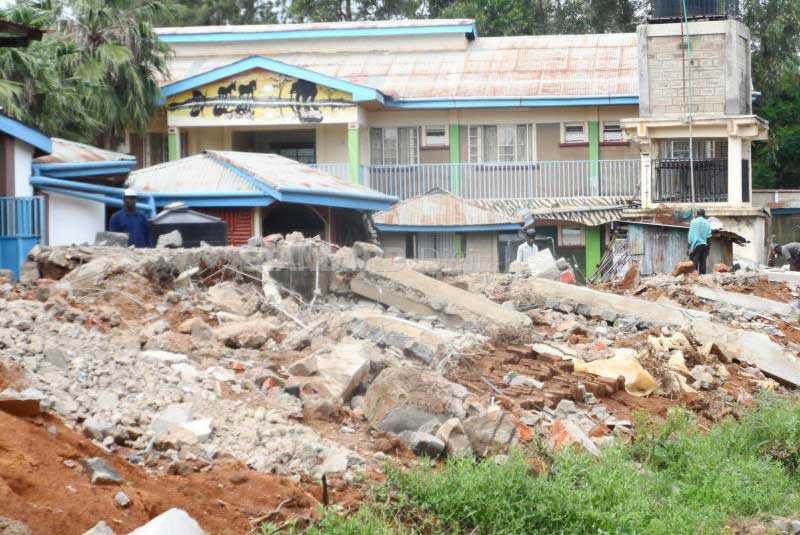 The Kenya National Highways Authority (KeNHA) is on the spot following the demolition of a Sh10 million perimeter wall on the outskirts of Kakamega town.
Local leaders and the Association of Hoteliers in the county yesterday condemned the demolition of the wall around Jamindas Hotel.
William Owuya, the association chairman, said it was wrong for KeNHA to destroy the wall a few weeks to the fifth edition of the Annual Devolution Conference to be held in Kakamega town.
"Jamindas is one of the 65 hotels expected to host visitors during the conference next month. Destroying the fence will cripple our preparations for the annual event," he said.
Lurambi MP Titus Khamala has vowed to take up the matter with KeNHA.
According to Jenipher Ligono, the hotel's proprietor, the agency did not give any notice before the demolition.
"I read mischief into what happened because I was not properly served with a demolition notice," said Ms Ligono.
She added that she had erected the wall to enhance security at the hotel.
Clients asleep
"Clients who were asleep ran for safety as a crane demolished the wall, threatening to rip out one of the blocks," she said.
But KeNHA denied claims that no notice was given for the demolition.
According to official Antony Mutua, affected individuals were informed before the demolition was undertaken.
"On expiry of the notice, we moved in to demolish all structures on road reserves," he said.
Mr Mutua said KeNHA had been sensitising the public against putting up structures.
"Both the traffic and road Acts are clear that no one should erect structures on land reserved for expansion of roads. We did everything above board," he said.
Mutua dismissed claims that KeNHA was selective in bringing down the hotel wall.