Kakamega boy offers kidney to raise Sh53,000 Form One admission fees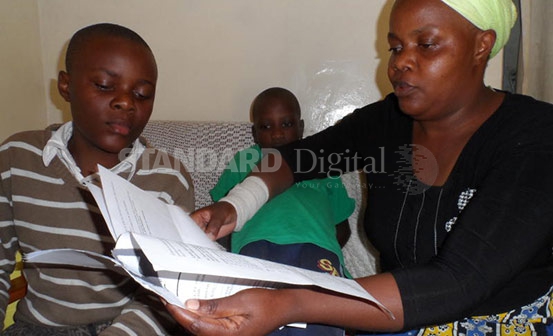 Kakamega, Kenya: Jeffray Swaka, who sat for his KCPE examination in 2015 and scored 389 marks, is now willing to sell his kidney to raise fees to join Kenyatta High School in Mwatate.
He resorted to the decision as his single mother who is bedridden following a road accident is unable to raise Sh53,000 needed for admission.
"I am ready to sell my kidney or any other body organ to raise fees for my secondary school studies. I want to study medicine after completing my secondary school," said distraught Swaka.
The 14-year-old and second born son in a family of three has missed the deadline for reporting to school as required in his admission letter.
He was supposed to report at the school on February 3, 2016.
His mother, Selinah Swaka, can no longer carry on with her business of hawking second hand clothes after the October 2015 accident along Kericho-Kakamega road that left her leg and arm broken.
"I have nothing to cling on. The accident cost me a lot. I lost everything and I am unable to raise fees for my son, he is hard working and I am sure if he gets a sponsor he will do his best to achieve his dream career," said Ms Akhwale.
She said attempts to get support from sponsors such as Equity Bank's Wings to fly, KCB, Palm House, CDF and other bursary kitties received a 'not successful' response.
"I cry a lot when my son asks me, mum when will I join secondary school? Because I am unable to answer him. I could have worked on people's farms to raise his fees but I am crippled due to the accident," the distraught mother said.
The young Swaka is hoping for a miracle to join secondary school.
According to the school's fee structure, Swaka is expected to pay Sh27,019 as first term fees, Sh16,068 and Sh10,469 for second and third term respectively.