When Pan Paper collapsed, hopes of Webuye town died with it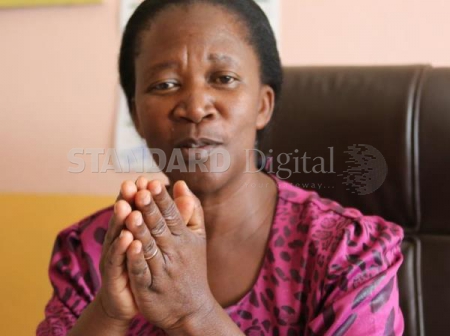 When the roar of the huge turbines at Pan Paper Mills went silent in 2009, Webuye Town, died condemning its inhabitants to a life of grinding poverty and apathy.
Today Webuye is the tale of a ghost town where monkeys live in stone houses. Seven years on, the town survives on doses of hope that someday, the county or National Government will revive the factory.
The little white houses are rusty, dirty and abandoned. Their metal grills and windows have been plucked off by vandals and sold off for a song as scrap metal.
Nobody knows when that happened, but they have a good idea it has to do with the biting poverty that was triggered by Pan Paper Mills' collapse.
The shrubs that used to make neat hedges around the staff quarters have grown into wild bush. And the trees in the compound have been cut down for firewood.
The pavements on which hundreds of employees of the once premier paper factory trotted on to and from work are now covered with grass. The only good news is that the stench — the town used to stink like untreated sewage — has disappeared.
As you approach the staff quarters, you will spot a monkey coming out of an abandoned house. Then another. Then another. Within minutes, you will be surrounded by a troop of monkeys in a curious chatter.
That is Webuye, seven years after power went out at the factory, setting of the process of the town's gradual decay.
Take a quick survey and help us improve our website!
Take a survey
Huge unpaid power bills, high costs of operations and cheap paper imports conspired to make sure that the machines at Pan Paper Mills fell silent. That silence, the bush and the absence of people — at least 900 people lost their jobs— invited the monkeys from a nearby forest that Pan Paper generously created.
Webuye is a town where a retired machine operator, an out-of-work hotelier, a worried high school principal and an unhappy business woman tell the same story — there is no money.
As you walk past places like 'Half London'— a mini-shopping Centre — to Sango or Kwa Dinah, you cannot fail to notice traces of the past — abandoned restaurants, bars and lodges — that show that life was good once, when the factory devoured trees and spat out reams and rolls of paper.
If you speak to Gideon Namwaya, who has been living in Webuye since 1973, and who saw President Jomo Kenyatta flip the switch to commission the Pan Africa Paper Mills a year later, it requires a miracle to salvage the current situation. Eyes and hope are on the younger Kenyatta, the current President, to revive the factory, but going by the half-hearted efforts to do so, the prevailing despair is understandable.
Namwaya had lived the good life when a job at the factory guaranteed entry into a coveted lifestyle, where people had three meals a day, the children went to school and there was enough left to keep up with fashionable apparel.
"The economy has shrank and poverty levels have risen, houses which workers used to stay in have turned into monkey dens. Windows have been vandalised and there is no security," Namwaya said. The former machine operator retired in 2007 and set up several small businesses, including a kiosk and posho mill. His colleagues saw the signs and went to look for work elsewhere. Namwaya stayed and reaped the bitter fruits.
"I have a posho mill at Chocolate Estate but it is not doing well," he said. Chocolate Estate is one of the settlements where hundreds of low-cadre workers stayed, surrounded by schools, dispensaries, and a culture and recreational centre.
"When the mill collapsed Pan Paper Clinic, Anglican Church Primary and Pan Paper Secondary collapsed as many families moved back to their rural homes," says Stephen Watiti, the national vice chairman of the Kenya Union of Paper Manufacturers, Printers and Allied Workers.
Among the 30,000 people who depended on the plant were youths who often ferried employees on boda boda bicyles. "Two hundred former workers at the plant have died for lack of treatment and others could not withstand the pressure of losing jobs and at the same time not being paid their salary. Drugs worth Sh2 million expired," Namwaya noted, offering no evidence to substantiate his claims.
Bernard Wangila, a former employee, now does odd jobs to make ends meet. "I had worked for Pan Paper Mills for 12 years but when the factory closed its doors, I came out with nothing and now I have been forced to hustle to survive and feed my three children," Wangila said.
St Mathew ACK Secondary School Principal Celina Owano says since the mills collapsed, enrollment dropped from about 800 to 500 students. Pan Paper Secondary School was closed as students abandoned school due to unpaid fees. In 2009 it had 880 students, now the population is just at 700.
"Getting food is a problem and poverty levels have risen. Many students cannot afford fees. The mills should be revived because many kiosks, hotels, schools and dispensaries have been affected," says Owano.
Veronica Nyanjom has lived in Webuye Town for over a decade. Her husband was an employee at Pan Paper. But for the last seven years, they have had to scrap a living from a bicycle boda boda. It brings between Sh50 and Sh100 a day. That can buy a loaf of bread or a two-kilogramme tin of maize for ugali.
"We are too poor . . . we have two children who scored 375 and 373 in KCPE but they cannot continue with school. Pan Paper is not helping and so the Government should chip in to ensure workers are compensated to start businesses," Nyanjom said.
It is not just school fees that Nyanjom is chasing. She also has to find money for paraffin now that electricity was disconnected. Plus, for water, she has to depend on the water vendors with handcarts. Jackline Minyoso, who sells tomatoes and onions at Kaburengu, wants leaders from western Kenya counties to find a way out. "Leaders should talk to former employees so they can pick themselves up.
"We are worried about our men; they have lost all hope that they do not even look for work. Most of them just stay at home and depend on women to put food on the table," Minyoso said. At another corner of the town, Michael Ondieki is banging on metal. He has on display metalwork such as gates, windows, doors, grills and even cooking stoves.
Jua Kali
Mr Ondieki, a former employee in the engineering section at Pan Paper, is now a proprietor of a jua kali enterprise. When the company closed shop, he was never paid.
"The population has declined and the market has shrank as we only have truck drivers to sell our goods to. Otherwise we have to take our goods to Malaba and Kakamega. Since we are on a highway our main customers are truck drivers," said Ondieki, whose shop is on the Webuye-Malaba Road.
Ondieki nostalgically recalls when they depended on the alarm (King'ora) to signal a change of shift. "Every man on the street depended on the good old factory King'ora to get the time right," he said. When life was good, he used to make up to Sh10,000 on a good month, but now he has to make do with between Sh1,500 and Sh3,000.
The mills collapsed under huge debt and its closure meant economic disaster for town residents and thousands of employees who depended on it. There were state bailouts, including one of Sh1 billion, but the money was swallowed up by the huge debts.
Moment with Pope Francis has changed my life forever
Emmanuel Mambo Monga and Lynette Wambui Njogu, the representatives of Kenyan youth who spoke directly to the Pope at the Moi International Sports Centre Kasarani, describe the opportunity as a lifetime experience.