Champion Kiprop targets Beijing conquest in 1,500m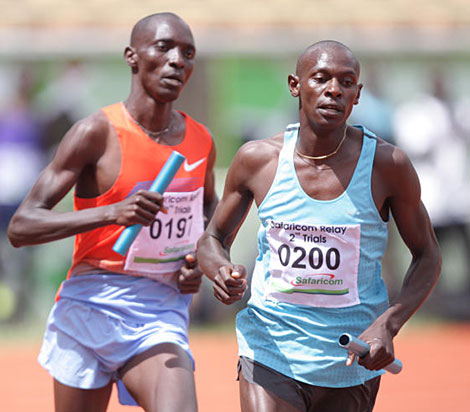 Caleb Mwangangi Ndiku and Asbel Kiprop competes in 1500m x4 during the world relays trials at Kasarani Stadium on 05-03-2014.PHOTO/DENNIS OKEYO
World 1,500m champion Asbel Kiprop is keen to defend his title in Beijing, China, next year during the 15th IAAF World Athletics Championships.
Kiprop will be returning to the Chinese capital hoping to kill two birds with one stone – prove his 2008 Olympic gold, awarded after Algeria's Rashid Ramzi tested positive to dope, was no fluke and become Kenya's third-time world 1,500m champion.
History favours him. Back in 1990, former Vice President Kalonzo presented an award to his father, David Kebenei, after the latter won 1,500m at the national championships at Nyayo National Stadium.
And 20 years later, Kalonzo again presented Kiprop with the gold medal after winning the 1,500m title at the Africa Championships at the same stadium.
Not bad for the 25-year-old, who has seen Hicham El Guerrouj, the world record holder (3:26.00), tip him to break the record.
Asbel, who missed the world record at the IAAF Diamond League meeting in Monaco, is planning to make another attempt at the world mark.
"I still want to run fast time but my priority next year is to defend the world title title in Beijing. I announced earlier this year about my bid to break the record but I disappointed my. However, I still harbour intentions of attacking the record and only need to plan well and have it at the right time," said Kiprop.
He is the only Kenyan to have won gold medals in 1,500m at the IAAF World Championships twice – in Daegu (2011) and Moscow (2013).
El Guerrouj said his record can be broken and that it was Kiprop who could do it.
He told IAAF: "The 1500m world record is difficult, but it can be broken. However, the only athlete I currently see capable of breaking it is (Asbel) Kiprop.
"I think he could go under 3:25. It won't be easy but he can do it. It's very difficult in the same year to go for a world record and a major title."
"Dead Beat" is not the answer to responsibility question.
I took time to scroll through the posts, comments and likes, most of which are negative and expose the "accused" to a mob justice mentality. The genuineness of Jackson to highlight on the problem, might have been an attempt to solve the cancerous problem in Kenya. Men and women alike procreate and abandon children to women to toil in up-bring. In rare cases, women also abandon their children with their grannies and head back to the city to search for better life with less burden on their necks. Others meet "potential" marriage material partners who do not wish to enter into a relationship with a woman with a baby. Children are often raised by single parents while the other parent misses out. Whereas there is no doubt that the problem is widespread and raises concern for the well being of the children. Exposing the cases on social media is far from being a solution to the underlying cause of the problem in a society which shy away from discussing sexuality. Posting images and comments