Kilel and Lang'at excel at Mau Peace Half Marathon in Kuresoi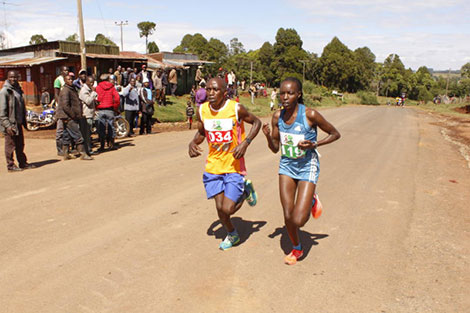 PIXES TWO AND THREE. Caroline Kilel(No. 10 sky blue vests) passes a male athlete and in Pix Three(when alone) on her way to win the fourth edition of the Mau Peace Half Marathon in Kuresoi South over the weekend.
Former Boston Marathon champion Caroline Kilel and little-known Isaac Kipkoech Lang'at beat a field of more than 500 runners to emerge overall winners during the fourth edition of the Mau Peace Half Marathon in Kuresoi South over the weekend.
The race, which is sponsored by Rift Valley Water Services Board and the area member of Parliament Zakayo Cheruiyot, saw Kilel clock one hour 12.15 minutes and Langa't credited with a time of one hour 01.36 minutes. Each got Sh100,000.
"This was one of my easiest victories, having just taken part in the Glasgow Half marathon last month where I finished third," said Kile.
Kilel said the victory has prepared her well for the cross-country season next month ahead of the Boston marathon in April.
"I can confirm my participation in the Boston Marathon come next year," she said.
The race started at Kimalany in Kerenget and ended at Moi Amalo Secondary School in Olenguruone.
On his part, Langa't decried the difficult course, a rough terrain with potholes in lose surface and steep tarmac road.
"I'm now getting ready for the cross-country season and determined to make it to the World Cross Country championships next year," said Lang'at, who revealed he was affected by the high altitude in Kuresoi on his way to victory.
Nicholas Kipkemoi was second in 1.01.45 to claim the Sh50,000 prize ahead of Josephat Bett (1.02.36), who earned Sh30,000.
Erick Lang'at was fourth in (1.02.53) followed by Raymond Komen (1.03.02) and Bernard Kipkemoi (1.03.17).
In the women's race, Kilel was top ahead of Jane Moraa, who clocked (1:13.14), with the third place going to Lucy Liavoga in 1.13.17. Fourth was Jepkorir Tanui in 1.14.05 followed by Joan Ayabei (1.14.25) and Picoty Chepkemoi in 1.14.38. Daisy Chepng'eno Lang'at was seventh in 1.14.45 ahead of Risper Chebet (1.14.56), Mercy Chemtai (1.15.41) and Irene Chepkurui Makori (1.17.32).
"Dead Beat" is not the answer to responsibility question.
I took time to scroll through the posts, comments and likes, most of which are negative and expose the "accused" to a mob justice mentality. The genuineness of Jackson to highlight on the problem, might have been an attempt to solve the cancerous problem in Kenya. Men and women alike procreate and abandon children to women to toil in up-bring. In rare cases, women also abandon their children with their grannies and head back to the city to search for better life with less burden on their necks. Others meet "potential" marriage material partners who do not wish to enter into a relationship with a woman with a baby. Children are often raised by single parents while the other parent misses out. Whereas there is no doubt that the problem is widespread and raises concern for the well being of the children. Exposing the cases on social media is far from being a solution to the underlying cause of the problem in a society which shy away from discussing sexuality. Posting images and comments