Deal with these drug cheats: Soya patron calls on Government to curb doping menace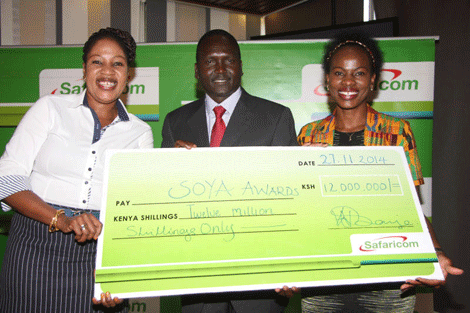 Safaricom Marketing Director Rita Okuthe (left) presents dummy cheque of Ksh.12million to SOYA awards Founder Paul Tergat and Panel Chairperson Evelyne Watta (right) during the announcing ceremony on 27-11-2014 at the Safaricom Offices, Nairobi. The awarding ceremony will be held on 16-01-2015.PHOTO/DENNIS OKEYO
Former world marathon record holder Paul Tergat has called on the Government to investigate doping reports in Kenya and take action against the perpetrators.
Tergat, an executive member of the International Olympic Committee, said there was need to educate athletes on doping to avoid falling prey due to accidental use or ignorance.
"We really want the Government to thoroughly investigate dope cases against our athletes and ensure those involved face the full wrath of the law. It's good to see our athletes become knowledgeable in doping and use prescribed medication, which is certified," Tergat said.
"We are all aware doping is rampant across the globe, but we must reclaim our image in sports. We have a country and sport to protect since we have stood out as a sporting nation for many years. Now that I am involved in sports administration at the highest level, we must educate our sportsmen and women," Tergat said yesterday as he unveiled the 2014 Sports Personality of the Year Awards (Soya) at the Safaricom headquarters in Nairobi.
Tergat, who is the founder and patron of the Soya awards, said he was confident the panel of judges would pick the best nominees for the prizes.
"Let me promise you we will have the best-ever event. We will not disappoint you as the selections will be above board. We will ensure Soya awards keep on realising its purpose and we applaud a clean sport," he said.
Evelyn Watta, who chairs this year's panel of judges, said the gala will be held on January 16.
"We will have 16 categories and voting will start on December 10 to January 10. Members of the public can send in their nominations by dialing *279# on their mobile phones. We will come up with five nominees in the men and women catogories in the 17 categories," said Watta.
The overall sports personality of the year will receive Sh150,000, while male and female winners will take home Sh100,000. Runners-up and second runners-ups will get Sh75,000 and Sh50,000 respectively.
Safaricom's Marketing Director Rita Okuthe said the company will sponsor the gala with Sh12 million.
"For the last 11 years, Soya has been one of the key platforms that have consistently recognised the positive contribution of sportsmen and women in the country who have excelled in their different disciplines through hard work and dedication," said Okuthe.
Last year's winners were Simon Cherono (overall Sports Personality of the Year), Ezekiel Kemboi (male), Edna Kiplagat (female) as well as Kenya Rugby Sevens team and Kenya Prisons Volley ball team.
"Dead Beat" is not the answer to responsibility question.
I took time to scroll through the posts, comments and likes, most of which are negative and expose the "accused" to a mob justice mentality. The genuineness of Jackson to highlight on the problem, might have been an attempt to solve the cancerous problem in Kenya. Men and women alike procreate and abandon children to women to toil in up-bring. In rare cases, women also abandon their children with their grannies and head back to the city to search for better life with less burden on their necks. Others meet "potential" marriage material partners who do not wish to enter into a relationship with a woman with a baby. Children are often raised by single parents while the other parent misses out. Whereas there is no doubt that the problem is widespread and raises concern for the well being of the children. Exposing the cases on social media is far from being a solution to the underlying cause of the problem in a society which shy away from discussing sexuality. Posting images and comments