14-member team unveiled for African Youth Games: Athletes to prepare for the continental contest later this month in Gaborone
By JONATHAN KOMEN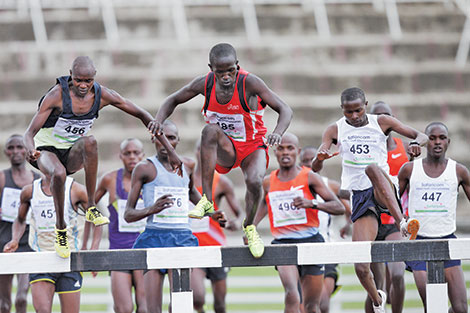 Boys compete in the 200m steeplechase during the national trials for African Youth Games at Nyayo Stadium, yesterday [PHOTO: DENNIS OKEYO]
Kenya's team to the second Africa Youth Games was named at the Nyayo National Stadium yesterday.
The team will report to residential training camp ahead of the competition that runs from May 22 to 31 in Gaborone, Botswana.
The age controversy that usually marks youth trials played out with the selectors barring Africa cross-country junior silver medalist Andrew Lorot from competing in 3,000m boys.
But his Nairobi region team representative Pak Kariuki protested at the move and dared Athletics Kenya (AK) to bar the athlete at their own peril.
In a letter to the Jury of Appeal, Kariuki said: "The athlete had all necessary documents to enable him to be entered into the event. He meets the 16 or 17 years age bracket (born 1996 or 1997) for youth athletes."
He added: "We will go to court to stop 3,000m boys team from competing in Bostwana if the selectors do not include the boy in the team. We will not allow them to frustrate young athletes."
Jackson Tuwei, the competition director and AK vice President, however said the boy had presented a different birth certificate last year.
easily picked
World Youth 2,000m steeplechase champion Roseline Chepng'etich easily picked her ticket in her speciality in 6:20.99 ahead of Dorcas Nzembi (6:38.50) and Jackline Cherono (7:40.52). Joyce Muthoni (8:32.40) and Betty Chepkemoi (8:41.7) followed.
Winfred Mbithe (4:19.0), fourth at the Africa cross-country juniors, carried the 1,500m race beating Everline Chepkoech (4:22.1) and Flomena Cheptum (4:28.7) as Janet Chepng'etich (4:28.9) and Lucy Mukami (4:34.6) followed.
Agnes Mulee, who was dropped from the World Youth team last year, won the 800m race in 2:06.2, thrashing Joyce Chemweno (2:08.0) and Vivian Chepkemoi (2:10.0).
Newcomer Jackline Chepkoech, placed eighth at the Africa cross country in Kampala, won the 3,000m race in 9:10.12 ahead of Loise Chemining (9:10.7), who also failed to impress at the continental crosscountry in Kampala.
In the boys front, Moses Koech won the 3,000m show in 8:06.2 outclassing Philemon Kiptoo (8:19.36) and Bernard Mutiso (8:21.76).
Ian Mutuku, a member of the 2013 World Youth team to Ukraine, shone in the 400m race in 48.47 ahead of Evans Kibet (49.70) and Jeremiah Kiptanui (50.0).
Antony Kiptoo (1:47.6) wore the 800m crown, beating Michael Kiptangut (1:49.3) and Jeremiah Kiptanui (1:49.6).
no respect
Amos Kirui (5:39.3) showed no respect for James Ndiwa (5:43.5) and Geoffrey Rotich (5:48.0) in 2,000m steeplechase.
KENYA TEAM; Girls -–– Maureen Thomas (200m), Purity Chepkoech (400m), Agnes Mulee (800m), Winfred Mbithe (1,500m), Roseline Chepng'etich (2,000m steeplechase), Jackline Chepkoech (3,000m).
Boys –– Ian Mutuku (400m), Geoffrey Kipng'etich (400mH), Anthony Kiptoo (800m), Gilbert Kwemoi (1,500m), Amos Kirui (2,000m steeplechase), Moses Koech (3,000m).
The 2nd African Youth Games (Gaborone 2014) preparations continue in earnest with the Chef de Mission seminar taking place in the host city of Gaborone (Botswana) this week ( December 11 and 12).
A total of 53 delegates representing all member countries are expected to attend this session which comes just six months before the staging of the Games (22nd to 31st May 2014).
The first edition of the African Youth Games was held in Rabat, Morroco in July 2010 and attracted just over 1 000 athletes from 41 countries participating in 16 sport codes but Gaborone 2014 will cater for 2 500 young athletes participating in 20 sport codes. The Games cater for athletes in the 14-18 year age range.