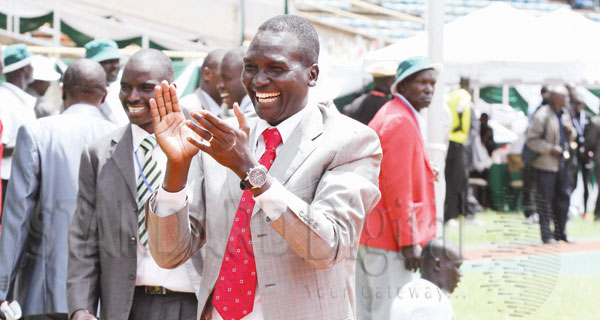 Paul Tergat cheers his team during a recent Kenya Defence Forces Athletics Championships at Moi Sports Centre, Kasarani. [PHOTO: STAFFORD ONDEGO /STANDARD]
By OMULO OKOTH
Cross country legend and former Olympic silver medallist, Paul Tergat, begins his long walk to global sports administration executive job this weekend in Lausanne.
Tergat, 44, who is also a former world marathon record holder, was on Wednesday accompanied to the Swiss capital by National Olympic Committee of Kenya (Nock) chairman, Dr Kipchoge Keino, to meet the International Olympic Committee (IOC) President, Dr Jacques Rogge and other key personalities.
"Dr Keino travelled to Lausanne with Tergat to meet the IOC top brass to kick start the process," Nock Secretary General, FK Paul told FeverPitch on Friday.
"As you know, Kip is retiring from the IOC, after attaining the mandatory age of 72. During the London Olympic Games, we requested that another Kenyan be recommended for the positions, and they (IOC) agreed," he said, adding that they then settled on Tergat.
Kip Keino became a member in 2000 after the resignation of Charles Mukora in the wake of Salt Lake City Winter Olympics scandal, which saw more than 10 IOC members ousted or resign.
He (Kip) is now a non-voting honorary member of the IOC.
Tergat, a decorated military officer of the rank of captain, won five world cross country championships titles between 1995 and 2000, besides two Olympics 10,000 meters silver medals in 1996 in Atlanta and 2000 in Sydney, losing, on both occasions, to Ethiopia's Haile Gebreselassie.
He also won world championships silver medal in Athens in 1997 and Seville two years later and a bronze in 1995 in Gothenburg. Tergat ran a world marathon record of 2:04:55 from Berlin 2005 and won in New York City the following year.
He has been a UN ambassador against hunger. Apart from Kip Keino, Tergat is arguably the most visible Kenyan athlete of international reputation, whose glorious running career transcends track achievements.