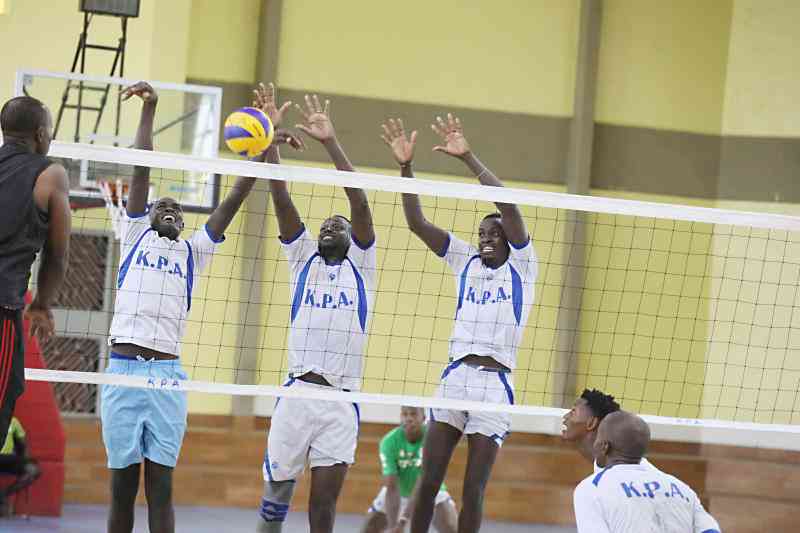 Kenya Ports Authority (KPA) men's volleyball team faces litmus test as the sixth leg of the national league serves off tomorrow in Nairobi.
The league matches scheduled for Saturday and Sunday, will be played at the Nyayo Stadium's outdoor volleyball court as the indoor gymnasium is set to host the Kenya Basketball Federation matches.
Tomorrow's and Friday matches will be at the indoor gymnasium.
The dockers take on Kenya Forestry Services (KFS) tomorrow in a match that is likely to determine if KPA will qualify for the national play-offs.
KFS are fresh from upsetting former champions Prisons Kenya 3-1, while KPA returned last month from the Africa Club championships in Tunisia, where they finished fifth. KPA's head coach Sammy Mulinge said the team resumed its training last Saturday and will be in Nairobi today as they prepare for the five rounds of matches they are scheduled to play.
"We are going to have tough matches as we face off with top contenders including defending champions General Service Unit (GSU) and Prisons Kenya, among other teams," said Mulinge.
The dockers, who are unbeaten this season, lead the pack with 28 points and will be out to maintain their grip in the league after playing 10 rounds of matches. They have won 30 sets and lost six.
KFS coach Wachira Gatwiria said he is ready for the Mombasa-based team. "We have been training together for quite sometime and it seems the chemistry is working well," said Gatwiria, after guiding his side through a training session at Nyayo Stadium.
He said they have put their focus to tomorrow's match. "We have lost twice to Equity Bank and Kenya Defence Force (KDF) this season but we are ready for the so called big teams," said the coach.
After tomorrow's match, KPA will next play GSU, who are second in the league with 23 points from eight rounds of matches. GSU are yet to lose a game.
KPA and GSU are the only two teams that have not tasted defeat in the 16-team league this season.
Kenya Defence Force (KDF) are third with 21 points, from 10 rounds of matches.
On Saturday, the dockers will play Prisons Kenya before winding up their Nairobi trip with a match against Administration Police (AP) Kenya on Sunday.