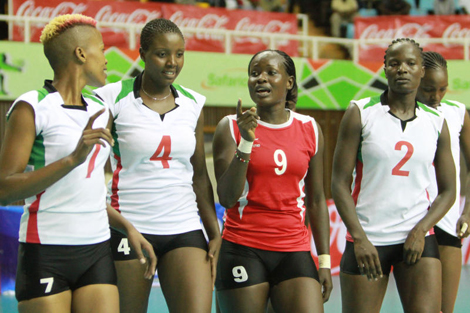 Kenya's volleyball team during their match against Mozambique.Photo/DENNIS OKEYO
Kenya's in form left attacker Mercy Moim scored a games high 11 points but this was not enough to stop Croatia from beating her team 3-0 (25-20, 25-17, 25-15) in their opening match of second leg in 2014 FIVB World Grand Prix in Porec, Croatia yesterday. The results brought Kenya's win-loss record in the competition to 2-2 while Croatia improved to 3-1. Czech Republic lead the eight-team Group Three on maximum 12 points, followed by Bulgaria (4-0) on 10 points, Croatia (3-1) on nine points while Kenya occupy position four on nine points, two more than fifth-placed Kazakstan. Other teams in the table standings are a pointless Australia and Mexico who have managed just three points. Top four finishers after preliminaries advance to the final phase of the competition that will be staged in Bulgaria.
SEE ALSO: Cold weather, varying levels of rainfall to continue in parts of the country- Weatherman
Kenya were scheduled to play Bulgaria yesterday. Croatia's victory against Kenya was the second win by the Europeans over the East Africans in international competition following a 3-1 triumph at the 2000 Sydney Olympic Games. "We didn't play well tonight," Kenya coach David Lungaho said. "Our reception was bad and Croatia put us in trouble with their tactical serving. I'm confident we will recover and play better in the next match." According to Moim their form "wasn't good in this match. I can only hope that we will improve and play much better against Bulgaria. We want to secure spot at the final four." The African champions came out well in the opening set with Makuto causing the hosts issues with some complicated serves. But they regained control and took the lead at the second technical time-out.
SEE ALSO: Sh400,000 up for grabs in youth challenge
Croatia took an early 8-3 lead in the second on the back of some Samanta Fabris serves. They quickly increased this to 16-7, a score Kenya failed to catch as they went down 25-17. The hosts started the third with three substitute players and the change appeared to cause some issues as Kenya took 8-5 lead. Top scorer Moim put on a display of her attacking skills as she kept Kenya ahead. But Croatia eventually levelled up at 19-19 after a few solid serves by Mia Jerkov. The home side then stepped up the pace as Antonija Kaleb and Jelena Alajbeg blocked on match point.
"We defeated a team which was ahead of us in points," Croatia coach Angelo Vercesi. "I would like to congratulate Kenyan team on great match. They played on high level but lacked some tactical finesse." Croatia player Mia Jerkov said that: "It's always very important to win the first match at the tournament. We were having some problems in perception of this hall and Kenya put us few times in somewhat uncomfortable situation." We managed to take advantage of their mistakes. It wasn't easy to win this match at all even if result suggest otherwise."
SEE ALSO: Why KQ tenders are under the radar of investigative agencies