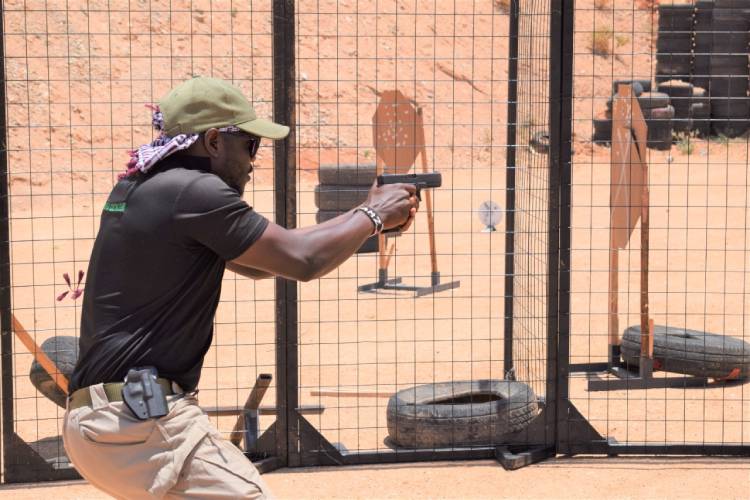 The Kenya Sports Shooting Federation (KSSF) is gearing up to host the first-ever IPSC African Championships dubbed Kenya Open Level 3 Handgun Championships.
The event which will be a 20-bay pistol contest is scheduled to take place on June 18th and 19th this year, at the 150-acre Shaba shooting range in Kamanga, Samburu county.
Speaking during Saturday's Level 2 build-up match that was held at the Shaba shooting range, KSSF President Shoaib Mohammed Vayani said they have sent out invitations to 106 countries. "We invited 106 countries. The registration exercise is going on well. So far 150 participants have registered. We are expecting approximately 300. The dress rehearsal will be held in May at Shaba," said Vayani.
The IPSC and Kenya Rifle Regiment Club (KRRC) chairman Memba Muriuki confirmed that 15 countries have so far expressed interest in the event.
"We have 15 countries that have expressed a strong interest in the contest. Before they come, we want to give them an understanding of what they are coming to.
"Shaba which is located 400 kilometers from Nairobi. Is one of the best ranges in Africa, and has the capability of hosting the commonwealth games; but not many people know about it.
"We want to develop it into a shooting sports hub and that development begins here," said Memba.
According to the Project and range manager of the Shaba range Col (Rtd) Joseph Kamar, the facility is all set for the big match.
They are expecting the visitors to indulge in nature in the conservancy which is home to some endangered species of animals like the grevy's zebra, reticulated giraffe, beisa oryx, Somali ostrich and the gerenuk.
Shaba is also home to the highly endangered Williamson's lark.
"Hosting the event in Shaba will put Kenya on the world map of shooting sports. As you know Shaba is a National reserve that is a tourist attraction.
"Besides shooting, visitors can take time to move around and see nature. This is the place where conservationist Joy Adamson raised the famous lioness called Elsa.
"There is also a five-star hotel in the middle of the desert that is sitting next to the Ewaso Nyiro river. In addition to enjoying the views, the guests will also have a chance to be on the equator in the Savanna grassland," said Kamar.
Shaba shooting range is a complex that carries Pistol, Fullbore, Skeet and Trap, and precision sniper ranges among others.
"We will be the third country in the world to have a precision sniper range." Said Kamar
While thanking Chalbi industries for their continued sponsorship, Shoaib appealed to other sponsors to come on board for the event saying they intend to host even bigger events like world championships.