TWENDE NANYUKI – MWISHO WA RELI
By Thorn Mulli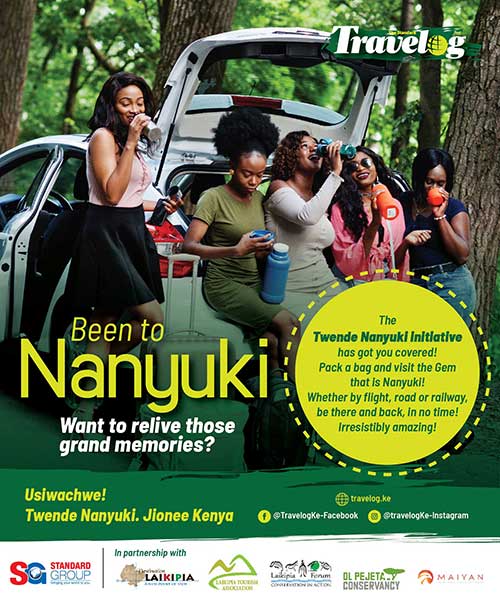 Nanyuki serves as the gateway to the Laikipia County, one of the world's most important wildlife conservation areas. This resort town, rich in game and nature reserves, lies smack along the Equator and boasts breathtaking landscapes with spectacular views of the mountain-Mount Kenya-that gave our country a name. Nanyuki also boasts unique adventure activities and rich cultural heritage worth experiencing.
It is for this reason that Travelog, a product of Standard Media Group PLC, in partnership with Laikipia County are celebrating this great destination with an grand two-day trip via the newly revamped Railway dubbed "Twende Nanyuki – Mwisho wa reli" (#DestinationLaikipia) on September 26-27.
The trip will entail:
• An option of self-drive, flying, or an epic train ride from Nairobi on September 26 at 08:00hrs
• Arrival in Nanyuki at 13:00hrs
• Pick up and transfer of visitors at the Railway station to participating hotels.
• A tour of Nanyuki town with views of Mt Kenya and a game drive at Ol Pejeta conservancy.
• Transfer to various participating hotels for accommodation and entertainment.
• Check out from the hotels at 10:00hrs after breakfast with opportunity to experience other attraction sites including the Equator marker, Oljogi Conservancy, Ngare Ndare forest among others.
• Meet up at the railway station at 12:00hrs.
• Depart to Nairobi.
Want to join in the fun? See press for details and follow our social media pages for incredible offers on accommodation and leisure activities.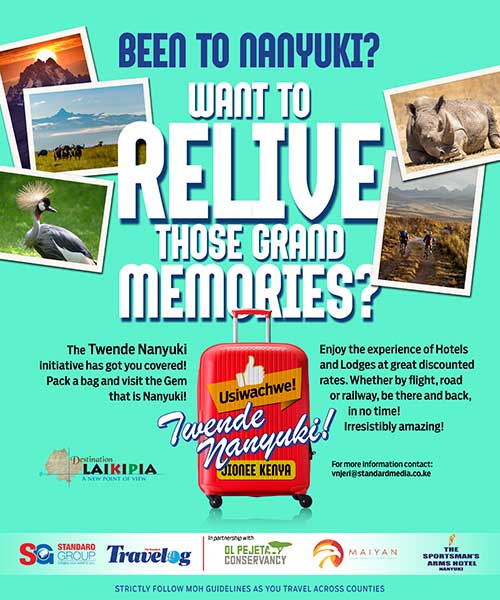 Twende Nanyuki-Mwisho wa Reli will give our sponsors special mentions as added value on KTN News, KTN Home, Standard Digital, The Standard Newspaper as well as leading travel magazine Travelog. Participating sponsors will also be accorded branding the coaches of the train. Establishments keen to partner in this fantastic venture can contact: Media Executive Standard Media Group Plc., Victoria Ngeny at 0722 576727 or email