Ziplining has grown in popularity over the past few years, with zip line tours becoming popular vacation activities. Ziplining is now found both at upscale resorts and at outdoor adventure recreational facilities, where it may be an element of a larger challenge such as a hike or ropes course.
It is a growing outdoor activity with hundreds of Kenyans participating in the sport. While it is among the list of the daredevil extreme sports, it should be an essential item on your to-do list if you love adrenaline exploits.
Though ziplining can be a scary experience, with the help of a professional guide, it can be an adventure of a lifetime, more so, if you are taking on long zip lines.
The sport is an adrenaline-rushing, yet safe sport. It is the ultimate way to experience surreal beauty within a magnificent setting. You will feel like a bird in flight (my experience) as you soar over valleys with spectacular sceneries.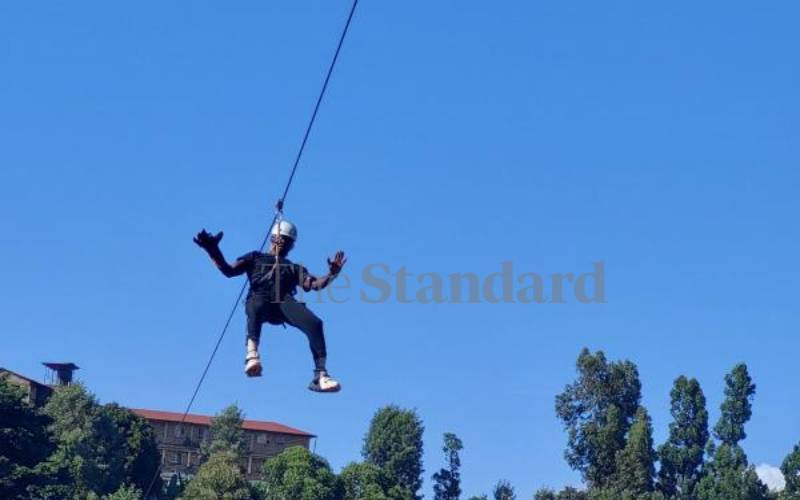 Here are some tips:
Before indulging, do a background check on the sport.
Safety is important and should be given the highest priority.
Listen carefully to the drill given by the professional instructor and guide. Always pay attention to safety briefings. Ask questions if you may.
Ensure the full-body harness fits you. Do not rush the experience, otherwise, you will not enjoy every minute while it lasts.
Plan to have a camera attached to you, so you can capture the moment – the zip-lining experience.
Wait for the clearance of other zipline users before you take your turn.
Dress lightly while going for ziplining. Dresses and skirts are discouraged because they can be hazardous. Wear close-toed shoes and empty your pockets.
Wear a helmet and gloves.
Wear Sunscreen and bug repellent.
Avoid zip lining if you are pregnant or over the weight limit (34-114kg) or have other health problems and impairments.