Family travel: Discovering the pleasant destinations in Kenya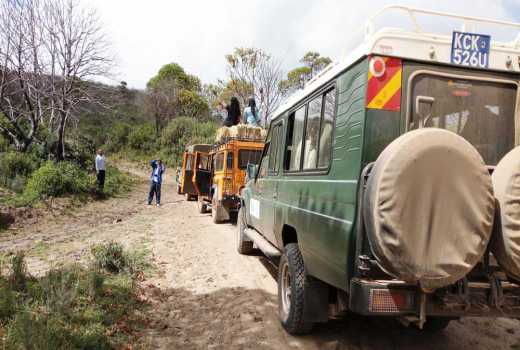 "Why are you eating those flowers," Eric explodes at my hors-d'oeuvre. The colour of my 'starter pack' perhaps gives it a little bit too much colour. It's a good meal, no doubt about that.
After a wild fun day at the Samburu National Reserve, we are finally at the Mayian Luxury Homes at outskirts of Laikipia town.
And yes, we are in time for the 'flowery meal'.
The homes are built to offer a serene environment and are perfect for honey moon and family getaway. It is an assortment of beautiful garden, play grounds, horse staple, a man-made lake and apartment homes.
The panoramic view as I seat on the Jacuzzi at the top of the apartment is magical, to say the least. The view of ice-capped Mount Kenya; the flat Nanyuki lands that gently rise to connect to majestic hills in a distance; the green houses in the East look like wavy beige lawns. It's a complete look.
As I take a drink, I see a young couple play basketball at court down below next to the playground. The guy seems to be sweating out, the lady seems to be having lots of fun.
A plateful of activities
In my head, I'm dizzy from the heavy meal I just had, but the barrage of activities that are offered in the area overpowers the need for an afternoon sleep.
"I'm going to check out a few things," I explain to Alfonse from Kenya Tourism Board who is now settled into a chaise lounge. "I'll be right back." But he knows the truth. I like cycling and won't be back for the rest of the day!
There are three men playing fast-paced polo on their horses in a field at the lower border of the homes. The fields have been used by Kenyans Rugby Sevens team for their training during World Rugby Sevens Series in 2017. "They train here once in a while," James tells me later as he hands me a bicycle. "That's the house that they use to freshen up" he points at pavilion standing next to goal post.
This action-packed home has enough sign-up temptations to keep me entertained for the entire stay. But cycling and Horse riding are a few that will appease my crafty side today.
As I cycle down the tiled road within the area, I can't help but enjoy the evening breeze from the mountains. I had missed cycling, and this was my chance.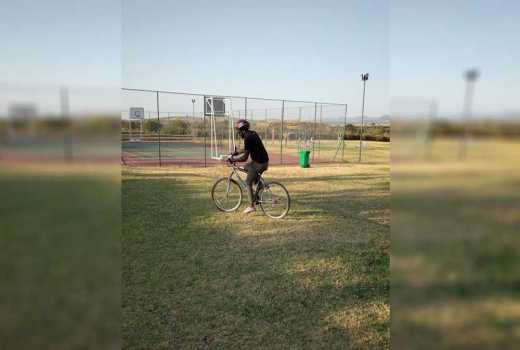 Pedalling up the steep gravel road, I get to feel how unfit I have become lately. My chest burns with pain, my feet can almost fall off my thighs and man my unhealthy levels on the 9th lane!
As I grin my teeth to make it to the end of the steep, I'm distracted by a mass of water at the left side of the road.
I'm not a big fun of boat riding because of my silly water phobia, so I simply stand there for few minutes as I watch two ladies Harriet and Cate from our group make their way into a boat.
The day would not end without horse riding. Miss Mandi, Kagz, Harriet and Cate all are here too for some horse riding classes.
"Good boy Bahati," I tell my horse as Johni the stable groom leads the way. Three strong pitch black puppies play outside their green kernel adjacent to the last stable at the furthest end, as my horse trots to the field.
I get to meet Jack Sparrow, a female gentle horse who lost an eye a few years ago. She is a pirate who seems to enjoy my pats as she listens to my nonsensical string of thoughts on the rise of Samantha.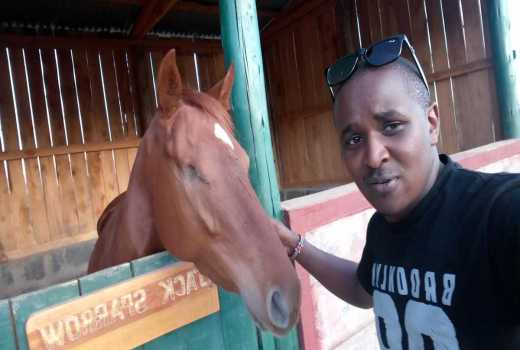 After about an hour of trotting and learning horse riding jargon such as bridle and colt, it's time we head back for dinner. The exhaustion is palpable as we take our meal, but the delicious food compensates for it.
A walk into our rooms for a hot shower after a day on the road and the activities give the ultimate rest. Furnished apartments with a thematic finish, detailed wall pictures to groove the corridors and the wooden staircase that is redefined by the ornate magnificent chandeliers.
I get a beautifully appointed apartment complete with a kitchenette and living room just in case I had a family!
Each apartment is aced with different themes, but reconnected with one dashing similarity: swimming pool and Jacuzzi on top of each apartment.
There's a kids room where children can play Legos, draw, PS games and get busy as parents are out unwinding.
A stay in Nanyuki has never been this upgraded: Homely stay, cable TV and the outdoor dinner at large patio outside the restaurant.
The Ol Pejeta
It is the lazy lions lying next to buffalo carcass that fascinate me: A successful hunt, a full stomach and nap to cover it up. What more can one ask for in life? A tour of the Ol Pejeta Conservancy was perhaps the most intriguing phase of our Tembea Kenya trip.
The SweetWaters Chimpanzees sanctuary offers a glimpse into life stories of Chimpanzees rescued from dire circumstances across the world. Opened in 1993 after a chimp sanctuary was closed in Burundi following the civil war, The SweetWaters is a place to visit.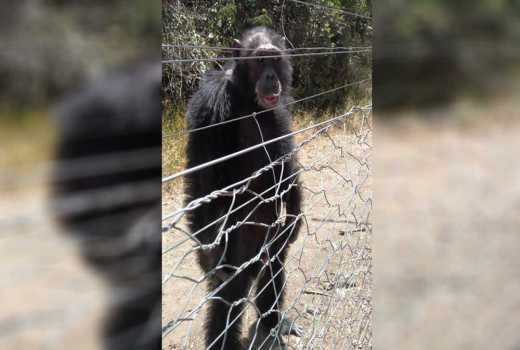 It is here that we meet 38-year-old Poco, a gentle, sweet chimpanzee sitting at the edge of the fence under a tree. He gives us a 'walk of a lifetime' as he paces on his two feet, upright like a grown man- a rare sight. He is perhaps the only chimpanzee who can walk on his two feet.
Rescued from a hanging cage in a workshop in Burundi, Poco's 'walk of a lifetime' is emotional to our group thanks to his obedience to the tour guide Mr Rotich. At Ol Pejeta we are told of the human chimps mothers who adapted four young ones who were brought to the sanctuary at a tender age. "They are so human," Cate says behind me. And yes we get to learn that a chimp is 98.6% human and almost four times stronger. As we drive off from the conservancy, I cannot help but feel an emotional connection with Poco and rest of chimpanzees and how close our ties really are.
We head off to Tree Trout down south about an hour from Ol Pejeta-at slopes of Mount Kenya where we get to pick live fish from ponds for our lunch. It is here that I meet my totem, a colobus monkey- the beautiful furry black and white primate. That I am excited, is an understatement.
Yet as the guy at the restaurant speaks Kikuyu to the twin monkeys to come close to me, I cannot help but feel terrified. I get to feed my totem, I get to have some time with them, and for a moment I become a human on a spiritual journey.
As we drive to the majestic Tafaria Castle later that evening, we cannot help but sigh having driven on the rough road for over an hour to connect to the main highway to Nyahururu.
The feeling of Vikings is slightly triggered by sight of the castle. A stallion sculpture at the entrance to hype the scene gives it a complete look. The resort from my view offers a good getaway for team building and family. We are exhausted from the long day, and spend the night at their castle village.
Aberdares magic
Our morning starts off with a trip to the Aberdares from Tafaria castle. The ecosystem at Aberdares is authentically virgin and untouched…and almost perfect. The cold air and chills as we drive up the mountains offer a rare fresh breath.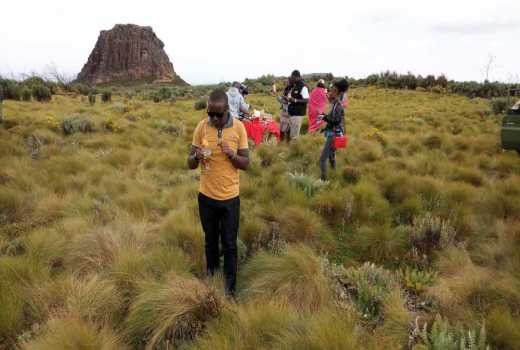 From a distance, we approach the famous twin hills that face each other like two angry men. They seem to have risen up suddenly, almost like they missed the memo for a gentle rise. Folk tales say, that these two were women. When one turned to look back, they both became rocks. Pretty much close to the Biblical analogy of Lot and his wife.
The thick grass, the happy yellow flowers, the view of plains below makes it a beautiful scene.
We are offered cocktails between the twin hills, and as we toss to an amazing Tembea Kenya tour, we cannot help but admire the beauty, the breath taking views Kenya has to offer.
A few pictures to capture the trip and we head down.
Naivasha Buffalos on our path
I would be forced into a boat at Lake Olaiden, a salty lake that borrows its algae water from Lake Naivasha. I make my point clear on my phobia, but the crew simply laughs it off. "You are literally floating on water," Kagz tells me "how exciting is that!"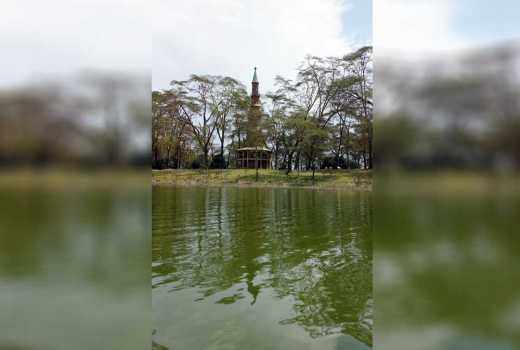 Our small group crosses the green lake as we head into the isthmus on the far end. We putter past a large group of birds chiming as if to chase us away. We even go past some two defensive hippo families, whose alpha-male approached our boat. And I thought that this was the scariest bit!
On the other side of the lake, the isthmus offers scenic beauty with wild herbivores grazing on this land that separates Lake Olaiden from Lake Naivasha. On it is a resort that once stood as a Roman cathedral. Its architectural design is catchy, as the tall thin structure rises six floors through the acacia forest.
The gazelles keenly watch us as we make our way.
The stench of bird droppings is pungent and so profound that we pace quickly past the group of heroines patched on dying acacia trees. As we hurry into a narrow path between paths, our guide Gerald suddenly stops. "Turudi (Lets go back)," he said, almost in a whisper.
We were curious, I was curious. Right in front of us was a herd of buffalos. About twelve of them, I figured in a quick count. Besides two calves, the rest were lying chewing cud. Several impalas stood guard next to the buffalo herd while the zebras were standing on the far right to complete the picture.
From the documentaries I have watched, buffalos are not to be messed with.
"We should go back," I insisted. I wanted to go back to the comfort of the villas at Enashipai, the beautiful resort guided by "It's the little things" motto.
I wanted to get back to its cosy homes, ride on the golf cart, and enjoy the food at the special table overlooking the swimming pool. I wanted to head back and cycle near the lake on the other side, get a massage at the spa as I ease my muscles and thoughts.
But no, that did not look like a plan on the table.
Our tour guide Gerald was way determined to walk us to the shore of Lake Naivasha across. So we hesitantly looked for an alternative route. I cannot believe Miss Mandi is excited about this part of the walk. Her camera is rolling, she is on top of the world.
But the ultimate price dawns: For the first time in my life, I walked between a herd of grazing zebras and a curious baby giraffe. It feels like paradise.
Naivasha delivered. It's like an hour and a half from Nairobi and in terms, getaways have resorts fit for family and honeymoon, nature walks, boat riding at the lakes and tour of national parks and the masses of water at the floor of the Great Rift Valley.