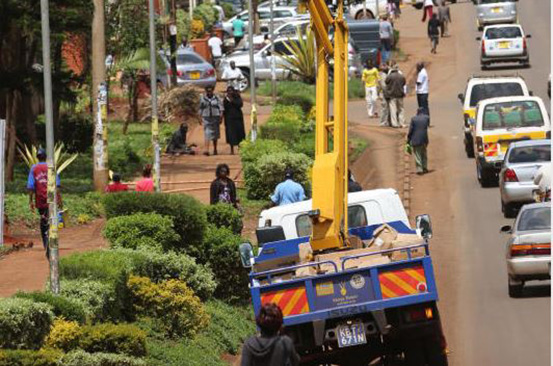 Not many Kenyans, even in Nyeri County, knew of Catholic nun, Sister Irene 'Nyaatha' Stefani, until a few weeks ago.
But the infrastructural development that came up in the last one week in Nyeri town have made residents know the late Sister Nyaatha, who clearly lived for the people. Her life in Kenya, which was only 15 years, has catapulted Nyeri County to greater historical heights.
Nyeri is known as home to former President Mwai Kibaki, the ascension of Queen Elizabeth from a Princess to the Queen of England in 1952 while on a visit to Nyeri, and as a humble agricultural county.
At the same time, every February 22, scouts from all over the world flock Nyeri town to pay annual pilgrimage to the movement's founder, Lord Baden Powell and his wife Lady Olive Powell.
The only Kenyan and African woman who won the Nobel Peace Prize Wangari Maathai, Field Marshall Dedan Kimathi and other freedom fighters. Athletes Catherine Ndereba, Charles Kamathi and Douglas Wakiihuri among others are celebrities who have given Nyeri a name on the world map.
Read More
Very few people know that just a few metres from Lord and Lady Powell's grave lies the remains of renowned hunter and author of 'Man eaters of Kumaon' among other novels. Jim Cobertt, a famous hunter-turned conservationist chose to spend his sunset years in Nyeri.
Lights and roads
At the moment, Nyeri residents are wondering why road contractors are all over, while Kenya Power Company has deployed tens of its technicians and equipment to install street lights in Nyeri town, Mukurweini and Gikondi areas.
Roads leading to Dedan Kimathi University of Technology to Kiganjo and towards Mukurweini, Karatina and Othaya towns are at the moment under intensive rehabilitation.
Sister Nyaatha's beatification, which will promote the late nun from a Servant of God to Blessed, will be between Friday evening and Sunday. And even before she becomes Blessed, blessings have started flowing to Nyeri County. "We are glad that Sister Nyaatha has brought a lot of development in Nyeri. We are proud that Nyeri town will be the most lighted town in Kenya," said Mwangi Mureithi, a shopkeeper along Kimathi Street.
A county government source told The Standard on Sunday that Governor Nderitu Gachagua led a delegation to State House two weeks ago, where he appealed for assistance to give the town a face-lift. "President Uhuru Kenyatta then instructed State officials in charge of roads, Kenya Power and other crucial departments to set aside emergency funds for the developments to be undertaken within the shortest time possible," the source said.
The preparations are also being monitored to the hour, while Gachagua and President Uhuru are reportedly receiving daily updates.
Gachagua has been accompanying church leaders led by Archbishop Peter Kairo and national government officials led by Internal Security Secretary Joseph Irungu during regular inspection tours of the projects. The team declared it was all systems go and that various projects would be undertaken before the beatification.
Sources said the electrical installations cost Kenya Power more than Sh150 million, although the company's Head of Communications Kevin Sang, and Mt Kenya Regional Manager Kenneth Chege could not be reached to confirm the figure.
Already, Gachagua has dismissed claims that the street lights will be removed after the event. "We have budgeted for their maintenance through an MoU with Kenya Power. We have also acquired a maintenance vehicle that will be operating in Nyeri, Kimathi area, Mukurweini and Karatina towns," said Gachagua.
At the same time, the church is putting up a Sh3.9 million dias at Dedan Kimathi University, where the main beatification event will be held.
More than 700 choir members drawn from dioceses within Nyeri Archdiocese have been practising at Ngandu Girls High School and Catholic Secretariat in Nyeri for the event.
On Thursday, Our Lady of Consolata Cathedral was filled with faithful who attended a consecration service of a sarcophagus where the relics of the late nun will be preserved.
The service was led by Archbishop Kairo assisted by Vicar General Father Erastus Gichuki, and priests, the Postulator of the Cause of Beatification of Sister Nyaatha in Rome and Kenya, Fathers Gottardo Pasqualetti and Peter Githinji, respectively. Yesterday, more than 13,600 Kenya Red Cross Society members from 617 school clubs participated in the county's 50th anniversary celebrations, where Central Regional Coordinator David Kariuki announced that the society will have 100 volunteers in the three-day event. "We believe we can even handle more than the estimated 300,000 pilgrims who will attend the event. We have mobilised vehicles, ambulances, and response teams who will offer emergency services, first aid and crowd control," said Kariuki.
At the Dedan Kimathi University, the dias has been constructed at a central and elevated point where every pilgrim attending the event will watch the clergy conducting the beatification mass, with a magnificent view of Mt Kenya on the background.