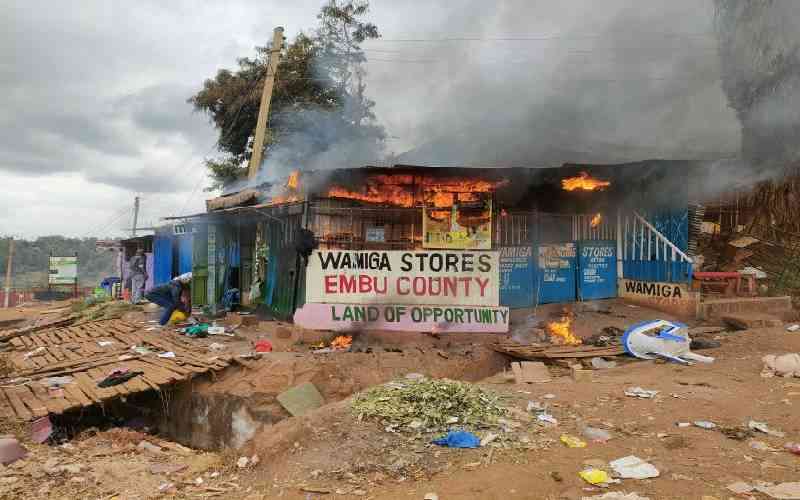 Property of unknown value was today reduced to ashes after Boda Boda operators burned market stalls, in Shauri Slums near Kiritiri Matatu stage in Embu in town.
The bodaboda operators were protesting harassment by police as well as against Muguka traders in the area who they accused of abetting motorcycle theft.
Sources told The Standard that the fire could have emanated from a tear gas canister lobbed by police as they sought to disperse the protestors.
Nicholas Kamau one of the traders said he had lost property worth Sh200,000.
"I had just stocked my workshop and everything has gone up in the flames," said Kamau.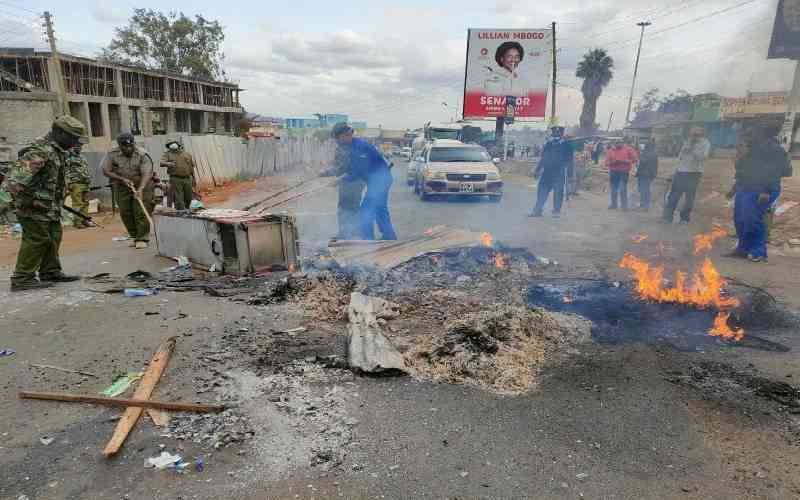 Another trader Belas Ndiri said she had lost goods worth Sh300,000 adding that the Fire engine had arrived without enough water.
The operators had in the morning stormed the Embu police station after two of their colleagues were arrested while others retreated to cause chaos in town.
One of the operators said police demanded for a bribe of Sh15,000 for the two riders to secure their freedom.
The protest came two days after two suspected motorcycle thieves were lynched.
A security meeting held between the Muguka traders and Boda operators did not bear fruits.
Embu West Deputy County Commissioner Mercy Gatobu warned that those who engage in crimes would face the law accordingly.
"Kindly provide us with information and let us follow the law strictly to avoid unnecessary confrontation with the law enforcers," she said.
Meanwhile, a county fire engine that responded to the fire incident was pelted with stones forcing the driver to speed off from the scene with perforated tyres.
Tension is still high as business outlets remained closed the whole day.
Sub-County Police Commander Agnes Magiri declined to speak to the media over the matter.
A police vehicle belonging to the Sub-County police commander was also pelted with stones.
The operators have also accused police of arbitrary arresting them despite the yesterday meeting convened by Mercy Gatobu at the DCC Embu West.
In retaliation, the riders burned down Muguka trading kiosks as they played hide and seek games with the police.
They lit bonfires and blocked the busy Embu - Meru Highway before police dispersed them.
Collins Nyaga the MCA Kirimari ward called for tolerance between the two groups.
He faulted the police for arresting the bodaboda operators who do not have number plates adding that they should give them time to sort out some of the issues.
"I know some may lack number plates as their motorcycles are new and these are issues that can be sorted out without using force," Nyaga noted.