Global athletics icons back Amina for WTO top post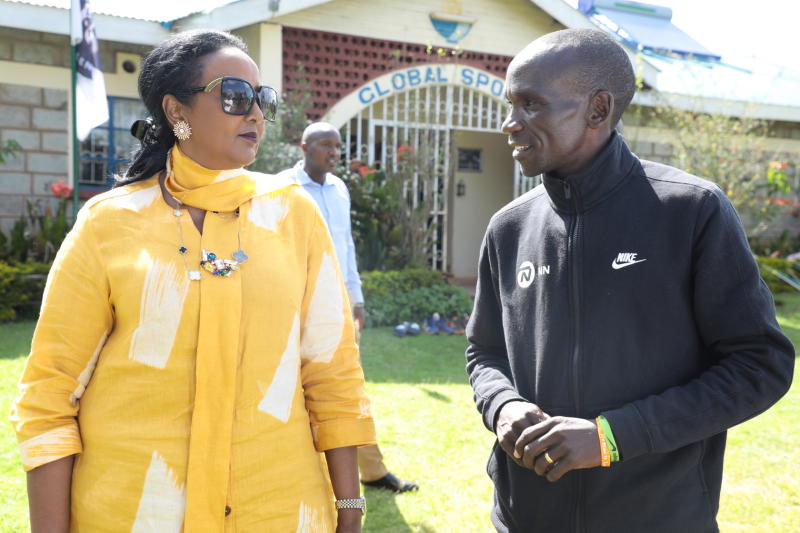 Kenya's athletics icons led by the indomitable marathon record holder Eliud Kipchoge have given moving appraisal of Sports Cabinet Amina Mohamed as she guns for director-general post of the World Trade Organization.
The second round of voting is currently underway until October 6 when the 164 members of the WTO will pick the final two contestants.
Sports CS Amina Mohamed, former Nigerian Finance Minister Ngozi Okonjo-Iweala, South Korean Trade Minister Yoo Myung-hee, Saudi Arabia's Mohammad al-Tuwaijri and former British Minister Liam Fox are in the reckoning. WTO, which has never had a leader who is female or from Africa, hopes to select the winner by early November to replace Brazilian Roberto Azevedo.
In nominating CS Amina Mohamed, President Uhuru Kenyatta said: "Kenya offers Amina C. Mohamed, a uniquely qualified person to lead the WTO at this critical time. Minister Mohamed understands the WTO, understands its processes, having chaired all its high-level decision-making bodies. For example, the Ministerial Conference, General Council, Dispute Settlement Body as well as the Trade Review Body."
And now, the world's celebrated athletes have also endorsed the career diplomat, who has also warmed her heart to the sporting fraternity as Kenya's Sports minister. This what they said.
ELIUD KIPCHOGE
Amina Mohamed has demonstrated that she has the power to excel even in the toughest conditions. I see in her the rare trait of exceptional endurance only exhibited by people with outstanding mental and physical stamina. The kind of people who break records in the most unlikely situations. It takes a champion to recognise another. I believe that Amina Mohamed is the best person suited to lead the World Trade Organisation at this time. I am running with Amina! Go champion go!
Eliud Kipchoge's claim to fame
Eliud Kipchoge is the greatest marathoner of all time. He broke the limits of marathon running in 2019 when he run 26.2 miles in 1:59.40 setting a new sub-2 marathon frontier for human exploration. Widely known as the philosopher who runs in meditation and conquers pain through joy, Eliud Kipchoge has redefined athletics and sports in a way never before experienced.
KIPCHOGE KEINO
I remember having to run a Mile to the Stadium in Mexico City to be at the starting line on time. I was determined to be the best athlete at the 1500m Mexico-City Olympics finish line. So, I got off the athletes' bus that was stuck in traffic and ran a mile to the starting line. I broke the World Record in 1500m that day with nothing else but willpower and the courage to put myself forward despite difficult circumstances. That record stood for 16 solid years. That is what Her Excellency Amina Mohamed has done throughout her career; perform under the most difficult circumstances. She understands the issues facing the system more than anyone else and has the integrity, track-record and unmatched professional, political and managerial competence to set never before witnessed trade consensus records.
Kipchoge Keino's claim to fame
Kipchoge Keino is a pioneer Kenyan runner who has won numerous accolades for being the most determined and disciplined athlete of all time. He set the 1500m Olympic World Record at the Mexico City Olympics in 1968 and the silver medal in 5000m despite suffering a severe case of gall bladder infection. An athlete turned educationist, the legendary Kipchoge Keino opened Kenya's long-standing command of mid and long distance running and has mentored some of the greatest athletes of all time.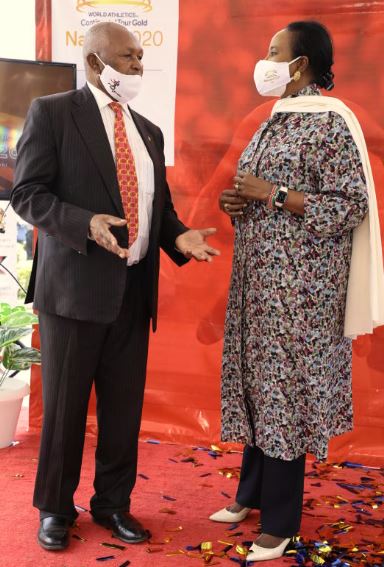 PAUL TERGAT
I see great drive and clarity of purpose in the way Amb. Amina Mohamed leads. She is fearless in her approach and adaptable to the changing needs of the Institutions under her mandate. She approaches leadership with the mind of a long-distance runner; consistently and with great adaptability to the changing terrain. She is a master of delivering results in record time.
I wish her the very best in the race to become the next Director General of the World Trade Organisation. From one legend to another.
Tergat's claim to fame
Paul Tergat was the first Kenyan to set the world record in the men's Marathon in 2003. He is regarded as one of the most accomplished long-distance runners of all time and has been referred by Runnerworld as the most comprehensive runner of all time.
TEGLA LOROUPE
The mark of a great champion is the ability to approach life with the humility, openness and inclusiveness that connects us to a shared goal. In the years that I have known her, Amb. Amina Mohamed leads with humility, an open and strategic mind and is tireless in her efforts to lead people and organisations towards agreement.
We share the great blessing to be the first in many fields internationally. We also share the great vision and responsibility to deliver for millions of people around the world.
The WTO needs this winning spirit! From one winner to another.
Tegla's claim to fame
Tegla was the first African athlete to win the prestigious New York Marathon in 1994. She regained her title in 1995 and won the Rotterdam Marathon in 1997,1998 and 1999. She also won the Berlin, Boston, London and Rome Marathons. Tegla was recognised as the United Nations Sport Ambassador in 2006 and has dedicated her life to bringing peace to communities through Sport becoming the first Athlete in history to set up a training camp for refugees.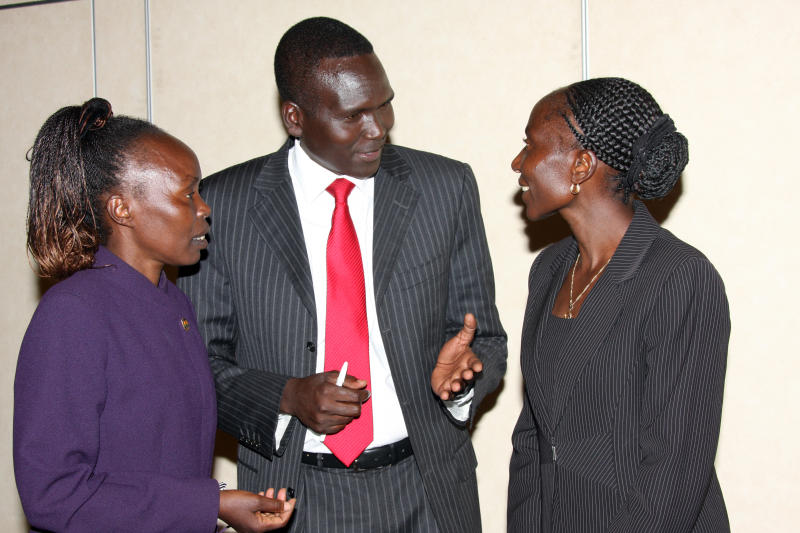 DAVID RUDISHA
The greatest leaders value the wellbeing of others and are always setting new targets for themselves. When I broke my own 800m World Record in 2012 at the London Olympics, I improved my own time but also led my great friends and competitors on the track that day to realise their own personal bests!
A leader is one who walks with others as Amina Mohamed has proven throughout her career. With immense opportunities at her disposal, she has chosen to lead the World Trade Organisation to a new level where the expectations of all members are equally met and surpassed. Her vision weaves inclusiveness into the international trade regime uplifting the economic status of all Members and the livelihoods of billions of people all over the world. Winning in mid-distance running combines two of Amina Mohamed's foremost traits, consistency and speed. The WTO is in urgent need of a leader of her stature right now.
Rudisha's claim to fame
Kenyan two-time Olympic Gold Medallist. David Rudisha shattered his own world record at the 2012 London Olympics. Four years later at the 2016 Rio Olympics, he became the first runner in 50 years to retain the Olympic 800m title. He is the reigning 800m World Champion in 800m.
CATHERINE NDEREBA
I know how important it is to dream impossible dreams. I know how it feels to set impossible targets. I know what it means for girls and young female athletes in my country to know that I ran in different cities such as Boston and Chicago stubbornly setting concurrent unbroken winning records for a decade. I know what confronting fear feels like. But I also know that the world would be a far duller place if barriers were left unbroken and glass ceilings unshattered.
For millions of Kenyan and African girls, Amina Mohamed has been a living hero and mentor. A legend whose exceptional negotiation influence gave us a Constitution that today holds our country intact.
When I broke the Marathon World Record in 2001, Amina Mohamed was negotiating a life-changing Trade Agreement at the WTO that saved millions of lives around the world. I admire, value and recognise the spirit that guides her. It is the same spirit that I have seen in the most empowering and uplifting leaders. Amina the doer of great things, transform the multilateral trading system for all our good.
Ndereba's claim to fame
Catherine Ndereba, known in athletics as Catherine the Great, is a runner of great repute and professionalism, one of the best marathoners the world has ever seen. She is the only woman in athletics history to have won the Boston Marathon four times and the only person in the world of long-distance running to win 12 half Marathons.