Selfies and kisses as Iran roar at Asiad
SPORTS
By AFP | Aug 23rd 2018 | 2 min read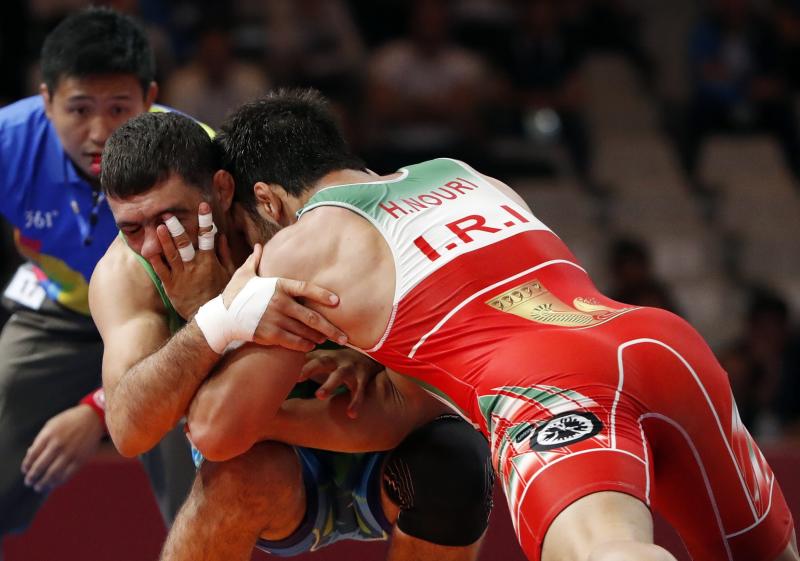 Iran's Hossein Nouri was swamped by selfie-taking fans after clinching gold in the 87kg Greco-Roman style to help his country reign supreme in the Asian Games wrestling yesterday.
The 28-year-old Nouri outclassed Uzbekistan's Rustam Assakalov 6-1 to give wrestling powerhouse Iran their fifth gold in four days of competition.
Nouri was given a standing ovation by a raucous crowd of Iranian fans who couldn't get enough of their new hero, taking selfies and planting kisses on the out-of-breath athlete.
His win came after compatriot Mohammad Ali Geraei, also participating in his first regional Olympics, outclassed Kyrgyzstan's Akzhol Makhmudov 7-3 in the 77kg Greco-Roman final. He took a victory lap with the Iran flag wrapped around him.
Iran had already won three golds and three bronze medals in freestyle events, but the country's wrestling association president Rasoul Khadem told AFP they could have won more.
"In freestyle they did okay. But I think Iran wrestling can be better. For instance in Greco-Roman we could have been three finalists and maybe one more gold," said the former Olympic medallist.
"But it is almost good. Our boys did live up to the potential," he added.
Widely regarded as Iran's national sport, wrestling has given the country many heroes including Khadem, who won gold in the 1996 Olympics.
However Khadem, also head coach of Iran's freestyle wrestling team, rued the fact that his popular and ancient sport does not receive enough funding.
"Wrestling does not have much money as compared to many other sports," said 46-year-old Khadem.