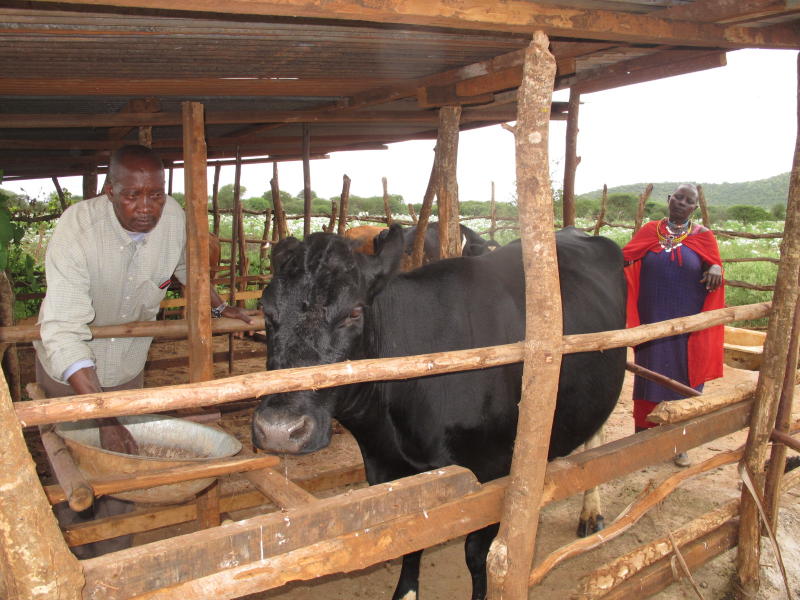 It is 3pm and Joel Ngengi and his wife Mary Sopilal are busy preparing to milk their two dairy cows, in Mashuru, Kajiado County.
"After milking, we take the milk to the market immediately," says Ngengi. Because of demand, the sooner it gets to the market the better. Ms Sopilal sells her milk at nearby towns of Masimba, Emali and Mashuru. But the prices vary.
"The price of milk is never constant. During dry season, milk goes for Sh100 and rainy season it is low at Sh50. Right now, we are selling at Sh70 per litre."
With a monthly income of over Sh35,000, the couple is not complaining. This is significantly more than what they used to get when they had hundreds of traditional breeds. After seeing the light, the couple disposed off their herd of more than 100 cattle for 6 heifers.
They made this bold decision after a local NGO — Agriculture Dairy and Economic Development Project (ADEDP)— sensitised the locals on the need to dairy keeping as opposed to pastoralism. That was three years ago. When the idea was first floated to him, Ngengi laughed it off.
"As Maasai man, keeping hundreds of livestock is our pride and in the culture. Therefore, the idea of abandoning them for only fewdairy cows was a culture shock," he explains.
But he did after more convincing. "They explained to us and it made economic sense. With our herds we wasted alot of time and energy searching for pasture and water and the returns were negligible."
He adds: "At times, we would fight over water and pasture with other pastoralists, leading to injuries and loss of our livestock," he says.
Death of animals was also common during seasons of severe droughts. "Every time the drought struck, l lost tens of livestock but the last drought I lost 50 cattle," he recalls.
Luckily, that was the time a new programme was being introduced in the area. Ngengi started with two dairy cows he bought at Sh120,000, after selling the only 10 local cattle that survived drought. To aid with the transition, the farmers were provided with services of extension officers who visited regularly to advise on how to manage the diseases.
They were also taught how to prepare feeds for their livestock from harvesting, drying, baling and storing of grass for future use.
"My four dairy cows have plenty of feeds throughout the year," the breeder says.
Ngengi who has 100 acres of land says he has established zero grazing units and paddocking. Maclean Egesa Mang'eni, project manager ADEDP says the project is building capacity of the pastoralist communities around Emali- Maasai in Kajiado and Kamba of Makueni counties.
Egesa says they are not only training locals on milk quality, but also on value addition-milk processing in yoghurt and other products, because, Kenya's dairy regulations are now restricting the sale of unprocessed milk.