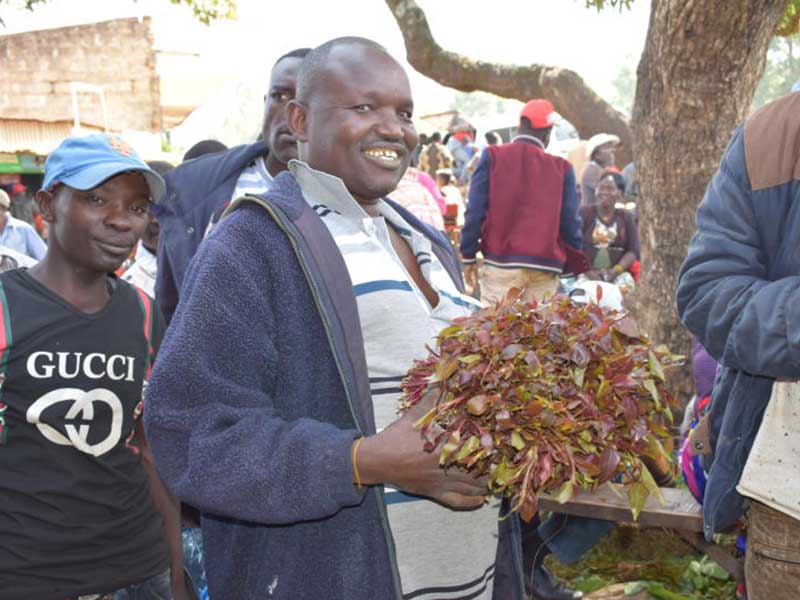 Miraa farmers and traders are bracing for sweeping changes that will see the agricultural sub-sector streamlined.
Most important, miraa growers have to adhere to the new regulations before the crop can be recognised as a cash crop.
Classification of the stimulant as a cash crop will come with benefits since farmers will enjoy subsidies and assistance from the Government as is the case with other cash crops.
Miraa Regulations
If approved, the Miraa Regulations 2018, will govern farming, produce handling, packaging, storage, transportation, processing and even pricing. The rules are currently being subjected to public participation.
The rules might put an end to speeding vans associated with transportation of miraa and 'muguka'.
The new rules, under Agriculture and Food Authority (AFA), establishes Miraa, Pyrethrum and other industrial crops directorate, which will have a major say in the growing and marketing of the stimulant which was previously unregulated.
The directorate is to have the same status as similar Government agencies regulating tea, coffee, coconut and macadamia nuts.
Right stage
Unlike now when farmers regularly harvest twigs to sell, it will be a requirement that miraa will be harvested at the right stage of maturity to be determined by AFA.
"Dealers shall not aggregate, broker or trade in miraa produce unless that dealer is licensed by the authority," reads one of the proposed regulations.
Vehicles for transporting miraa will also be expected to be built and equipped to ensure maintenance of prescribed temperatures to prevent damage and spoilage of produce.
"Persons handling produce shall be healthy, protected and trained on produce handling," states one of the provisions.
The head of the Miraa and Pyrethrum directorate is Clement Muyesu, who has taken over from Mathews Osodo. Osodo was the interim head when the agency was set up last year.
The Crops Department under Richard Lesiyampe at the Ministry of Agriculture and Livestock has the mandate to set up AFA directorates, and miraa appears to have been lumped together with pyrethrum.
In consultation with the county governments where miraa is grown, the directorate will develop and promote miraa, register miraa growers, license processors, commercial nursery operators and dealers, and co-ordinate activities of stakeholders and organisations within the miraa industry.
Counties currently identified as miraa growing areas are Meru, Embu and Tharaka Nithi, although in future more regions may be recognised, according to Muyesu.
Functions of the directorate will include identifying and recommending research areas, facilitating flow of findings to interested parties as well as promoting and encouraging arbitration and mediation of disputes among parties in the industry.
The miraa directorate will also establish institutional linkages and help county governments build capacity to manage the sub-sector.
It will also set required standards for miraa and miraa products and monitor the domestic and international market; with a view to identifying and advising on any new opportunities, threats and trends in the market.
"In collaboration with other relevant stakeholders, the directorate will regulate the provision and distribution of seeds, seedlings and clonal materials to growers in accordance with the Seeds and Plant Varieties Act," says the proposed rules.
Crucial markets
At a time when miraa faces international ban in some crucial markets, the directorate will be the link to international research agencies and other relevant regional research organisations.
It will also regulate the export of miraa and its products, and prescribe the maximum waiting period for a grower to be paid for produce delivered as well as penalties for delayed payments.
The rules require the directorate to facilitate the formation of a National Miraa Grower Lobby Group to represent farmers' interest.
In order to ensure quality produce, only growers registered by county governments will be allowed to establish nurseries for crop multiplication.
Need licences
Those establishing nurseries to sell within Kenya will need licences from county governments, while those eyeing the international market will require licences from the directorate.
But licences will only be issued after site visits and tests on the operator's knowledge of nursery management and land preparation techniques.
Seedling operators will be required to display their licences, which will not be transferable, while movement of planting materials between counties will require a movement permit from the Kenya Plant Health Inspectorate Service and their county government.
All nurseries will be inspected and certified every six months while operators will be required to keep accurate records of distributed planting materials.