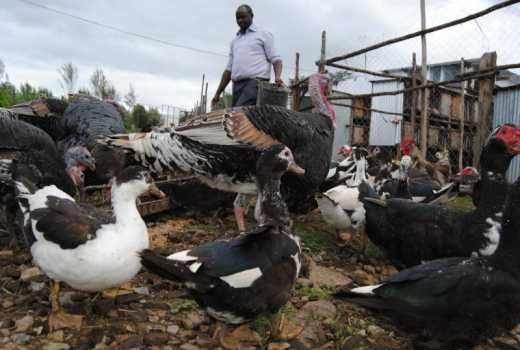 A year ago, Enkishon Farm run by a girl's rescue centre, was home to hundreds of layers, pigs and fish. It was a huge source of income for the centre.
Patrick Ngigi, Director of the Mission with a Vision Rescue Centre in Narok, says after a short stint, he abandoned the project and started keeping ducks, geese and turkeys.
"We were looking into ways of reducing cost of buying food to feed over 100 girls we rescued from female genital mutilation, early marriage and unstable homes. We had ventured into layers and had over 30 pigs and a fishpond but after a while, it proved unsustainable," says Ngigi.
But the problem he points out, was the high cost of feeds and maintenance. As a Plan B, they settled for the web-legged birds, after establishing that it is a profitable commercial venture.
"We started with a pair of each of the three birds in 2017. Slowly the brood increased. Now we have 109 among them 89 ducks,14 turkeys and six geese now. They are easy to maintain and are resistant to diseases and mature fast compared to hens. They are simply the best," says Ngigi.
He keeps the Khaki Campbell breed which can lay 300 to 330 eggs annually under intensive system and 175 to 225 eggs under free range system. Equally, their eggs are large and thick-shelled weighing between 70 to 75 grams.
For dual purpose production, he has the Pekin breed which he says grow faster and lay eggs of between 100 to 150 annually.
These yields he says, cannot compare to what he had previously. With layers he recalls that he had to spend more than Sh10,000 a month for feeds.
But with the ducks, geese and turkeys feeding costs are bearable because he feeds them on grass, seeds, insects, earthworms and snails. From what he gets, he can comfortably run the home and feed the girls.
"From these birds we get eggs for our girls and we no longer need to incur a lot of cost in buying feeds. We spend Sh1,000 a month to buy feeds which is affordable."
The birds he says, fetch a tidy sum and have a ready market in high-end hotels and restaurants.
"A mature duck can retail at Sh1,000, a geese Sh2,000 while turkeys can fetch the highest of Sh5,000 as they can weigh up to 8kgs," he says.
Other than a solid source of income, the geese, he says act as security at the centre.
"Whenever an intruder enters the compound they make loud noises thus alerting us," he says.
He says brooding takes about three to four weeks and at this time, it is the best to confine ducklings to a smaller space using brooder ring for ease of feeding and comfort.
Here, the farmer must provide the birds with balanced feeds to enhance productivity.
Ducks eat more than chicken and depending on size. An adult duck can consume between 150–200g of feeds a day.
For laying ducks, chick starter should be provided from hatch to eight weeks at a gradual rate of 50 to 90g per duckling, per day.
Growers feed should be given from nine to 24 weeks at a gradual rate of 90 to 120g per duck, per day and layers feed from 25 weeks onwards.