Over 10,000 heads of cattle tagged in Laikipia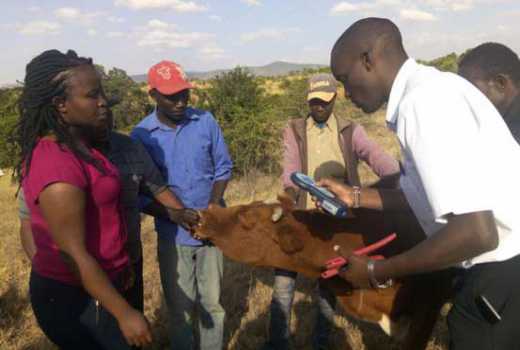 LAIKIPIA, KENYA: Over 10,000 cows have been tagged in Laikipia in an exercise carried out by the Kenya Veterinary Association (KVA) in collaboration with the county government.
According to the KVA Chairman Samuel Kahariri, the aimed target of tagging 10,000 animals in Laikipia in the first exercise has been hit.
In the identification and traceability system, an electronic tag is put on the left ear of livestock to curb illegal movement which leads to spread of diseases.
The technical teams which comprised of the officers from the association and veterinary officers from Laikipia tagged animals in the community ranches and private farms.
At Il Ngwesi a community-owned ranch 4,600 heads of cattle were tagged while in the private ranches it is only the community animals that were tagged.
"Some communities keep their animals in private ranches for fattening and we were only tagging the animals that belong to the community," said Kahariri.
Over 2000 heads of cattle were tagged at Mugie Ranch, 1161 at Nandanguro, 700 at Ol Jogi and 420 animals were tagged at El Polei.
John Maina, a livestock keeper at Segera praised the initiative which he said would save them from cattle theft where in most cases animals are never recovered.