Duncan tests his Capri: Rallying Former national champion preparing for Classic rally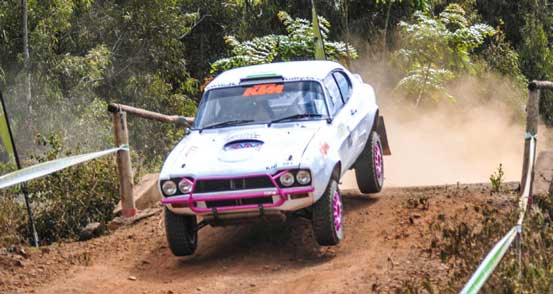 Ian tested his machine at national autocross championships at Jamhuri Park.
Kenya's six-time national rally champion, and double Safari Classic champion, Ian Duncan, recently tried his Ford Capri RS3100 in a competitive test ahead of this year's Kenya Airways East African Safari Classic Rally.
The 1994 WRC Safari Rally winner made a surprise appearance with his Capri in the fifth round of Kenya's National Autocross Championship at Jamhuri Park racetrack.
He delivered a stylish performance, thrilling the assembled spectators en route to a podium finish in his class.
The final standings showed second place finish for Duncan in the two wheel-drive, non-turbo category, behind the lightweight Rage buggy of Samman Vohra: an interesting result given the power-to-weight differences between the two vehicles.
Duncan confirmed the event as a Safari Classic test saying he was happy with the Capri's turn of speed.
"We took the car out for a test ahead of the Safari Classic," said Duncan, who currently leads Kenya's National Rally Championship in a close fight with former British and Finnish champion, Tapio Laukkanen.
"We have no intention of entering the Capri in the KNRC, though. We will continue to run our Mitsubishi Lancer Evo 10 in that series."
Duncan was forced to withdraw his Capri just hours before the start of the last Safari Classic Rally in 2015, with camshaft problems for the Cosworth-developed Essex V6 engine.
The non-start denied spectators and fellow competitors a repeat of the epic battle between Duncan and Stig Blomqvist in 2013, when the local hero took victory on the very last stage after the affable Swede lost the lead with a puncture.
Blomqvist went on to claim an emphatic victory in 2015 and returns to defend his Safari title later this year, but strong competition awaits the 1984 World Rally champion when the rally starts on Mombasa on November 23.
Duncan will not be alone in bringing the flight to Blomqvist.
Also in the entry list is the Datsun 260Z of South Africa's Geoff Bell and the highly competitive Group B Mazda RX-7 of French historic veteran, Philippe Gache.
With many experienced competitors in quick rally cars aiming for a top five finish, 2017 could be the Safari Classic's closest year yet.