How app helps Kenyan farmers manage farm books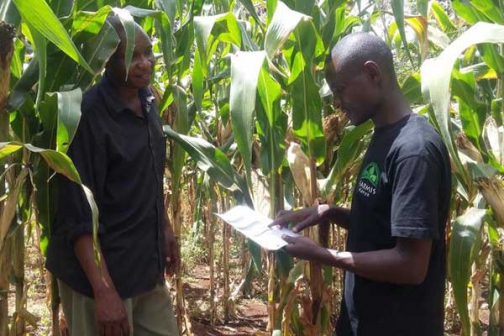 Before Fridah Gatwiri could confidently say, with pride, that she is a farmer, she had contemplated quitting altogether.
"I was getting frustrated: I had very little motivation to do anything expected of a profit savvy farmer," she says.
She was 24 then and had just graduated from Meru University.
"I had gone into farming because I was paying peanuts from my day job. I don't think however, from the word go, I had approached farming like a professional – who wants to make money – would," she says.
The kind of farming Fridah was practicing had very little variance from what she had grown up seeing in the countryside.
"I was just planting and harvesting with the hope that I would be making profits after selling the produce," she says.
Everything she did was done haphazardly. Perhaps, she had adopted the commonplace practice of planting and harvesting – without much interest on whether she was making a profit or a loss.
"I think I made a profit though not so much," she says. In reality though her view was based on perception without factual backing.
"That is why we insist to farmers that they ought to keep records of what they use in the farm vis-à-vis what they actually produce. It is the only way you would know whether you have made a profit," comments Thomas Ngaruiya, a farm extension officer in Meru.
"Every farmer who is casually managing the affairs of their farm, and feel that they are earning profits from their produce, is lying to themselves," he adds.
Ngaruiya is among staff at Sokopepe Limited – a social enterprise supporting agriculture in Kenya – piloting a farm records innovation facility for farmers in Meru County, supported by USAID through Feed the Future Kenya innovation Engine.
Dubbed Farm Records Management Information System (FARMIS), the innovation functions as a diagnostic tool that utilises data provided by a farmer.
Fridah, despite being a student of Agriculture at the university, had long shelved the idea of taking records at her farm.
She says: "An extension officer asked me to use FARMIS. Initially, with the full knowledge of what it was, I was not motivated to keep records at the farm. However, in 2015, I decided to give it a try."
Putting theory into practice changed Fridah's perspective of record keeping. For instance, she realised, unlike her initial beliefs, that records would help her sell her produce at the right price to make a certain profit.
"From my records I was able to ascertain my expenditure from land preparation to harvesting," she says.
With her produce out and its quantity determined, Fridah was able to set a price tag on the produce.
"Even before I sold it I was able to set the profit I wanted make. This information also helped in marketing my produce and targeting the right clients."
Because she kept records Fridah could still make some profit even in a bad season.
"I would be able to study the prevailing market prices and decided to preserve my produce for sale at a later date when I would make profits," she says.
Fridah may have used her records to make profits. Ngaruiya believes profits isn't all there is to record keeping.
"The best way to assess whether a certain crop variety or species is performing well is through analysing the records. But if there are no records, what will you reference?" he asks.
Edward Kaimenyi has been a farmer for the better part of his 45 years of life. His experience spans two decades.
Five years back one would have expected an unmatched farming acumen against his peers. But he too had no interest in keeping records: he remained averse to the rigours of the practice.
"I tilled land and planted crops much in the same manner that our forefathers did," he says. "It had never occurred to me that there was anything such as keeping farm records. Even when I was told about it my initial reaction was that it is too much work."
Today, Kaimenyi reckons that he was wrong. From 2013, when he started keeping records through FARMIS, Kaimenyi's interest in agribusiness has peaked.
"Ngaruiya has been my advisor for the period of time I have used this digital record. I have since learnt that a farmer could farm on a small piece of land but still make remarkable profits," he says.
As a result, Kaimenyi divided his two acre farm into small plots. He has kales, potatoes, maize, and avocado among other crops.
He says he no longer practices agriculture to fill into his time. He now runs a farm business for good returns.
"When I began keeping records my interest in farming increased. Keeping records made me aware of everything that I was putting into the farm. And if indeed I was putting so much in it I should know if I am making any profit," Kaimenyi says.
For Douglas Gitonga, a farmer who started keeping records in September 2016, the practice has not only given him a sense of commitment: he now chooses his crops carefully.
"Keeping records helps one understand which crops perform best for their soil type. We no longer have to grow the traditional crops we are used to," Gitonga says.
Gitonga farms capsicum, spring onions, tomatoes and gorgets. He has dared step out of the comfort zone: planting only maize and beans.
FARMIS, Ngaruiya explains, is extremely simplified for farmers. Every farmer who has signed up to use the system is issued with an already drawn up booklet with all the important variables, like costs and quantities of fertilizer, labour and pesticides.
"Even an illiterate farmer can use it. We have farm extension officers who visit farmers every week on average to capture the relevant information in the booklet," Ngaruiya points out.
Farmers, like Fridah, who are literate, can fill the booklet by themselves
At harvest, information collected in every farmer's booklet is carefully keyed into FARMIS. The program then automatically generates profit or loss statements.
Equally, using postulated market values, the program can project possible profit or loss.
"If every farmer got this information they would make more informed decisions regarding their farming," Fridah, now 26, says.
Keeping records, she says, has made her farming solvent – especially because she leases land from owners for her farming and would want to at least earn back the cost of leasing.