Kisii college dropout shaking up the crisps industry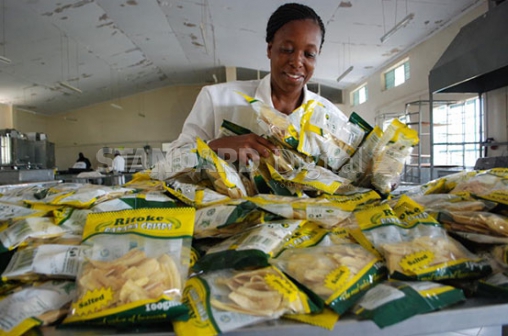 KISII: She won the Sh1 million on offer at the just-concluded Kisii County Entrepreneurship summit innovation competition.
Yet Askah Nyakwara's success story began thanks to her desire to give something different.
In 2004, she decided to dry bananas and make crisps from a bunch she had harvested from her parents' farm in Nyangorora, Kisii County.
The crisps were so sweet her mother Norah encouraged her to find out more on how she could package the product to make it more appealing.
Askah, who comes from a poor family, dropped out of college in 2004 for lack of fees. All she had was a certificate in business management from Superior College in Kisumu.
"I came back home and started deep frying and salting bananas. I sold a bunch for Sh1,200. My journey as a banana crisps manufacturer began there," she says.
Sweet reward
"I sold the product to people in my village, including primary school pupils. More than 90 per cent of those who sampled the product loved it."
Under the Nyangorora Banana Processing plant, Askah has been producing banana crisps since May 2013, in a pilot project funded by the Kenya Industrial Research and Development Institute (Kirdi).
The 34-year-old mother of two, nicknamed the banana queen of Kisii, says the award was a sweet reward for her seven year struggle to put banana products into the Kenyan market.
Her firm won the hearts of the over five judges during the inaugural Kisii Entrepreneurship Summit held last month.
The processing plant produces banana flour, crisps, wines and cakes among other products.
Farmers in Kisii have for long protested poor banana prices. A bunch sells for as little as Sh100.
"Middlemen buy a bunch of our produce for Sh100. This is very discouraging to hardworking farmers," she says. "But with our technology, we can offer farmers more."
For Askah, value addition enables her make as much as Sh2,000 per bunch, besides prolonging the shelf-life.
"This helps eliminate oversupply in the market and boosts the farmer's bargaining power," she says.
Askah is never worried about running short of raw bananas for her plant. Kisii is a renowned banana producing region in the country.
In fact, she wants to scale up her production and supply wholesalers and retailers in the wider Nyanza region.
"We have been given a go ahead by the Kenya Bureau of Standards (Kebs)," she says.
Askah's processing plant employs 24 staff. She plans to introduce chilli-flavoured crisps soon and will use her prize money to buy an additional fryer at a cost of Sh850,000 to scale up production.
More products
Her goal is to set up a complete banana processing plant worth Sh25 million. "We are targeting 12 different snacks from bananas," she says.
The budding entreprenuer says her major challenge is marketing the produce against the big players.
"The government should support and promote small and medium enterprises (SMEs). We have enough raw materials to produce various products but the motivation is too low," she says.
Through her experience, Askah says different variety of bananas produce different products. The Uganda Green produces tasty bread, Nusu Ngombe crunchy crisps, wine from williams and juice from cavendish.