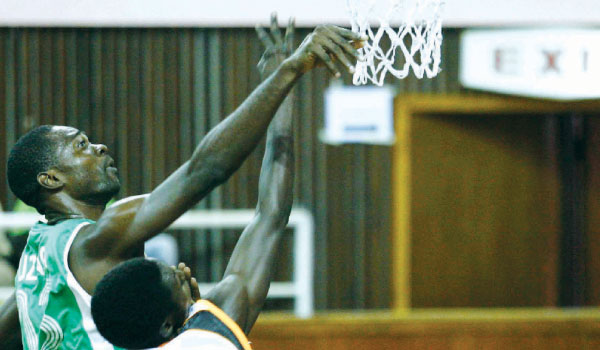 Rwandan player scores a basket against Burundi during their military basketball game at Kasarani gymnasium, on Tuesday. [PHOTO: EVANS HABIL/ STANDARD]
By ERICK OCHIENG'
Kenya will achieve her first ever gold medal in basketball at the East Africa Military Games in Kasarani today.
The Kenya Defence Force (KDF) who plays arch-rivals Tanzania this morning have nothing to lose after staging superb display in their previous encounters.
Kenya has so far won 3-0 (beat Uganda 68-57, Burundi 70-69, Rwanda 73-72) to stand with six points.
Even if Kenya loses to Tanzania this morning the country shall be ahead with a point to justify the crowning.
Read More
KDF head coach William Balozi told FeverPitch he has been impressed with the display by his chargers who have ensured the trophy and gold remain to the hosts this year.
great improvement
"There has been a great improvement in our team and this is evident by the fact that last year we clinched silver behind hosts Burundi and today we are destined for the gold. This is so incredible.
I want to salute the efforts put in place by my players who worked hard to ensure this victory has come to pass," Balozi said.
Display of bravery
The tactician, who is now looking forward for the continental showpiece in South Africa later in the year, congratulated his marksmen William Ochieng, Mike Tanui, Baron Mabunga, Bernard Mfutu, Victor Odendo, Deter Okoth among others for their bravery, which brought in the coveted gold.
Captain Ochieng said: "In Burundi last year we did zone defence but this year we resorted to man marking. We don't go for the ball, we just control the opponents movements to ensure the ball is in our possession."
KDF, too, will be seeking to successfully retain the handball title today against perennial Uganda at the Nyayo.
Tension is already in the air ahead of the morning match after the rival nations recorded similar nine points apiece after each winning all of their three matches.
Kenya handball coach James Kinyua said this on Tuesday after winning 46-32 against Rwanda: "Our intention now is to retain the cup but what stands between us and this cup are the Ugandans who have vowed to discipline us after we humiliated them in the last edition.
Do-or-Die Affair
Captain Harold Mumbo told FeverPitch yesterday that their game against Uganda will be a do-or-die affair and that they are set not to leave anything to chance.
Apart from Rwanda, KDF edged resilient Tanzania 27-24 and Burundi 28-24 last week in handball.
Kenya will be seeking for glory in netball on Thursday after edging out Uganda 35-33 at the Kenya School of Monetary Studies grounds on Tuesday.
Ulinzi Stars, who leads table standings in football with seven points, plays Tanzania in the final match tomorrow at Kasarani.
Rwanda will play Burundi today at the same venue.