By PETER NDORIA
The easy listen that is Roger Whitaker's My Land is Kenya is one of favourite all-time songs. It is considered a 'patriotic song'— if I can remember well what we were taught back then in 8-4-4 music classes.
Roger Whittaker represents the Independence generation. They saw the bringing down of the Union Jack and the hoisting of the new bendera. The lyrics of this song represent that image that this generation projected to the whole world — the evergreen Safari country.
As the country 'hoists' a new constitution today, the sound of a new song rents the air. The likes of Nameless, Jua Cali are the new Roger Whittakers and their new song celebrates in the same thread, as My Land is Kenya.
Just like good ol' Roger kept his Kenyan roots despite being identified with Britain, one artiste to me represents this era.
That artiste is Wyclef Jean.
Until last week, Jean hoped to be the Obama of Haiti but an Electoral Commis that in today's globalised world, a Haitian President can be brought up in the USA cut the dream short. They just need to look up North, at White House where the resident is of Kenyan origin and Indonesian upbringing.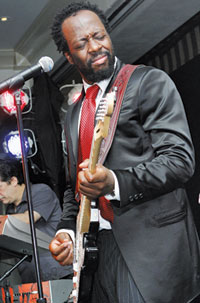 Wyclef Jean

As Nameless and company line up to perform during the celebrations, my mind will be on Wyclef's journey especially with Yele Haiti because he remains the face of Art with a Conscience.

As the world was coming to terms with the impact of the Woodstock Festival in the Vietnam-war era, a young boy was born to a Haitian pastor. Not much is known since but Wyclef moved with his family to Brooklyn, New York, when he was nine before moving again up north to New Jersey.

Wyclef briefly attended Eastern Nazarene College but dropped out. Having made it as an artiste, he has since rejoined Boston's Berklee College of Music. Like a Kenya given a second chance, he went back to the basics.

Musical refugees

Musically, most will remember him as the face of 'The Fugees' in the 1990s. Dreadlocks and that harsh voice reminiscent of the time when Kenya had just gotten a voice after Section 2A was repealed in 1991 to usher in multi-partyism. The Fugees first album was a resounding success.

Their unity was short-lived and each went their way. For Jean, this put him on another plane as he went back to his roots when he brought together new artistes in Refugee All-Stars. He also released an album in Creole, which is his Haitian lugha ya Mama, at around the same time we started appreciating our own stars. Nameless and other artistes might have been hustling then but the more-affluent Jean was travelling, musically, to the same point.

His music got to a point of self-realisation as he worked with diverse musicians from equally diverse genres such as Youssou N'Dour, Earth Wind & Fire, Kenny Rogers, and Mary J. Blige. Locally, this was the same time that kapuka, boomba, genge and other genres of Kenyan contemporary music were coming together to define a bold new Kenya — that which will be paraded today to sing Oh My Kenya, My Kenya

The Preacher's Son, as he affably calls himself, is yet to mend his relations with his former band mates of The Fugees — perhaps taking a leaf from our political leaders. Speculation has been rife, but nothing ever came afoot other than one-off moments of togetherness.

Presidential ambitions

In 2005, Jean established the YÈle Haiti Foundation. In it's first year of operation, the foundation provided scholarships to 3,600 children after the devastation by Hurricane Jeanne. In its second year of operation, it is almost doubling the amount of the scholarships and spreading them throughout Haiti, providing tuition in five regions. The foundation aims to provide 6,800 scholarships.

YÈle is a non-political organization intended to empower the people of Haiti. "The objective of YÈle Haiti is to restore pride and a reason to hope, and for the whole country to regain the deep spirit and strength that is part of our heritage. In January 2007, Jean became a roving ambassador for Haiti, to help improve its image abroad.

On August 5, 2010, Wyclef confirmed the rumours that he was running for Presidency and formally filed papers as a candidate for the Haitian presidential election. Haiti's Electoral Council rejected his bid for candidacy.

You see, Jean's biggest problem is that he does not live in Haiti, much as he is popular and connects easily with the youth there — thanks to their global approach to issues. He connected easily with the Nameless and other local artistes when he came to Kenya for the MAMA Awards, even. The 8-4-4 generation that went to music class and can now sing patriotic songs to reignite the evergreen melody of Roger Whittaker. This is the generation that will get hoisted with this constitution — a borderless, seamless, tribe-less and multi-talented generation… just like Wyclef Jean.