Reality or a dream? Unpacking the touted bottom-up economy model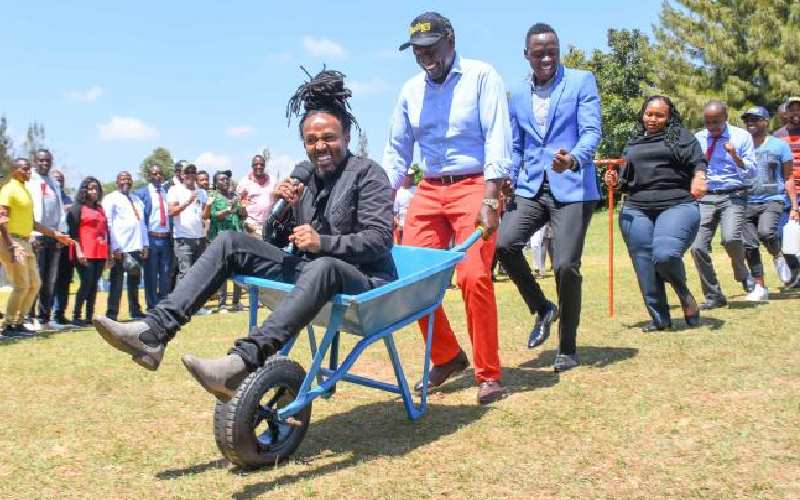 There is a glimmer of hope that the 2022 General Election shall finally boil down to the economy.
The bottom-up economic narrative from the tangatanga wing of the Jubilee Party seems to have stirred a hornet's nest in the land of our political tribal kings. Economically speaking, the reactions from other perennial presidential contenders have ranged from the ancient to comical and egotistic.
In a functional democracy, it is treasonable for one to purport to desire the highest office in the land and yet lack a thorough understanding of the economy and the socio-economic welfare of the people he or she seeks to lead.
Great leaders must have the ability to comprehend the present realities around them and decipher distorted evidence from those they seek to succeed. Only then can they craft a simple, clear and articulate vision of where they seek to take their subjects.
It is my considered and unbiased view that five elements of the economy will shape and define the debate of the 2022 presidential and other electoral contests.
These include: one, diminished household incomes attributable to Jubilee's failed economic experiments; two, the public debt quagmire; three, the illusion of the informal sector as a strategy create employment; four, the wanton plunder of public resources and official extravagance; and five, the growing number of middle class rocked from their false sense of success attributable to toxic business environment and impacts of Covid-19.
If these economic variables will be at play, then there are three legitimate questions that we must ask. One, is the bottom-up approach the right prescription to our present economic predicaments? Two, have the proponents and opponents of the approach correctly defined the bottom-up approach? And three, are there simple and viable alternatives that the next president can explore to sustainably remedy our economic woes?
Surprisingly, there is limited academic literature on the bottom-up economic approach to development. Largely, only opinion leaning articles exist. Technically, this signifies a lack of developed theory and substantive economic evidence as an alternative credible model of development.
Instinctively, this must be a definitive warning signal to the electorate to trade with extreme caution in embracing this narrative. This is especially so if being propagated by a political class that has stood for anything else but integrity and accountability.
Anthony Flaccavento of bottomupeconomy.org, a big advocate of the bottom-up economic approach, views it as a transition from consumption dependency to production resilience at the local community levels. Under this economic system, the economy is made up of scores of smaller, regional economies built around economic activities of households, neighbourhoods and communities.
While this approach recognises the primacy of the power of the market that drive capitalistic based economics, it takes into consideration its limits and problems. According to this view, the community is organised and synergised to ask not how to create jobs, but what is the work that needs to be done. Thus, economic choices become public choices that address the prosperity of the communities.
Gardiner Morse in an article on Harvard Business Review in 2003 uses the GrameenPhone Company model in Bangladesh to demonstrate how private sector can exploit bottom-up economics to spur economic growth. Founded by Iqbal Quadir in 1997, the GrameenPhone innovative scheme allows local entrepreneurs, usually women, to buy cellular handsets with loans from microcredit pioneer, Grameen Bank.
By 2003, the company had over one million direct subscribers and over 30,000 entrepreneurs whose handsets were providing phone services to over 50 million people. Current data from its website indicates it is one of the largest telecommunication company in Bangladesh. The central argument in this article is that developed countries should channel development aid through investment on local entrepreneurs rather than their governments.
This is because, in many poor countries like ours, government bureaucracies resist entrepreneurial activities that may redistribute power. Therefore, vested interests protect private and public monopolies creating huge systemic obstacles and barriers to entry.
Secure property rights
Vector Nee on a Working Paper series published on the Center for the Study of Economy and Society of Cornell University argues for the case for Bottom-up development and the role of the state. They apply the unique Chinese development model that uses a hybrid of a market based top-down and an effective bottom-up system driven by local governments in China. This study finds the Chinese bottom-up economics has succeeded largely because of robust entrepreneurial action.
This is through macroeconomic policies and legal reforms to legitimise private enterprise economy and secure property rights. While Chinese authorities still lean on state control and monopolies, the organisational capacity of local governments to monitor and intervene to promote the development of township and village enterprises has been instrumental in their bottom-up model.
Referencing this available evidence, the Tanga Tanga narrative crumples flat on many fronts. First, there is no tangible persuasive and conclusive evidence that the model has worked as the primary economic philosophy of any government in the world.
It would therefore be the height of idiocracy to believe in such a fallacy while dreaming of a prosperous 21st-century economy. But strange things happen during elections in this country.
Second, it is institutionally and administratively unfeasible. As per the Kenya Manufacturers Association, there are an estimated 7.41 million Micro, Small and Medium Enterprises (MSMEs) in Kenya. Out of this, only about 1.56 million are licensed. Kenya Revenue tax returns data of 2019 puts the businesses that filed tax returns at barely 400,000.
This implies that the sector operates outside the tax net. Besides, the idea smacks of creation of another fund on top of the existing Uwezo, Youth, Women and other affirmative action funds.
It is common knowledge that 'funds' in Kenya are largely instruments of advancing phoney political ideas and conduits to plunder public coffers. Any policy intervention now should focus on consolidation and streamlining all funds to be effective and efficient.
Third, the idea as currently crafted lacks the entrepreneurial foundation envisioned in the bottom-up philosophies referenced above. Majority of our MSMEs are duplicitous ideas of micro-retail outfits and/or importers of second-hand items and/or illegal contraband products. They lack value creation, value chain extension and innovation. Even fairly established ones are owner-managed outfits that lack intent for scalability and/or moving public.
Thus, they cannot tap into the capital markets for capital nor can they enjoy economies of scale. Often, they suffer imminent death once their proprietors are gone. Any macroeconomic policy by the next government must as a necessity prioritise shifting the economy to more formal as opposed to informal. Modern economies are also predominantly knowledge-driven as opposed to medieval oriented business ideas.
To solve the debt problem, rescue the jobs lost in the pandemic, give our young people a reason to hope again and mobilize adequate resources to do any meaningful development, the next tenant on the house on the hill will need an economic heterogeneity of its kind.