The four options for Kalonzo in 2022 succession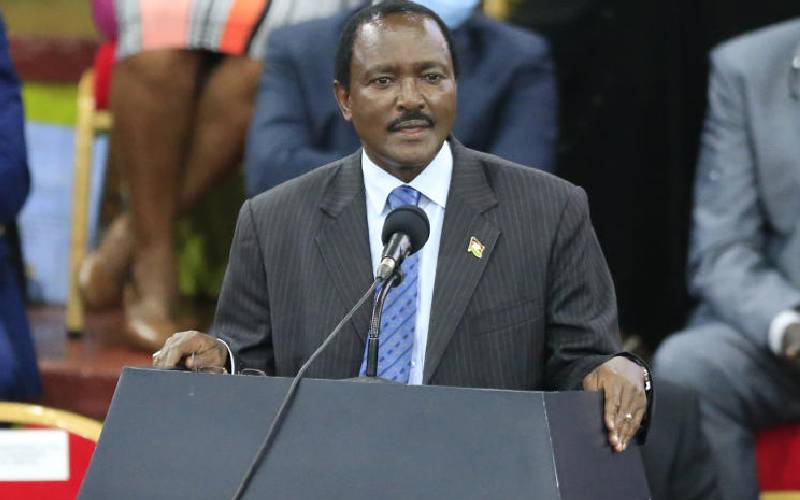 Wiper leader Stephen Kalonzo Musyoka is at crossroads with his political career at a tipping point as President Uhuru Kenyatta's succession unfolds.
The decision he makes on his future is very important as he hits 68 next year. Therefore, Kalonzo has no time to stutter on his political journey after 10 years outside government.
He has four options and must get it right in his political arithmetic not to miss in the next government or else wallow in limbo which will leave him gutted.
He has often been the target of derision for his political ambivalence and nicknamed 'watermelon' but the politician who started politics 38 years ago has refused to be written off and could be the nexus between other political kingpins and the presidency.
Born in the remote village of Tseikuru in Kitui County, Kalonzo, then a young budding lawyer unsuccessfully vied for Kitui North Constituency parliamentary seat in 1983 and later rose to become not only a one term vice-president but the Lower Eastern region kingpin for two decades.
Now he finds himself as the man who could tilt the balance in a close contest among the possible formations coming up.
After deputising Raila in 2013 and 2017, the two have not been on good terms which could force the Wiper leader to consider other options.
The first option would be to consider being a running mate of Raila for the third time and hope to win the elusive presidency. This option is being fought by his party which made him rule it out last month.
"There is no way Kalonzo will support Raila again. We cannot do business the same way and expect different results. That has been decided. Raila should back One Kenya Alliance (OKA) because he needs them," said Makueni MP Dan Maanzo.
The second option for Kalonzo is to ditch Raila and be either a presidential candidate or running mate in OKA which brings together ANC's Musalia Mudavadi, Kanu chairman and Baringo Senator Gideon Moi and his Bungoma counterpart Moses Wetangula of Ford Kenya.
The third option will be to team up with Ruto which was being pushed by former Machakos senator Johnson Muthama, Kalonzo's former long time ally. In such a scenario, he would be compelled to play second fiddle to Ruto given that the deputy president will not want to serve in the same position after serving for two terms.
Lastly, just like in 2007 when Kalonzo ran for State House and garnered about 800,000 votes, he could decide to go it alone and consolidate his Ukambani power base and lock 1.5 million votes with the hope of forcing a re-run in the presidential election and make a deal with the leading contender and form government.
Lower eastern has slightly over 1.5 million voters going by the latest data from the Independent Electoral and Boundaries Commission (IEBC). That number could rise to two million which is the number of adults enumerated during the 2019 census if IEBC conducts mass voter registration before the polls.
In the 2007 contested presidential election, Mwai Kibaki won the race by slightly over 200,000 votes which suggested that had Raila and Kalonzo partnered, they would have won.
It is Kalonzo who rescued Kibaki when he agreed to support his government when Kibaki desperately needed it.
In all these options, the reality is that if he is no in the winning team, and going by the fact that it is highly unlikely for one to beat an incumbent seeking a second term, he will have to wait for another chance in 2032 aged 78 years.
Speaking at the burial of Elias Musaili on Saturday, Kalonzo maintained that he will be on the ballot next year.
"Defeating William Ruto is my number one priority and I have reasons for it. This community has been under trial, sometimes victimized, taken for granted as if we don't care and I want to tell you we are equal. I will walk everywhere," he said. He refuted claims that he had met Raila for negotiations and sharing the alliance's funds. Kalonzo holds the ace card and could give Raila or Ruto the upper hand if either of them get him on their ticket.
Political analyst Ishmail Nyaribo says Kalonzo would be attractive to any party because he is amiable and can marshal significant support.
"Even if people fight him and he fights others, they seem to end their fights quickly," said Nyaribo, a lawyer.
Raila and OKA leaders know the importance of Kalonzo and the numbers he brings to the table. Maanzo claimed that ODM was attempting to build bridges they had burnt, after realising they also need to cross the river.
"They know they are weaker. Eastern is gone and Coast is on the way. The three governors he has are inconsequential. Raila needs others more than they need him," he said.
But analysts believe that Kalonzo was acting coy with the intent of hedging against future problems.
Ken Echesa, a lawyer and political analyst, argues that Raila and Kalonzo are inclined to end up together.
"Raila and Kalonzo are getting convinced that their joint ticket is the best to defeat Ruto," he said. President Uhuru Kenyatta, he argued, was keen on rebuilding the NASA ticket of 2017, because it's the only ticket that can defeat Ruto.
"But if Kalonzo maintains that he will not go with Raila on the same ticket, Raila is already popping up alternatives. We are seeing Charity Ngilu, Alfred Mutua and Kivutha Kibwana gravitating towards Raila's political ideology," he said.
Although Kalonzo enjoys massive support in Machakos, Makueni and Kitui counties, he is facing resistance from the governors who are steering the region away from Kalonzo.
Mutua has declared his own presidential campaign, while Prof Kibwana was last week endorsed by elders from 22 clans to vie for the presidency. Ngilu has been trying to unite Raila and Kalonzo, warning they risk losing to Ruto 'in the morning.'
While Echesa reads Raila's overtures to Ngilu and Kibwana as a fallback plan should Kalonzo refuse to play ball, he doubts their value.
"They will not take substantial votes away from Kalonzo. The best they can do is about 15 percent which is still disastrous to Odinga's chances," he said.
With the awareness that Kalonzo could tip the scales, the ex-PM is attempting to persuade him back into the fold. Raila's party, in a move that was interpreted as an attempt to prevent Nasa fallout, has stepped back from the hardline position on the political parties funds they had hoped to share.
ODM secretary general Edwin Sifuna wrote to the Registrar of Political Parties Ann Nderitu asking her to convene a meeting with Wiper, ANC, Ford Kenya and Chama Cha Mashinani to unlock the deadlock.
Additional reporting by Stephen Nzioka