The good, bad and the ugly of IEBC recruitment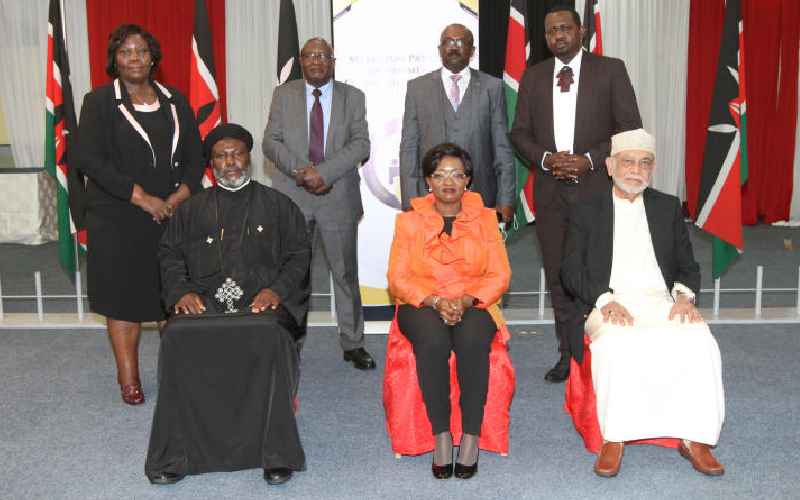 A motley of the good, the bad, and the ugly of the Kenyan society was in full display in the interviews of 35 candidates shortlisted for the Independent Electoral and Boundaries Commission (IEBC) jobs, which ended on Friday.
From ex-commissioners who wanted to bounce back, junior IEBC officials who wanted to scale the ladder, former ambassadors now looking inwards, former military officials craving for new battles, to former public servants keen to score for their country, the candidates were as diverse as the mosaic of the country.
Their varying qualifications and experiences aside, they were levelled at the start by a psychometric test, sat down like classroom pupils, and their cognitive ability and mental agility tested, with invigilators checking on them.
Conducted at the Kenyatta International Convention Centre, the interviews kicked off on Wednesday, July 7, with the first candidate, Abdalla Mohammed, opting out of the race over questions that arose around the authenticity of his bachelor's degree.
A Supreme Council of Kenya Muslims long-serving official in charge of Eastern region, Mohamed pulled out shortly after Methodist University disowned the bachelor's degree certificate he had cited in his curriculum vitae. "This is to confirm that Abdalla Mohamed was not a student of Kenya Methodist University. The academic certificate BUS-1-206-05 was not issued by us and is, therefore, a forgery," Dr Elizabeth Muli, the panel chair quoted the university as saying.
As it turned out, Mohamed would not be the only one beset with academic issues. United States International University-Africa (USIU-A) flatly refused to acknowledge claims Ms Caroline Njeri Ng'ang'a was an alumni of the institution.
According to USIU Vice-chancellor, "Miss Caroline Njeri Ng'ang'a never completed the course requirements for the award of a master's degree certificate from the USIU-Africa," said Muli. But Ng'ang'a maintained that she was a student and a graduate of the institution. "My name is listed on page 27 among graduates for master's in Business Administration," she said.
Salim Ndemo crowned it all with the revelation that he scooped his PhD in six months from a Virgin Islands-registered university. The candidate attributed the swiftness to his adeptness at the topic of research and the flexibility of his timetable.
The interviews also brought to the fore the importance of learning to converse in Kiswahili. Former Kenya National Commission on Human Rights (KNCHR) chairperson Florence Simbiri-Jaoko became a reference point after she demonstrated her struggle with the language.
It was Rev Joseph Ngumbi, a member of the panel, who brought it all on Jaoko, asking her the national languages of Kenya she was well versed in. Although she mentioned English and Kiswahili, she, however, told the panel that she has challenges conversing in Kiswahili.
And then the trial began as she was asked to answer questions in Kiswahili assuming she was addressing locals at the grassroots. After some failed attempts, it became apparent that it was not as easy for Jaoko as she could not complete a sentence without using English words.
Harriet Chiggai, a former Law Society of Kenya (LSK) national official, when asked to describe the key values of a leader in Swahili, could only utter a few words before giving up and asking to be allowed to answer in English.
And then there were those who were haunted by their pasts. Former Ethics and Anti-Corruption Commission vice-chairperson Irene Keino, who resigned six years ago, was hard-pressed to explain why she would be interested to join another constitutional commission after she was hounded out of office over alleged improprieties.
Keino, who argued that she quit to restore public confidence in the commission, invoked further questioning by panelist Morris Kimuli on whether that is how she planned to do it since IEBC was suffering a similar problem.
Former Kiambu County Executive Committee member Joseph Kang'ethe had to distance himself from the scandal that revolved around his ex-boss, former Kiambu Governor Ferdinand Waititu. He was put to task to explain how he coped with being at the centre of a government that was surrounded by all sorts of scandals.
He argued that despite all that was happening at the time, he opted to stick to his department and continue fulfilling his responsibilities.
The past also haunted former KNCHR chairperson Kagwiria Mbogori. She was questioned on her role during protests by the opposition against the Issack Hassan-led electoral agency.
She was asked to set the record straight over allegations that she did not defend people's rights while at the KNCHR with panelists being concerned that her stand on the matter, which went contrary to demands by the defunct Coalition for Reforms and Democracy (CORD) principals Raila Odinga, Kalonzo Musyoka and Moses Wetang'ula (Bungoma), could have triggered the petition for her removal from office.
Roselyne Odede, a lawyer who previously sought the IEBC job, had to answer queries on her recent resignation from the LSK Council.
Kimuli drew parallels with the resignations of four commissioners in the wake of the disputed 2017 elections. "The commissioners left because of their internal wrangles within the commission… I did not bolt. I took time to think through this. I am not a quitter. But when you lose the legitimacy to serve the people, even as a Member of Parliament, please leave," said Odede.
Murshid Abdalla Mohammed's love for independent commissions put him on the spot with the panel, who questioned whether he would quit on IEBC should another commission advertise a post. He insisted IEBC was the one place he has been looking forward to serve in the most.
And then there were those who impressed, like former Ambassador Koki Muli-Grignon, whose praise reverberated outside the interview walls. "Ambassador Muli is supremely qualified for the commissioner role at IEBC. She ought to get the job hands down," law Prof Makau Mutua tweeted on watching her performance.
The six-member panel of Muli, Ngumbi, Kimuli, Gideon Solonka, Elizabeth Meyo and Faradim Abdalla retreated to select four commissioners. Three of the new commissioners will be female owing to the constitutional two-thirds gender balancing principle.
The four vacancies arose following the resignation of Vice-Chairperson Connie Nkatha Maina, as well as Commissioners Paul Kurgat and Margaret Mwachanya in 2018, leaving Chairman Wafula Chebukati and Commissioners Abdi Guliye and Boya Molu in office.