Caroline Kangogo, her victim John Ogweno's families meet at crime scene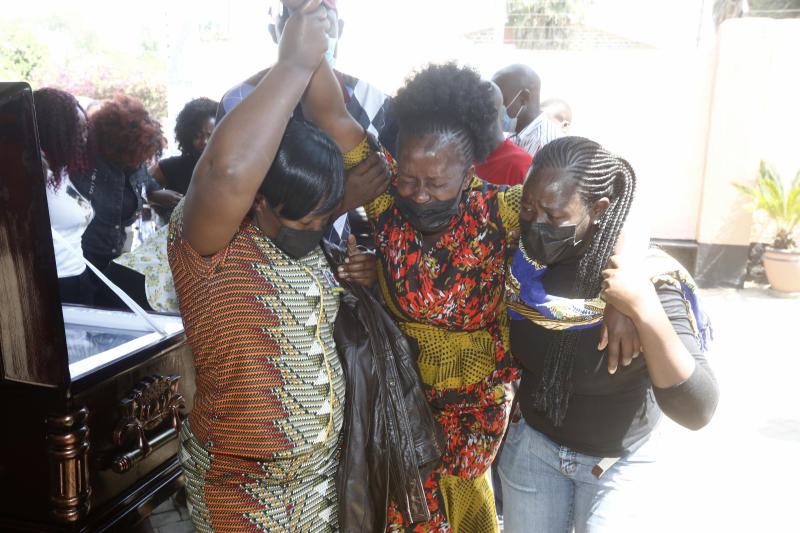 The families of Caroline Kangogo and John Ogweno - both deceased - met at the scene of the original crime in Nakuru County for the first time in the presence of senior police officers.
Kangogo was the prime suspect in the murder of Ogweno at Kasarani Police Line in Nakuru town on the night of July 4.
More than two weeks later, Nakuru East Deputy Police Commander Phanton Analo said the two families met yesterday at the crime scene as they embarked on final plans of burying the two in their respective homes.
Analo explained that after the meeting, Kangogo's family, which included her father and husband, proceeded to her former house at the Police Line, where they collected her personal effects and cleared with the residence. "Since it is said that Kangogo shot Ogweno, her father, Barnaba Korir, and husband, Richard Ng'eno, were more remorseful to his family. They promised to pray for each other," said Analo.
Ogweno will be buried today at his home in Sengre village, Homa Bay County, while Kangogo will be buried at her parents' home in Anin, Keiyo North Sub-county on Saturday.
Ogweno's family, led by his father Edward Ouru, had travelled to Nakuru to collect his body at PNN Funeral Home. Also present were Ogweno's two wives, Juliet Aliero and Sweetney Audrey Chelang'at.
While Chelang'at is expectant with Ogweno's child, Aliero was accompanied by their two children aged six and four.
Ogweno's body, fully dressed in ceremonial police uniform, was in a maroon casket draped with a National Police Service flag, an indicator that he would get full police honours during his burial.
From the morgue, the body was taken to Kasarani Police Line where he shared a house with Kangogo until he met his untimely death.
"His colleagues had an opportunity to view the body at his former residence. The body was then taken to Nyagacho, Kericho, for viewing by family and former colleagues," said Analo.
Tears flowed freely as the family expressed the pain of losing Ogweno at the tender age of 28 when, according to them, he had just started to set a foundation for his own family.
"He was too young to die. He had a promising future but all his dreams have been cut short. Our expectations of him were high. I wish police officers can be sober enough while handling their challenges," said Ouru.
Ogweno's elder sister Eunice Ouru called on the government to support his young families, noting that they now have no one to look up to for education and other needs.
"He has left behind two widows who have his children. We urge the government to consider supporting them. This way, the young families will be able to move on with their lives without much mental agony," said Eunice.
She described Ogweno as a kind brother who always came to their rescue whenever they needed financial and moral support.
"Ogweno was a great pillar in our family. Let this not be the way of settling issues between police officers. Ogweno was very young and peaceful. He didn't deserve to die this way," said Eunice.
Police Regional Chaplain Daniel Kebo called on officers to seek psycho social support whenever they had challenges with their families or at their work places.