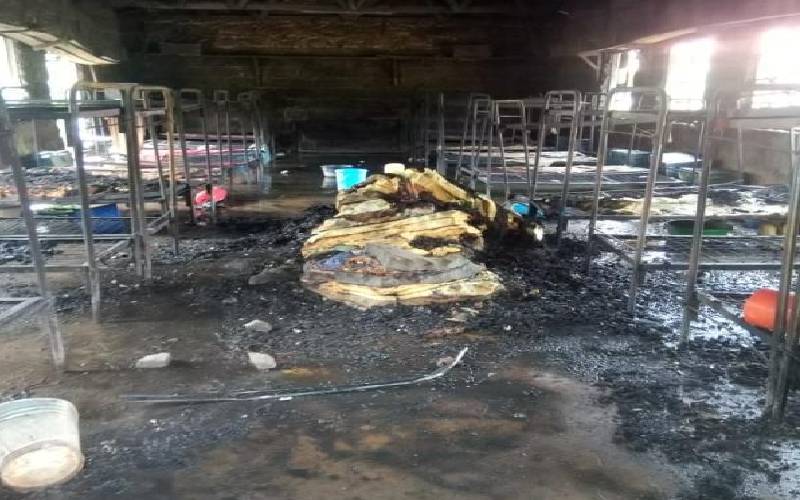 Since schools resumed physical learning a few weeks ago, several cases of indiscipline have been reported across the country.
A video clip circulating on social media showing a student attacking teachers is one of the many cases of indiscipline recorded recently.
The Form Three student in a school in Kisii was reportedly being punished for reporting late.
Another student from Mokwerero Secondary School in Nyamira County is said to have attacked the school's deputy principal with a panga.
Read More
In yet another incident in Kwale last week, a 17-year-old student was arrested for being in possession of a knife while in class.
In Vihiga County, an 18-year-old Form Three student is facing murder charges after he assaulted and killed a school guard.
According to the Directorate of Criminal Investigations report, the student had become unruly and started attacking other learners with a metal rod.
The report further states that when the school guard intervened, the student hit him on the head killing him.
And in Central region, three students were recently arrested for allegedly burning Karía Secondary School in Kirinyaga County.
According to education experts, the rising cases of indiscipline could be linked to the prolonged closure of schools last year, poor parental guidance, and school-related stress leading to poor mental health.
Experts said that some of the learners were reporting to school after long periods of neglect, poor parenting, Covid-19 related stress, and depression, which are all connected to what is being witnessed now.
The condensed school term dates, the experts said, have also exerted pressure on learners, with many feeling the heat to grasp many concepts within a short time.
The fear of upcoming national examinations is also adding to stress levels.
Poor methods used by teachers to punish learners have also come under sharp focus with reports that the tutors could be fanning an already bad situation.
Wesaya Maina, an education expert, said mental health was ignored in the return to schools strategy, throwing school managers into a spin.
Maina said teachers were ill-prepared to face the new realities of learners' behaviour after almost seven months out of school.
He said when schools opened, teachers received back different sets of learners, some who had acquired bad behaviours and traits occasioned by parental lapses, drugs and substance abuse, and peer pressure.
"The incidences and occurrences of use of violence by learners have caught teachers off guard and this is because the Teachers Service Commission failed to prepare teachers on matters mental health and psycho-social support," said Maina.
He said many teachers are not aware of poor mental health signs to look out for among learners and actions to take.
"If by any chance teachers become suspicious, they have no capacity to forestall or remedy the situation," said Maina.
Rose Opiyo, a senior lecturer and a Child and Adolescent Psychologist at Masinde Muliro University of Science and Technology, said teachers must remain alert.
"We need to keep an eye on signs of stress and anxiety that will manifest differently for younger children, primary school children, and older adolescents," said Opiyo.
She said the ripple effect of Covid-19 will still present in different ways and in more substantive effects in the short term and also in the future.
"For older children, irritability, agitation, high affinity for conflicts, aggressiveness, school avoidance, poor concentration, and various other disorders will be rampant going forward," said Opiyo.
Paul Wanjohi, the national organising secretary for Alternative Provision of Basic Education and Training, said during the long closure last year, learners engaged in different activities that could have contributed to picking of bad manners.
"Some got addicted to the phones as they used them for e-learning. Through this they were introduced to many things, which are not necessarily good for them," said Wanjohi.
Wanjohi said the Ministry of Education should introduce group guidance and counselling for learners in both primary and high schools.
"Collective responsibility and action are needed. Teachers are also frustrated and this is the point where professionals in mental health should come in to help schools," Wanjohi added.
President Uhuru Kenyatta last week weighed in on the discussion and said parents, religious, and community leaders have a responsibility to instil good morals.
Media content
He particularly called on parents to be more vigilant about their children's company and the media content they consume. Uhuru said the government alone cannot enforce good conduct and called for a collective approach.
It also emerged that some teachers are still using traditional ways of punishing learners.
Secondary school heads have, however, pointed fingers at parents, whom they accuse of laxity in instilling good manners in their children.
"In one of the cases, the student was unruly because he was asked to kneel down after he came late. So the question is, how parents deal with such cases at home," posed Kahi Indimuli, chairman of the Kenya Secondary Schools Heads Association.
He said some children were used to answering their parents back, a habit most teachers would not entertain.
"There is a huge disconnect between what schools and teachers expect to be impactful and what parents implement at home," said Indimuli.
Moses Ayier, a high school teacher and a Leadership and Mind Coach, has called for mental audits among students, adding that teachers may also need counselling.
"Have we lost the psychological perspective of handling learners? Could it be that we do not listen to them or maybe we are more directing rather than guiding," wondered Ayier.
Indimuli, however, said that disciplining children in the present school set-up changed after the cane was abolished.
"Most schools have adopted guidance and counselling, which is never given a lot of emphasis because teachers are overloaded with other teaching duties," said Indimuli.
According to the Ministry of Education guidelines on health and safety protocols for reopening of schools, teachers also bear the burden of counselling and guiding learners.