Umoja III Estate: A tale of three Khan brothers, greed & criminal gangs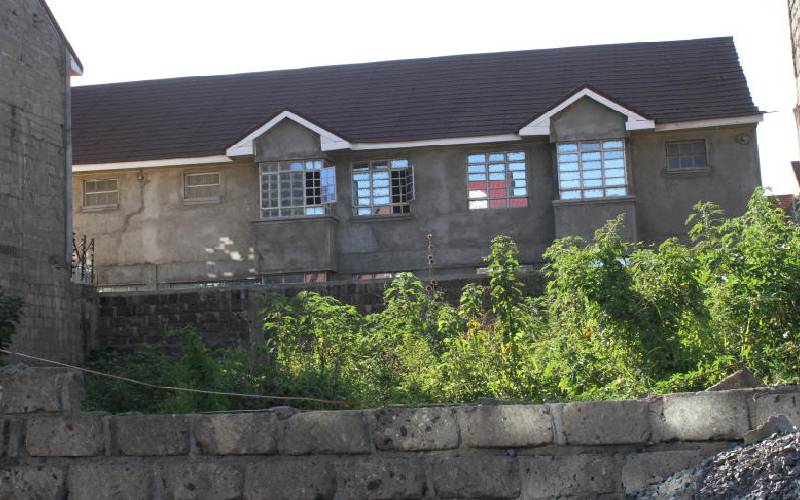 Three brothers decided to sell a large chunk of land along Kangundo Road in the 1960s. Little did they know it would mark the beginning of a protracted dispute lasting over 50 years.
At the cusp of independence in December 1963, Goan siblings Khan Nawaz Khan, Khan Abbas Khan and Mehdi Khan put up their 818-acre farmland in Dandora, Nairobi, for sale. The swathe of land from Dandora Civil Servants through Nasra to Jacaranda estate had been given to them by British colonists in 1922.
Note that Kangundo did not exist when the Khan brothers were selling their land, which attracted five buyers: Kibiro Karanja, Reuben Kangára, Keingati Watharo, Njuguna Kimani and Peter Gacheru Kingára around 1967. But there was a hitch. The small scale traders from Kiambu could not raise the Sh200,000 purchase price.
They thus registered Kiambu Dandora Farmers Company Ltd to help them secure a loan. Another entity, Dandora Housing Schemes Ltd, also had similar interests. It also had an upper hand from its 225 members who easily raised the money.
To expedite the land acquisition, Kiambu Dandora Farmers reached out to Dandora Housing Schemes, which gave out the cash and bought the land in 1969. But even before the ink dried, Dandora Housing Schemes cried foul: The five partners in Kiambu Dandora Farmers registered the title deed under their name — excluding Dandora Housing Schemes, who sued them in 1972.
The government offered to buy 275 acres for Sh68,000. The offer was declined. Two years later, the government compulsorily acquired all the 818 acres and published gazette notices 840 and 841 to that effect.
The land was to be used for urban and industrial development.
A Sh1.3 million cheque was deposited at the High Court pending conclusion of ownership dispute. It has never been cashed. That was in 1974. For some unknown reasons, this case has never been concluded. All the original petitioners and respondents have since died.
Joseph Nduati, a director at Kiambu Dandora Farmers, says "we have done the research for over 30 years and concluded that the law does not allow compulsory acquisition of disputed land". And in its petition of 2011, they told the court that the compulsory acquisition was "malafide, unjustified, callous and an illegal deprivation of citizens of their private property."
The government went ahead, subdividing the parcel into blocks that were allocated to companies, influential individuals, civil servants and politicians. A letter dated June 2018 from Lands PS Nicholas Muraguri to the National Land Commission (NLC) notes that the land in contention was "acquired by the government and allocated to individuals and private entities."
The initially planned development was soon forgotten. Most allottees further sub-divided their parcels and sold them off to third parties, begetting what is today Umoja III estate where more than 20,000 dwellers now claim ownership.
The case of Umoja III is a convoluted tale of how dishonesty, greed, complicity and corruption can blur the truth about legitimate land ownership.
While Kiambu Dandora Farmers insist they are the rightful owners, there are 68 titles for individuals and entities also staking claim to the property tucked between New Kenya Co-operative Creameries and Mini Bakeries Ltd.
What is more confusing is that the courts had ruled in favour of Dandora Housing Schemes as legitimate owners of the land, but Kiambu Dandora Farmers appealed the ruling and won through case number 1903 of 1999, according to a letter from the Ministry of Lands. Documents indicate the government deposited Sh1.3 million with the Commissioner of Lands for the acquisition.
But ownership dispute continued, forcing the Ministry to form a working group on the protracted ownership. It fingered Kiambu Dandora Farmers Company Ltd as the rightful owners, but unhappy with the Ministry's position, Dandora Housing Schemes continued pursuing the matter.
Kiambu Dandora Farmers says it is willing to drop its claim in exchange for Sh17 billion government compensation.
"The government has indicated it made a mistake and it is willing for an out-of-court settlement," says Nduati dismissing claims they are enlisting services of outlawed gangs when carrying out the exercise. "We have negotiated with the government on modalities of repossessing our land, a process partly successful following recovery of 178 acres on which sits Nasra estate." This explains why Nasra is a more organized gated community. But stuck in the middle are thousands of dwellers who claim they bought their plots from Umoja Three Settlement Scheme under the patronage of then Embakasi MP, the late David Mwenje. They have vowed to stay put, swearing only coffins will move them out.
The presence of land cartels, extortion and criminal gangs only makes the situation toxic with rival parties relying on illegal outfits for protection.
The fear in Umoja III is palpable; strangers are viewed with suspicion by both residents and armed gangs that have no qualms switching sides depending on the highest bidder.
A similar situation obtains at Sosian estate where Kiambu Dandora Farmers sounded a warning that the residents are intruders.
Sosian is a gated community for the middle class sitting on 56 acres along Spin Road. Kiambu Dandora Farmers claim it was part of the 818 acres grabbed by former Kieni MP, the late Munene Kairu —the man who developed Tena estate.
Kairu through his firm, Amboseli Court Limited, sub-divided the land and sold it to unsuspecting buyers who are now entangled in war with Kiambu Dandora Farmers seeking to reclaim its land.
Those yet to develop their plots are now being told to pay between Sh4 million and Sh5 million or their plots will be sold.
An official of Sosian Residents Association who bought his plot from Amboseli Court Limited in 2002 for Sh700,000 told The Nairobian that "residents who have developed their property are required to enter into fresh agreement terms with Kiambu Dandora Farmers. Basically, they want us to negotiate with them".
Nduati says the residents have only themselves to blame since they failed to do proper due diligence and that "the people on that parcel are strangers to us. They allowed themselves to be swindled by Munene Kairu... otherwise court applications to stop what we are doing will not clear this mess."