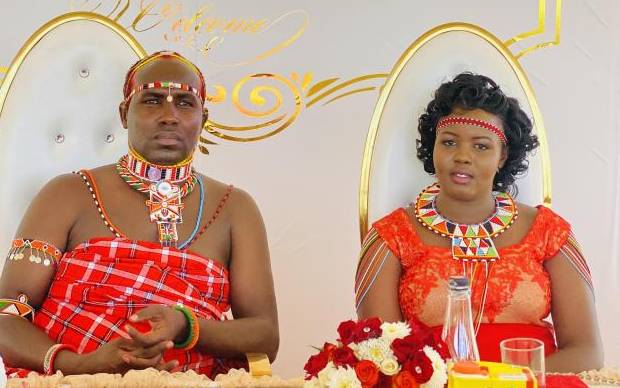 Samburu Senator Steve Lelegwe married a bewitching second wife at a colourful ceremony away from his Maralal home in Kajiado County on November 21. Ironically, it is on the same date last year that he divorced his first wife, Beatrice Maseina.
Their tiff arose when Maseina claimed that the Senator had taken his mpango wa kando to their matrimonial home in Nairobi.
After their fallout, Maseina moved out to Kabete where she claims she has been living in squalid conditions with their three children.
But Lelegwe says their problems started in 2012 when Maseina began leaving their home for months without an explanation, making him to feel unloved and neglected.
"I'm the one who went to court having pleaded with her to come back home after leaving several times," says Lelegwe.
He added that his new wife "has never stepped into any of our homes. In fact, all her (Maseina's) homes are intact. I never chased her away," he says.
Lelegwe recalled that Maseina "left home four times when I was still County Speaker and one time before I became Senator, she used to leave for up to five months. I once told her she would find another woman who is ready to love me."
But Maseina, in one of her replying affidavits, states that they met in 2002 and began cohabiting in 2006 but separated in November 2019 over major differences.
After their separation, the Senator moved to court seeking custody of the children so that he could transfer them back to their previous prestigious schools since they were missing a life befitting his status.
In his affidavit, he stated that he had been a "good and loving parent" with "no ill feelings towards the defendant…she simply walked away…I never chased her out as alleged."
Maseina on the other hand cited "cruelty and a hostile and tense environment" which was not conducive for their children's studies as among the reasons she moved out with them.
She also accused Lelegwe of discriminating on one of their children by refusing to pay school fee besides keeping the minor away from his PhD graduation.
Although the Senator's plea was granted, the court later overturned it's orders to return the children to their previous school and granted their mother custody but with visitation rights for their father.
But with a new bride in the saddle, all that is water under the bridge for the Senator.
"There is no timeline for a man to get married after being left or feeling he is not happy. In my case, it has been one year…," says Lelegwe.
The Senator says there is no bad blood between him and his ex and that he actually took her and the children out the weekend before his wedding.
"I spent around Sh70,000…in fact, I sent her Sh40,000 then the rest and before that, we had a birthday party for one of the kids and she was there," said Lelegwe. "We usually have good times because all along, I don't have ill feelings towards her."
The Senator has since moved houses in Nairobi and is building a new one for the second wife in Maralal — where Maseina also has a home.
"She was aware that this could happen after I told her when she last left that she will come back and find another woman at home," he said.
Lelegwe says there is nothing wrong when a man marries two wives.
"Further, we parted ways on November 21, 2019 and I wedded the second wife on the exact date this year," he says.